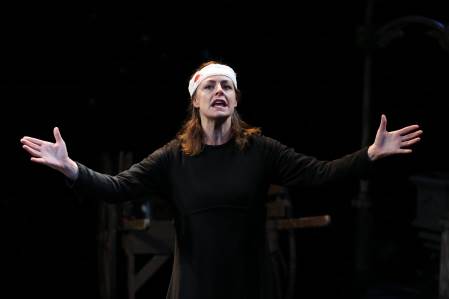 Andrus Nichols
Arney Rosenblat
Hurry and try to catch The Saintliness of Margery Kempe at the Duke before it closes August 26 to enjoy the memoir of a would-be reality star, Medieval style
The Saintliness of Margery Kempe is based on the apparently incredible life of the 14th Century English mystic Margery Kempe and inspired by The Book of Margery Kempe, which is considered by many to be one of the first autobiographies in the English language.
The play, which was John Wulp's debut work, won a Rockefeller Grant and was first presented by Poet's Theatre in Cambridge, MA, in 1958 and in a revised form off Broadway in 1959. The multi-talented director, actor and playwright Austin Pendleton rediscovered the text of the Cambridge production and struck by its timeliness decided to introduce the play to a contemporary audience with the support of Mr. Wulp, who is now ninety.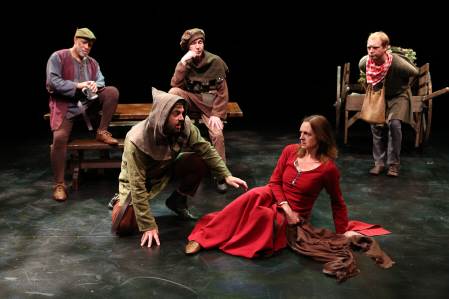 It tells the story of a woman hungry for self recognition who did not want her life to be defined either by men or the strictures of her everyday society. The gap between her ambitions and her ability embodies the entire human condition.
In this self-absorbed cyberspace age, it's not unusual to find countless individuals who think that their thoughts about life worth sharing. In fact, it's almost impossible to keep a secret today. However, in the 14th and 15th centuries it was certainly sui generis to find a woman of that mindset, especially one who could neither read nor write and had to dictate her memoir for posterity. Yet meeting the ambitious, aggressive and adventurous Margery Kempe perfectly portrayed by Andrus Nichols (a founding member of the innovative Bedlam theater company), her life's story becomes entirely believable. No matter how self-aggrandizing Margery becomes (on a scale of 1-10 that's an 11), Ms. Nichols always conveys the character's very human desire to achieve a life beyond the expected or ordinary.
Also perfect is the performance of Jason O'Connell who portrays Margery's put-upon husband, John, and the sorely-tried Friar Bonadventure forced to cope with Margery upending his tour group's pilgrimage to the Holy Lands, as well as the role of the fatalistic Thief.
The Saintliness of Margery Kempe is recounted as a picaresque parable in which Margery attempts to fulfill her destiny as she wishes it would be. Leaving her husband and brood of offspring, Margery embarks upon her quest "to do something spectacular" by first buying and running a traveling brewery. She fails spectacularly and is forced to retreat home still miserable and restless. When her husband in an effort to comfort her volunteers the idea that "Saints are free from the cares that beset Earthbound Souls," Margery determines that "only Saints are free," and she decides that she is going to be a Saint offering up a bevy of visions to clergy and common folk alike along with a miracle she "made" which entails a stone dropping on her head while at prayer in church.
On her journey of self-determination, Margery encounters a parcel of colorful personages among them the handsome Man in Black, a personification of the Devil, charmingly played by Vance Quincy Barton. She inveigles her way into a tour group making a pilgrimage to Jerusalem "Wherever God bids me go, I go. If I ask you to take me there, how can you refuse? To deny me would be to deny God." Ultimately, Margery discovers that whatever happiness actually is, it exists in her own back yard at home.
Pippa Pearthree, LaTonya Borsay and Ginger Grace in "The Saintliness of Margery Kempe" directed by Austin Pendleton at The Duke on 42nd Street. Photo © Carol Rosegg
Though Wulp's script could use a bit of trimming, Margery's travels to the Holy Lands in Act II are worth the price of admission alone. Pippa Peartree is outstanding as a rich widow, Mistress Fribley, on the pilgrimage to save her late husband's soul from damnation and perhaps find a new spouse on the journey. Her face-off with Margery is stunning.
Except for Andrus Nichols who embodies Margery, all other eight actors, some already mentioned, wear multi-hats doing so successfully, but with varying degrees thereof.
The production has been effectively mounted at the Duke by a creative team that includes Jennifer Tipton and Matthew Richards on lighting; Ryan Rumery adding music and sound; and Barbara A. Bell contributing costumes. The scenic design is by playwright John Wulp.
Though this delightful production is closing shortly, let's hope it will not be another sixty years before it is revived again
The Saintliness of Margery Kempe
Duke
229 West 42nd Street
Running time: 2 hours 15 minutes
646-223-3010
www:dukeon42.org
Closing date: August 26,2018