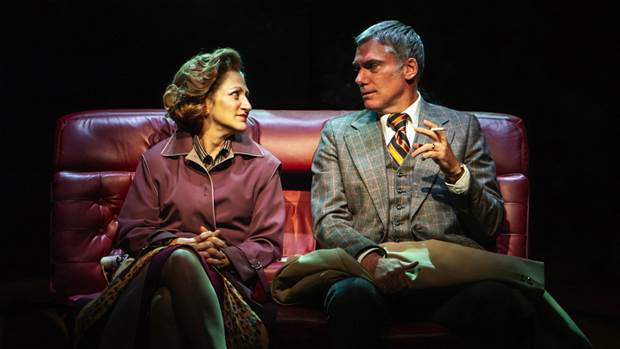 CREDIT: MONIQUE CARBON                                                       
                                    By Ron Cohen
If you love how Edie Falco exposes the heart, soul and vulnerabilities of strong-willed women – and who doesn't? (raise your fearful hands) – you're going to love Sharr White's new play, The True. Well, at least, you're going to love this production from The New Group.
The play itself, play which takes a look at the falling apart of old-time political machines, patronage and maneuvering, through the microcosm of New York State's capital city Albany, is an interesting and relevant but more problematic proposition. 
The plot centers on Erastus Corning II, who in 1977 after 35 years – yes, that's 35 years --as Albany's Democratic mayor faces a serious challenge in the primary. The long-time local Democratic Party chairman has just died, and his potential successor is backing a Corning opponent. To ward off any malicious gossip about an illicit love affair, Corning tells his long-time confidant and strategist, Dorothea "Polly" Noonan, that he has to break off his relationship with her. This is not an easy thing to do. While married with children himself, Corning spends much of his time with Polly and her easy-going non-political husband, Peter, feeling more comfortable in their home than in his, where he and his wife, as we eventually learn, have separate bedrooms.
This brush-off also does not sit well at all with Polly, who has devoted her life's work to politics, especially to the Democratic Party, and even more especially to Corning. How she handles the situation and continues working to assure Corning's reelection in spite of his dismissal of her makes up most of the story. The detailing again and again of how the party kept itself in power by its personal connections with the voters -- helping them out when in trouble, keeping their tax assessments low, dropping five-dollar bills in mail boxes at election time – and how all that was diminishing as the racial makeup of the voters changed is a bit repetitive. Nevertheless, it all registers with resonance for today, with the current rise of new youthful ultra-liberal voices in the Democratic Party.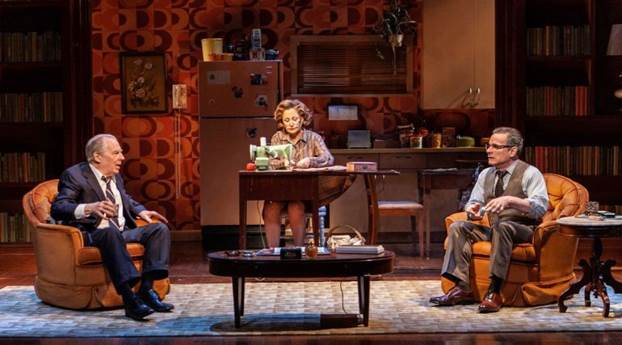 : Michael McKean, Edie Falco and Peter Scolari star in "The True." Photo Credit: Monique Carboni
When the play turns to examining the actual relationship between Corning, Polly and Peter, things become somewhat murky. While White seems to signal that this relationship may well be the heart of his play, he seems to dance around it. At one point in the play, Polly recalls to Corning, "So, I kissed you once when I was drunk in an elevator in Pittsburgh! That was thirty years ago! You know what those tongues should be wagging about? Is me keeping the sacred vows to my husband under the eyes of God. You know how hard that was in the prime of my youth…"
As White writes it, how all this passion settled into a sort of platonic ménage-a-trois is never quite convincing, never really explored with any keenness. But it may well represent the cloudiness of the actual situation on which the play is based. Yes, Corning, Polly and Peter were all real people back in Albany in 1977, and in case you may not have heard, Polly was New York Senator Kirsten Gillibrand's grandmother – and the true nature of the Corning-Noonan relationship still seems to endure as a matter of gossip up there in Albany.
As any rate, what White – whose earlier play The Other Place scored awards for Laurie Metcalf -- has unquestionably delivered here in his picturing of Polly is a plum role for Falco. The woman is as foul-mouthed as they come, but she uses her epithets with terrific humor and acuity, that is when they're not fired up with anger. Falco furthermore gives the woman a down-to-earth vivacity that's hard to resist, whether she's describing the culottes she is sewing up for her young granddaughter, or striking a contemporary feminist chord by declaring that she has the same strong feelings about politics as a man "but I've got a pair of tits so you don't know what to fucking do with me."
Even when circumstances provoke a forced joviality, Falco's Polly continues to hold our empathy. And the sheer force of her personality makes you quickly oblivious to the odd-looking series of print dresses and other garb costume designer Clint Ramos has dug up for Falco in slip in and out of.
Except for those wardrobe gaffes, director Scott Elliott (The New Group's artistic director) surrounds Falco with a top-drawer production and cast. Michael McKean imbues Corning with an affecting mix of gravitas and neediness, while Peter Scolari cloaks Polly's husband with such engaging affability it almost makes you believe in his acceptance of Corning as a third person in his marriage and almost perpetual presence in his home.
While they only get one scene each, there are also well-shaped portrayals by Glenn Fitzgerald as Corning's suave opponent in the primary; John Pankow as the rough-edged politico backing him, and Austin Cauldwell as a young, aspiring political operative but not aspiring enough for Polly's taste. When he says he may not make politics his life work, her quick dismissal of him after he arrives for dinner at the Noonan home is one of the play's comedic high points.
Derek McLane's smartly designed sets take us easily to various locales around Albany, from the comfy surroundings of the Noonan house to the more luxurious look of the Corning abode. They are all well defined in Jeff Croiter's lighting, but even more importantly by Falco's luminous presence.
Review posted September 2018
Off-Broadway play
Playing at The Pershing Square Signature Center
480 West 42nd Street
212-279-4200
TheNewGroup.org
Playing until October 28