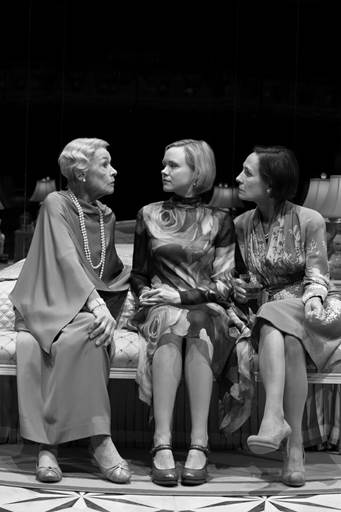 Glenda Jackson,Alison Pill ,Laurie Metcalf   (c) Brigitte Lacombe
                               By Ron Cohen
Three Tall Women, Edward Albee's meditation on aging, dying and death, is undoubtedly among the most vibrantly alive shows on Broadway right now. Three superlative actresses – Glenda Jackson, Laurie Metcalf and Alison Pill -- tear into Albee's incomparable writing with intelligence, passion and wit in a production that shimmers with theatrical sorcery.
While not a final work – it emerged some 25 years before Albee's death in 2016 – the play has valedictorian wisdom about it. It carries a sense of coming to terms with the tribulations of his own life, his thorny relationship with his adoptive mother. First produced in Vienna in 1991 in English and directed by Albee, the play was done Off-Broadway in 1995, refurbishing Albee's reputation after a series of misfires and winning a Pulitzer Prize – his third -- along with a host of other awards.
The current revival marks its Broadway premiere, and under Joe Mantello's impeccable direction, it is hard to imagine a production more fulfilling of Albee's intentions.
In the first half of the piece, played here without intermission, a luxurious bedroom is inhabited by three different women identified only as A, B and C.  The home is the domain of A, a cantankerous nonagenarian. She quibbles about her exact age, as she recalls her youth, her married life, her wealth in elliptical terms. Specific topics include her love of jewelry and horseback riding and revulsion of oral sex. At the same time, she reveals her ingrained bigotry, suspicions about her staff and her antagonism toward her son, who left the household years ago. B is her sometimes patronizing but dedicated caretaker, and C is a young woman, presumably a paralegal, who has come to clear up some outstanding matters about A's finances.
Things shift breathtakingly in the second half. The three women, we gradually discern, are now the same person, but at different ages, and their reflections on life past and life to come are increasingly provocative. The sense of life and death as immutable but somehow unpredictable and grand is communicated in tangible terms, as the women – or more correctly, the woman – reveal the happenings and feelings of each particular phase of living. The shift may be confusing at first, but it's a majestic coup de théâtre, abetted by the totality of the performances.
Jackson's portrayal of A is a masterful amalgam of craft and art.  Appreciation of it is, of course, heightened by the knowledge that the 81-year-old actress only recently returned to the stage after spending 23 years as a member of the British Parliament. Her comeback was an acclaimed turn in the title role of King Lear in London, and in Three Tall Women she takes on a role that echoes the emotional vistas of a Lear. Jackson infuses Albee's sometimes diffuse dialogue with a precision that clarifies everything, as her emotional scoring moves from a second-childhood giddiness to the bottomless ferocity of old age, and in the second half she adds a sense of grace as the character contemplates finality.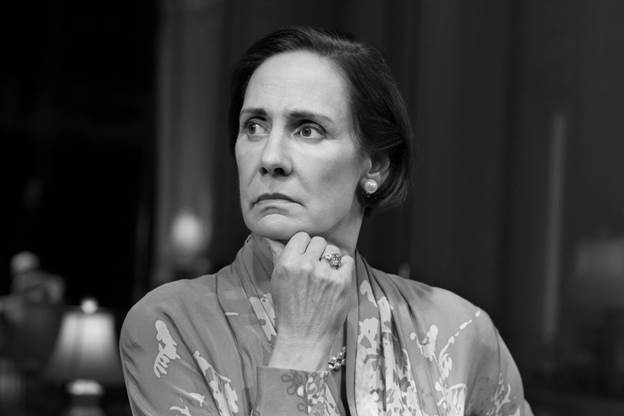 Metcalf brings a wondrously droll pungency to B that works whether she is caretaker to a difficult charge or middle-aged woman seeing life from a privileged central point of view. It's a posture that cracks startlingly when she expresses the rage she feels toward her son.
As C, Pill captures the snotty complacency of the young professional on her way up, then shifts beautifully into the vulnerable and hopeful 26-year-old persona of A.
Further adding to the surreal richness of the story is the appearance of the estranged son (Joseph Medeiros), standing silently beside his mother's bed. 
Joe Mantello's direction gives the script's wit -- sometimes subtle, sometime raucous -- full play along with its philosophical intimations and pathos. He has delivered an ambiance in which the three actresses work together almost as one single organism.
The production also takes on an engaging whiff of glamour in the period-and-character-defining costumes of Ann Roth and the set design of Miriam Buether, the expensively tasteful look of A's creamy-colored bedroom, glowing under Paul Gallo's lighting. Then at midpoint the set shifts almost eerily in dimension, letting us know something is happening. And indeed, plenty happens in the sense of thinking about life and death. Are there any topics more important?
Like its titular characters, Three Tall Women stands high among the plentitude of high-powered dramas being reborn on the Main Stem this season.
Broadway play
Playing at the Golden Theatre
252 West 45th Street
212 239 6200
Telecharge.com
Playing until June 24