L-R: Quinn Franzen, Alia Attallah and Karan                                      Photo by Hunter Canning
                                      by Glenn Giron
Threesome opens with the gentle and dulcet tones of beautiful Middle Eastern music that suddenly erupt into a classic rock feel and sound designer Casi Pacilio boldly sets the stage for this enticing play.  Lights up on a beautiful Egyptian American couple, Leila (Alia Attallah) and Rashid (Karan Oberoi), lying in bed together uncomfortably smoking cigarettes in their lavish and handsome modern apartment. Alison Heyer, costume designer, helps the audience clue into the couple's social status.  Though they are in an expensive looking apartment, their pajamas and clothing are ordinary and modest which helps to place in the upper middle or lower upper class, a character point which is necessary and adds weight to the characters' words and views.  The couple sits in awkward wait for Doug (Quinn Franzen) whom they have invited over for a threesome in the hopes of helping their relationship. A few minutes are spent on these two alone as we get to know them individually and as a couple and as we get to take in the crisp, simple, and effective set designed by David McCrum, Seth Chandler, and Erinn McGrew.

L-R: Alia Attallah and Karan Oberoi             Photos by Hunter Canning
It's quite clear that not all the cards are yet on the table.  Some questions come up and whether or not they will ever be answered isn't clear but it creates two rich characters to whom you feel close before awkwardness and shouting matches set in.  With a title like Threesome and with the half nude and enticing photos that make up the playbill, it's easy to assume that the show will be littered with sexy and sensual encounters. Instead, the play opens with a fit of laughter as Doug comes barreling out of the bathroom wearing nothing but an iPhone and a pair of ear buds.  Playwright Yussef El Guindi uses comedy to help characters overcome uncomfortable situations and awkward things said.  The authenticity of this is beautiful. Covering up discomfort with humor is a very genuine and real human instinct and all three of the characters do this in their own way.  Franzen has several monologues wherein his character, Doug, is telling a long, funny, and wildly uncomfortable story. Ignorant of the fact that Leila and Rashid get more and more uncomfortable with every word as he kills the "sexy" mood they're all supposed to be in.  After fifteen to twenty minutes of side splitting laughter at Doug's inappropriate anecdotes things get a little more serious, and a new theme presents itself.  Power struggle.
Rashid and Leila spend the entirety of the play in a power struggle either between each other, their separate careers (which happen to unexpectedly intertwine), and their strong ties to Cairo.  Most prevalent in these power struggles is sexual equality and who holds the power in their relationship.  Guindi writes their past by letting it slowly and organically come to the surface through each of the couple's arguments.  Most of which in the first act revolve around trust issues, a dark secret that Rashid is keeping, and eventually one or two that Leila is keeping.  All of this would be tension enough on it's own but when they're having these arguments in front of a naked stranger the intensity is palpable.  The climax of the first act revolves around a couple of secrets coming to the surface. One that Doug has been hired to photograph the cover of Leila's upcoming autobiography.  Another  that he stole the job from Rashid because Leila failed to recommend Rashid to her publisher as promised. All of this while Rashid struggles with the idea that Doug has read the book that Leila forbids Rashid to read as an attempt to cover up yet another secret within it's pages. Leila justifies these decisions as her way of holding onto the power in her relationship and in her own life and career.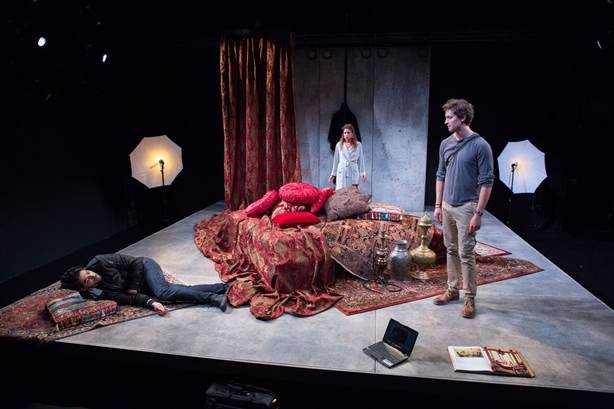 L-R: Karan Oberoi, Alia Attallah and Quinn Franzen                         Photo by Hunter Canning
During intermission the set is brilliantly switched over to the studio for the photo shoot for Leila's book cover.  The awkwardness and discomfort here cannot be avoided and nothing is done in the way of humor to mask it.
Tensions mount and real truths come out, som elujrid, aqll unsettling
The issues Leila faces in this autobiography are the main issues the three characters face throughout the play.
Guindi's voice is clear and he uses each character in many different ways to make his point.  Rashid and Leila are on his side and share his view of equality and politics. Doug spends the entire first act lying to the audience and himself about his ideals being in line with Guindi's.  Nothing is left to the imagination as far as character development is concerned.  All  wear their emotions and their ideals on their sleeve, nothing of their morals is left for the audience to decide based on what they say, or how they act.  It is all spelled out word for word.
Regardless of which character Guindi uses, the message is simple and a bit unsettling.  Social and sexual inequality is alive and well whether you know it or not.  Most unsettling of all, that no matter how much you support the idea of equality or think you understand how terrible it is, you will never truly understand what it is if you aren't the one suffering it.
Threesome is now in previews at 59E59 Theaters at 59 East 59th Street. Threesome opens July 22nd and plays through August 23rd for a limited engagement.  Tickets are available through Ticket Central at (212)279-4200 or at the box office at www.59E59.org