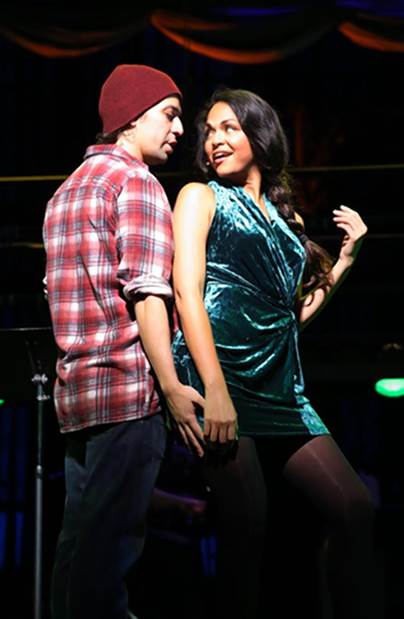 Lin-Manuel Miranda and Karen Olivo              photos by Joan Marcus
                                           By: Eric Grunin
Once upon a time in New York, a talented composer who wanted to use music to tell stories had a fair chance of making it happen. Once, because stable neighborhoods are healthy neighborhoods, rents were regulated to discourage speculators. Once, on the principle that new ideas need old buildings, Soho was rezoned as an artists' enclave.
It was lovely while it lasted.
Jonathan Larson, born in 1960, arrived just in time to see it all crumble. The golden age of the American musical ended in 1980 with the shocking death of Gower Champion, followed a year later by the collapse of the seemingly invincible partnership of Stephen Sondheim and Harold Prince. By the time 1990 rolled around, the aspiring composer's path that would begin with writing specialty material for basement revues, and end with your name in lights on the Great White Way, had been dynamited, bulldozed, and buried under acres of fifty-story luxury condominiums, financed with money looted from the Savings and Loan Associations.
Thus it was that in 1990 Larson, on the cusp of thirty, felt himself becalmed. The small theaters, proving grounds for finding your voice, were disappearing along with the affordable housing, and more and more an artist's only choices were Broadway or the highway. Larson, with few prospects after years of waiting tables at the Moondance Diner, watched friends giving up on their artistic aspirations and wondered if he was wasting his time.
But he didn't give up; he made his crisis into art, a one-man rock song cycle called Boho Days. Opening at Second Stage in 1990, he revised it for further runs at the Village Gate and New York Theater Workshop, eventually retitling it Tick, Tick...Boom! While he revised, he worked on what would become his masterpiece, Rent, which opened in 1996 and has likely been playing somewhere on Earth ever since.
Tragically, Larson died just before Rent went into previews. One effect of its great success was to create interest in salvaging his earlier work. So Tick, Tick...Boom! was refashioned by playwright David Auburn (best known for Proof) into a three-person show, opening Off-Broadway in June 2001 with Raul Esparza in the lead. Reviews were good, but times were bad, and the show shuttered in January 2002.
Encores! has made a great choice here, because it's wonderful to see the themes of Rent in embryo and there's no place in town where the show could have a commercial run these days. Jon (Lin-Manuel Miranda) is a few days shy of his thirtieth birthday. He feels like he's going nowhere and it's only a matter of time before he gives up. ("Giving up" is the "Boom!" of the title.) His girlfriend Susan (Karen Olivo) is a frustrated dancer, and pressures him to move to Cape Cod, or maybe Northampton. His best friend Michael (Leslie Odom Jr) is an actor turned corporate drone, and he wants Jon to take a job at his ad agency.
Jon's job at the diner is numbing, his relationship with Susan is deteriorating, his guest appearance at a corporate brainstorming session is a disaster, but does have a one-time workshop of a piece coming up (Larson's own Superbia). He flirts with an actress from the cast, Karessa (also Olivo), who sings a knockout number in the workshop. Alas, nobody wants to take the show forward, but there is an unexpected and perfectly set up happy ending, which we won't give away.
That ending is deeply moving, and there are enough excellent moments along the way to keep our attention, but it needs to be said that this is no masterpiece. There's a fair amount of self-pity in the first twenty minutes or so, and none of the songs have both great words and great music. The high-energy rock which Jon talks about bringing to musical theater (and which Larson found for Rent) doesn't show up until the fifth song ("No More"), which is mostly about wanting a nice apartment. "Sunday" is an amazing and brilliant parody of the lyrics to the Act 1 finale of Sunday in the Park with George, but Larson doesn't know what to do about the music and so merely and awkwardly simplifies it. "Come to Your Senses," sung by Karessa, is a terrific belting showstopper, but runs out of things to say long before the song is over. Both "Sugar" and "Therapy" are one-joke comic numbers, though the music to "Therapy" builds to a nice finish.
Then there's the problem of the women. Susan seems cold and angry, even envious of Jon's aspirations, so we don't care if she leaves him. The actress he flirts with--"Karessa Johnson," get the pun?--is hardly a character at all, even though she gets the 11 o'clock number. These shortcomings are probably artifacts of the adaptation process, but still.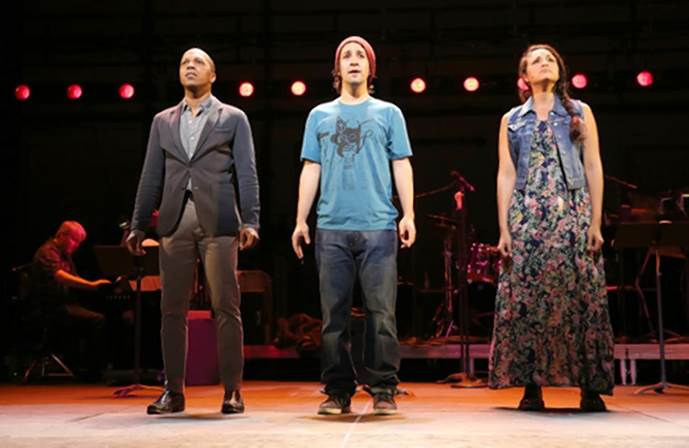 JOAN MARCUS From left, Leslie Odom Jr., Lin-Manuel Miranda, and Karen Olivo in "Tick, Tick ... Boom!"
Encores! enables dream casting, and here delivers: Miranda, Olivo, and Odom are all ideal. Odom has a fine voice, and Olivo's great talent is well-known. Miranda and Olivo's real-life friendship (they were co-stars in In the Heights) worked to advantage here. As a composer himself, Miranda has lived many of Jon's (and Larson's) experiences, and in the scene before the workshop the boundary between actor and character simply disappeared.
Unfortunately Miranda has some vocal problems. He was not in good voice on Thursday, often distressingly flat. He improved in later performances, but this style of music needs him to open the back of his throat (what singers call "raising the soft palate"). Without that, sustained tones sound restricted, lyrics are harder to understand, and the singing generally less expressive.
The staging was excellent. Oliver Butler's direction and Donyale Werle's set were subtle and sophisticated, yet gave the illusion of complete simplicity. The band at Encores! is often (perhaps always) the main attraction, and music director Chris Fenwick did not disappoint.
Tick, Tick...Boom!
Produced by City Center Encores!
June 26-28, 2014
131 West 55th St, Manhattan
Running time: One hour and 30 minutes, no intermission.