l to r: Justin Scott Brown (as Tim) George Lee Andrews (as Scrooge)         Photos by John Vecchiolla 
                                                          by Ed Lieberman
In the vein of the current mania for prequels and sequels, Tim and Scrooge picks up the story of Charles Dickens' beloved A Christmas Carol twelve years later. Scrooge, after his transformation from miser to loving benefactor of Tiny Tim and the Cratchit family, has passed on, leaving a will that bequeaths his business, the Scrooge & Marley Counting House, to Tiny Tim on his 21st birthday. As the story begins, Scrooge and his partner, Marley, are looking down from . . . above (?) eagerly anticipating the reaction of the now 20 yr. old Tim when his family springs the surprise on him at the Cratchits' Christmas Eve celebration.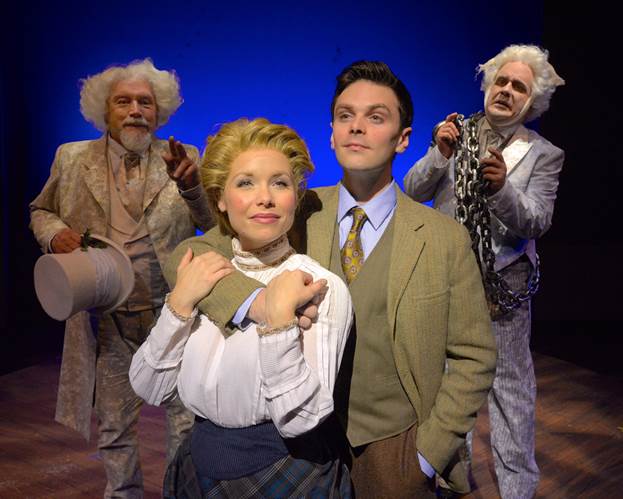 Front: Marissa McGowan (as Allison) & Justin Scott Brown (as Tim). Back: L to r: George Lee Andrews (as Scrooge) Kevin Ligon (as Marley)
Tim, meanwhile, has a surprise of his own for his family: he has met and fallen in love with Allison, a fellow student at university. They have promised each other to forego the business world to devote themselves to teaching. Tim intends to surprise his parents by telling them of his plans to teach and of his betrothal to Allison on Christmas Eve. In furtherance of the surprise, he has asked Allison not to come home with him until he has broken the news. When he gets home, however, his father Bob, who has managed the business since Scrooge's passing, surprises Tim with news of Scrooge's bequest, which would bring him into the world of business that he so despises and, in Tim's mind, make him unworthy of Allison's love. Without Allison there to act as a counterbalance, Tim's father reminds Tim of the poverty they experienced before Scrooge's transformation ("The Way it Was Then"), and prevails upon him to take over the business.  A conflicted Tim starts looking at the books, realizes that he is in over his head, and, while his father is out of the office, unwittingly signs control of the business over to Hastings and Hall, to unscrupulous "business consultants." When his father chastises Tim over what he has done, Tim decides that he has to undo his mistake and try to save the business, at the cost of his love for Allison. With a wink to Dickens and Frank Capra, the ghost of Scrooge shows Tim his future life if he stays with the business to pay off his debts, or if he foregoes his family to become a teacher with Allison, and helps Tim resolve the situation, using a plot twist reminiscent of Gilbert & Sullivan's Pirates of Penzance.       
This is a heartwarming story of love, loyalty and family, abetted by a pleasing, if unmemorable score. It stays faithful to the sensibilities of the era of Dickens' tale, but is much lighter: a musical comedy, rather than the darkness that permeates much of Dickens' Carol. In many ways, it resembles a Gilbert & Sullivan production, particularly in the songs sung by Hastings and Hall, who thought they had an iron-clad agreement to take over the business ("Agreement," "The Business of Business"), and the plot contrivance that makes for the happy ending.
What really carries the show is the uniformly talented cast and crew that one has come to expect at this venue. Both Justin Scott Brown, who plays (no-longer-Tiny) Tim Cratchit, and Marissa McGowan, who plays his paramour, Allison, ably portray the enthusiasm and youthful idealism of their characters. Not only do they have excellent stage chemistry, they shine in their duets, beautifully laying out their plans for the future in the optimistic "Pages Are Turning," and expressing their heartbreak when Tim's decision to go into business threatens to destroy those very plans, in "Separate Paths."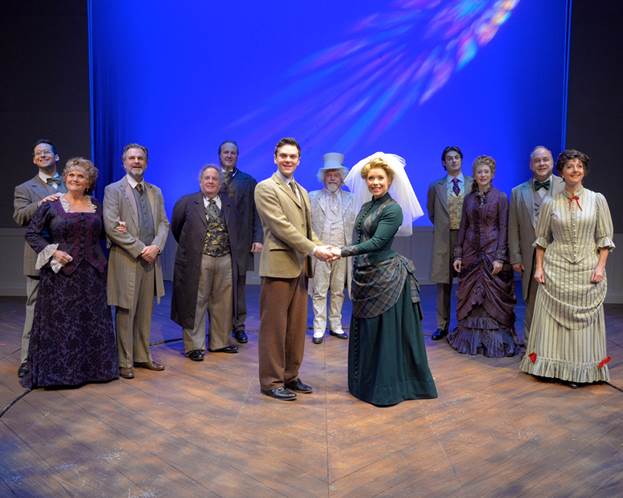 George Lee Andrews, who holds the Guiness World Record as the longest-running actor in a Broadway show (Phantom of the Opera) is a devilish, though lovable, Scrooge, who is continually chafing at the rules of behavior for guiding spirits (he can look, but not touch) that he is continually being reminded of by his former partner, Marley, played by Kevin Ligon. The cast is filled out by the members of the Cratchit family, including his brother Gerald, played by the scene-stealing Jed Resnick as a nervous father-to-be; his more worldly brother, Peter, played by Spencer Plachy; Rita Harvey, as the ditsy sister Martha, and their parents, Anne, played by Anna McNeely and Bob, played by John Hillner, who convincingly conveys the desperation he feels when Tim first threatens to renounce his bequest and when he fears the loss of his hard-earned financial security when Tim signs away the business. In addition to the family, there are the two Scrooge-like villains, Hastings and Hall, played by Daniel Marcus and Frank Inkley, respectively, and Allison's flighty friend Vanessa, delightfully vamped by Chandler Reeves.      
The atmosphere of Dickensian England is beautifully portrayed by the sets of Steve Loftus and lighting by Andrew Gmoser, as well as the costumes and wig/hair design by   Martha Bromelmeier and Gerard Kelly, respectively (for all of the earth-bound characters; the getups for Scrooge and Marley were entirely too over-the-top: Scrooge's goatee, fluffy white hair and top hat and tails made him look like a cross between Colonel Sanders and Uncle Sam, while Marley's hair and weird beard had him looking like Christopher Lloyd in "Back to the Future" with a toothache). The sound design by Jonathan Hatton and Mark Zuckerman, coupled with musical direction by Patrick Hoagland had perfect balance and did not drown out the rapid-fire lyrics of Nick Meglin.   
In short, a perfect holiday entertainment. As Scrooge says:
          "Love is what makes life worth living.
           Everything else --is Humbug!"
One caveat: although this is certainly a family-friendly holiday show, there are no kids in the cast and the story line may be over the heads of young children. That said, the book, music and performances of this talented cast make this a worthy night out for the holiday season. 
Tim and Scrooge will be playing through December 27, 2015 at the Westchester Broadway Theatre, One Broadway Plaza, Elmsford, NY 10523.
Tickets: 914-592-2222 (price includes 3-course lunch or dinner)