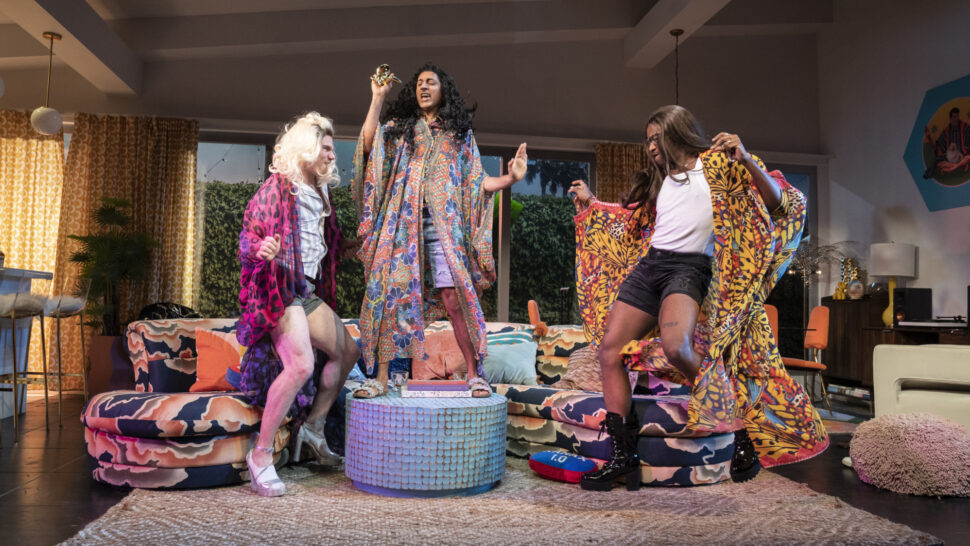 Jay Armstrong Johnson, Maulik Pancholy, and Britton Smith in, To My Girls
Joan Marcus
To My Girls
                    By David Schultz
Playwright JC Lee's new play posits a post-pandemic look into the future. Taking place in Palm Springs a group of chummy young gay buds take a retro house Airbnb rental for a few days from an older gay gent. They are there to reconnect, drink copious amounts of booze and make some Tic Tock videos for their internet media followers. The boys include Curtis (Jay Armstrong Johnson) White, privileged and buffed; Castor (Maulik Pancholy) Asian, conflicted, frustrated writer toiling away as meagre barista at a Starbucks; Leo (Britton Smith) a Black fey queer theorist heavily into the Tik Tok universe. Later on, other boys make their appearances into the fray. Omar (Noah J. Ricketts) Zero body fat tight as a drum chest boy toy pick-up; Bernie (Bryan Batt) 60ish daddy that owns and rents the house to the boys; and in the 11th hour Jeff (Carman Lacivita) one half of a troubled couple.
The actual plot of this entertaining comedy is slight, but within its 95-minute running time there is a lot to digest. The class distinctions between the men, unresolved sexual and personal issues, long festering emotional fissures, the over reliance on social media, and an overall critical overview of how unknowingly they deeply hurt their friends are shown in sharp verbal tirades.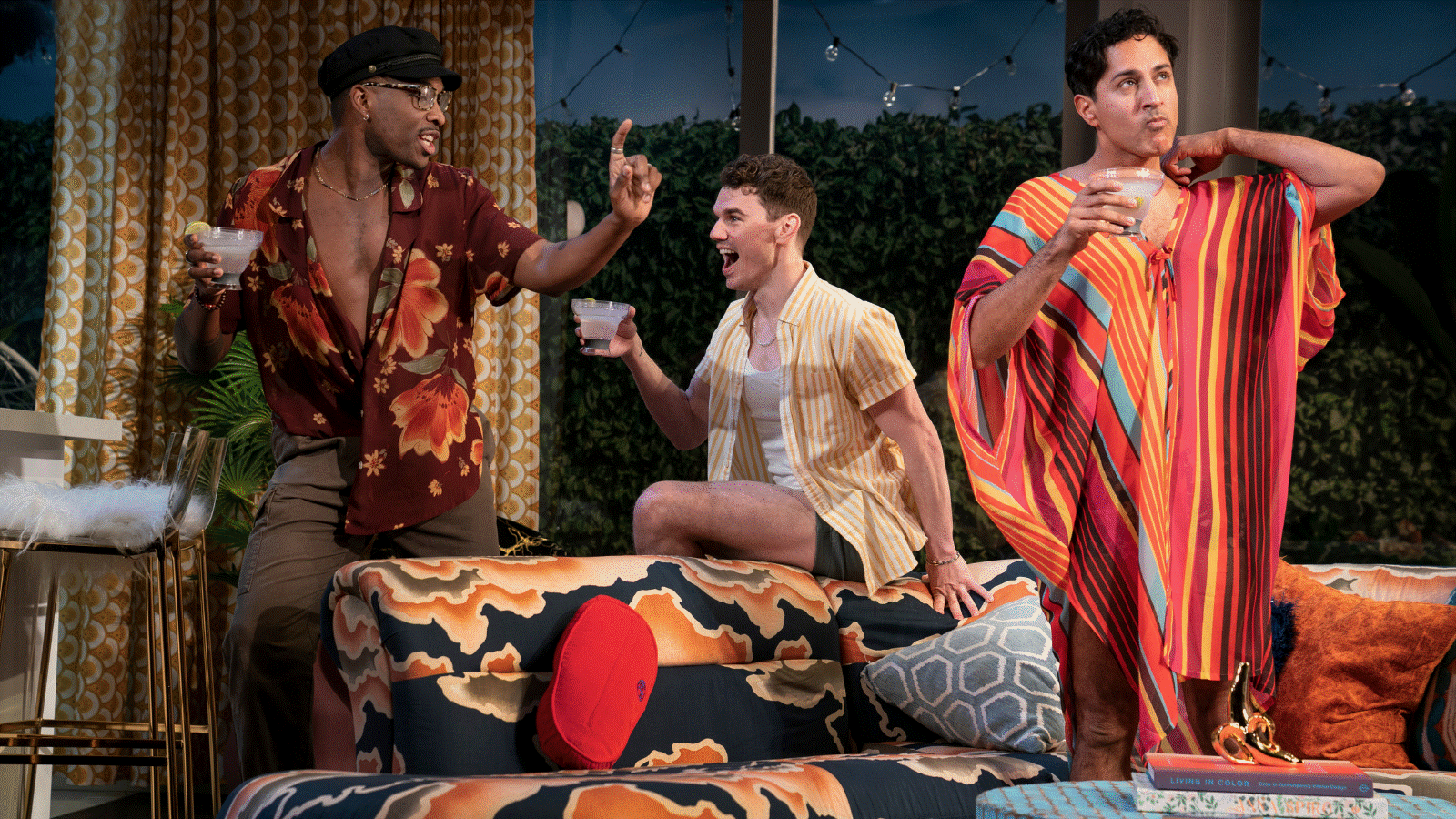 Britton Smith, Jay Armstrong Johnson, and Maulik Pancholy | Photo: Joan Marcus
Castor has followed his secret crush with Curtis from their New York City shared apartment to this trip to Palm Springs. They are platonic roommates back East and he hopes this might culminate into something more serious. Curtis strings him along but doesn't really have the same emotional feelings, but likes the attention. Later on, in the evening Castor picks up a buff young 20-something and brings him back to the house. Their surprising interaction turns the table on the audiences' preconceived notions. The verbal seduction is tantalizing but it ends with a very different outcome. In an earlier moment of self-realization Leo makes a grand gesture of framing himself within the cell phones range for a most perfect shot as he records his thoughts as he Tic Toks away. "We are perfectly offensive and fabulous: the ideal encapsulation of our people. We are deeply imperfect and also kind of selfish and though none of that makes up for your legitimate critique, know our hearts are in the right place. Mostly. Hopefully." With campy withering bon mots thrown into everyone's direction this seems true.
Bernie makes a few unexpected appearances as if to make a visual and aural commentary on what is wrong with the younger generation. His fatherly commentary stings with biting accuracy on their current lifestyle. All this over-the-top pageantry certainly reminds one of a much earlier theatrical frays into the ancient days of the 1970's. The classic Boys in The Band haunts this play, but whereas those agonized self-hating gays were seemingly doomed from the start, these millennials are quite enlightened…the ghosts of decades past still linger and burn in unexpected ways. The formulaic aspect of both plays 50 years apart are strangely still of one and the same, both sadly comforting and jarring intellectually. The witty verbose bitchiness is still there, but it stings just a bit less than decades earlier.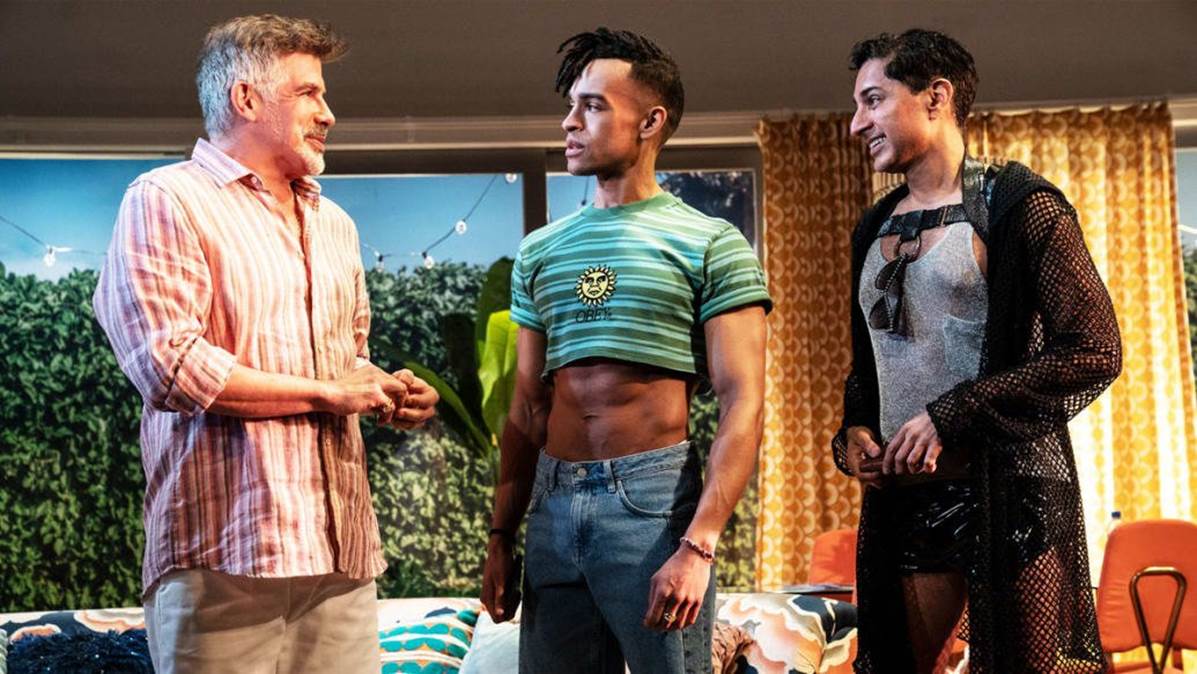 Bryan Batt, Noah J. Ricketts, and Maulik Pancholy in "To My Girls."
Joan Marcus
Director Stephen Brackett lets this talented cast loose with a carefree space to caper about whether singing iconic gay anthems, donning drag queen wigs or "You Go Girl" reposits.
But there are grand moments of soapbox soliloquys that give the work unusual unexpected heft in what is essentially a gay comedy that is speaking to its choir. The gorgeous, yet kitschy ironic set design by Arnulfo Maldonado reeks of a bygone era. Likewise, the trey gay costume design (Sarafina Bush) that the cast drapes themselves in with panache. At one point Castor is dressed in a getup that even Betty Paige would summarily dismiss as unseemly. Tight black pleather go-go pants, fishnet stockings, sheer shirt and chunky black boots! This mind you is a get up to entice one of the other characters. This falls flat as expected.
A wry comedic look at the current sexual and emotional foibles of the LGBTQ bois are on full display. If the musical "Lets still all be friends and make up" wrap-up dance party doesn't exactly ring true, it doesn't really matter…. There is much humor and mondo-drama crammed into that 95-minute runtime in this stinging cutting edge roundelay. 
Playing at The Tony Kiser Theater
305 West 43rd Street
(212) 541-4516
Playing through April 24th.