Jeff Daniels                                                                photos by Julieta Cervantes
To Kill a Mockingbird
                    By Ron Cohen
Aaron Sorkin has done a monumental job in transplanting Harper Lee's revered novel To Kill a Mockingbird into dramatic form. And it's being performed in an emotion-grabbing production that helps elevate an extraordinary Broadway season for straight plays to even rarer heights, a season that already boasts such gems as the overwhelming pulse of life in The Ferryman, the nearly unbearable tension of American Son, and the anticipated majesty of Glenda Jackson in King Lear.
Sorkin's approach to Mockingbird shows none of the damaging constraint or impulse to include everything that can stiffen an adaptation of a beloved classic. His affection and respect for the novel is more than evident in just about every word, but his script also vibrates with his own emotional and intellectual investment in the material.
Let's say you're a Mockingbird fanatic. You may walk into the theater with a checklist of plot points and characters ready to see how Sorkin handles them all, but you're quite likely to forget completely about it, as you get caught up in the storytelling and the humanity that radiates from the stage, as the people of 1934 Maycomb, Alabama, come vibrantly alive.
Bartlett Sher's direction is also a wonder, in simply managing the comings and goings of his 29-person cast (including the two onstage musicians who play Adam Guettel's incidental music), negotiating their appearances – looking so right in Ann Roth's costumes -- against the many set changes of Miriam Buether evocative scenery, flawlessly lit by Jennifer Tipton. But much more important is the apparent guidance he has given his performers in absorbing their characters, from the persuasive rural South accents to the deepest levels of their inner life.
Jeff Daniels breathes both fire and gentleness into the role of Atticus Finch, the lawyer whose respected position in town is both heightened and threatened by his defense of the black man Tom Robinson (Gbenga Akinnagbe), accused of rape. His accuser is Mayella Ewell (Erin Wilhelm), the eldest daughter of the town's outcast white family, living near the town dump.
Sorkin's version of Atticus is a bit rougher-edged than the almost unflappable Atticus of the book, but every moment rings true in Daniels' triumphant performance. His courtroom summation of Robinson's defense is an absolute spellbinder, and is a sharp clarion call against racism, as pertinent in our time as it was in 1934.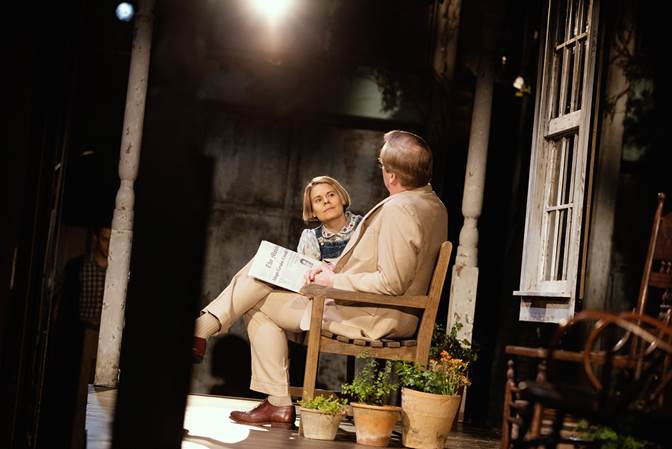 Equally splendid, and perhaps even more miraculous, is Celia Keenan-Bolger as Scout, the eight-year-old daughter of the widowed Atticus. As in the novel, Scout is the narrator, and Sorkin and the actress capture completely the voice, the curiosity, the innocence and the smarts, and the heart of this young person, viewing and eventually caught up in the turmoil caused by the participation of her adored father in the Robinson trial.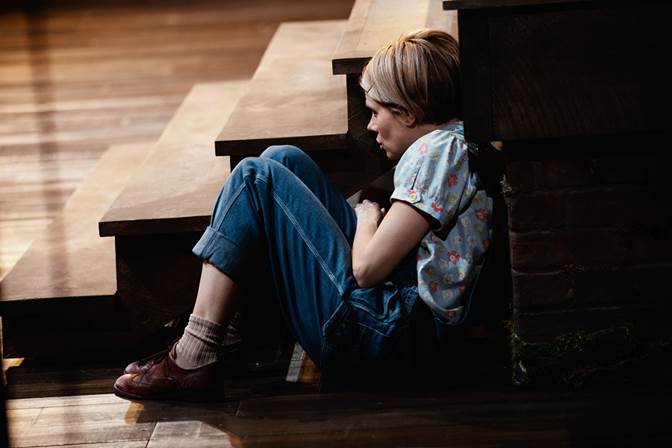 Celia Keenan-Bolger
An adult performer, Keenan-Bolger totally inhabits Scout's young demeanor, and as in the book delivers a dual consciousness, that of the young girl learning about life and in the telling of it somehow suggesting the acquired wisdom of adulthood. This is particularly evident in the play's final moments when Scout learns a key lesson from her father's behavior: facts must sometimes be compromised to achieve a greater good. As all you Mockingbird readers and moviegoers know, it's a lesson that comes with the death of Bob Ewell (Frederick Weller), Mayella's ferociously bigoted and despicable father, and concerns the Finch's reclusive neighbor, Boo Radley (Danny Wolohan), who emerges as a key figure in the tapestry of Mockingbird.
Sorkin makes the puzzling circumstances of Ewell's death a plot point from the play's very beginning, and it provides a theatrically effective arc for the narrative. 
Along with Keenan-Bolger, two other adult actors performing as youngsters are also impressive, Will Pullen, as Jem, Scout's older brother, and Gideon Glick as Dill, their summertime pal, a visitor to Maycomb from out-of-town. Glick's exuberance as Dill initially seems overdone, but once his troubled family background is revealed, it all falls into place and Glick's portrayal emerges as a heart-breaker.
Gideon Glick as Dill  and Will Pullen, as Jem, Scout's older brother
Among others in this assemblage of sterling performances, LaTanya Richardson Jackson brings both humor and moral authority to Calpurnia, the Finches' black maid and stalwart of the household. Sorkin deepens Calpurnia as an outspoken nay-sayer to racism and racists, poking holes in Atticus's dictum that all persons, even the most bigoted, have somewhere a shred of dignity. In the same vein, Sorkin adds anti-Semitism to Bob Ewell's brew of bigotry, accusing Atticus of having "Hebraic blood" in his defense of Robinson and tearing apart of Mayella's accusations.
Some other notable contributions include Dakin Matthews' wry officiating of the courtroom as Judge Taylor; Stark Sands' relentless evil in his questioning of Robinson as prosecutor Horace Gilmer; Danny McCarthy as the inherently right-thinking Sheriff Heck Tate; Phyllis Somerville as the ill-tempered and ill ancient town lady Mrs. Henry Dubose, and Neal Huff as Link Deas, who pretends to be the town drunk so folks will leave him alone.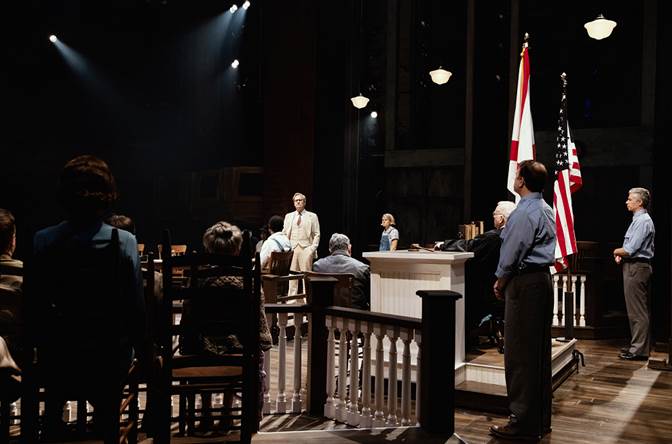 They plus just about everyone else involved in this production seemingly excel. They assure that Harper Lee can rest peacefully, knowing that her Mockingbird sings beautifully on Broadway.
Review posted January 2019
Broadway play
Playing at the Sam S. Shubert Theatre
235 West 44th Street
212-239-6200
https://tokillamockingbirdbroadway.com/#tickets
Open-end run: currently selling to November 3.