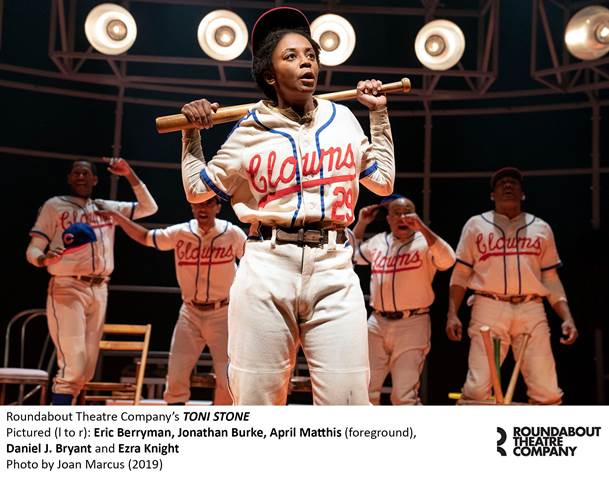 Toni Stone
††††††††††††††††††††† By Ron Cohen
Toni Stone loved baseball. Now, you may ask, Who? Or so what? History, as oft said, has a way of erasing the accomplishments of American women, and particularly, women of color.
So, if you need filling in, Toni Stone (1921-1996) was the first female professional baseball player, playing during the 1950s with the Negro League. And whether or not youíre a big fan of Americaís sport, the passion she feels for the game, as depicted in the new Off-Broadway play whose title bears her name, is pretty contagious.
Or at least deliciously understandableÖfrom the very start of the show. Thatís when Toni appears before us, an unprepossessing, bright-faced figure wearing a baseball uniform with the logo of the Indianapolis Clowns. She begins her story by telling us how the baseball feels in her hand. ďIt fills what your hand was without it,Ē she says.
And that evocative mood wonderfully marks the script by Lydia R. Diamond, based on the book Curveball, the Remarkable Story of Toni Stone by Martha Ackman.
Diamondís writing avoids a chronological template. Rather it skips about Toniís life in random fashion but with a definite purpose, making things entertaining as well as importantly informative. As Toni tells us early on, ďI am prone to ramblin. Never could tell a story from beginning to end all nice and neat.† My brain donít work that way.Ē
While the storytelling at times becomes a bit blurry, never in question is its celebration of Toniís single-minded determination to play baseball, challenging with forthrightness and gumption the barriers of racism and sexism that blanketed 1950s America.
Information on dates and locales is pretty skimpy, but is hardly missed as chapters from Toniís event-filled life are vividly recounted, along with the characters who inhabited them.
In what could be a star-making performance, April Matthisís Toni is totally beguiling. She imbues just about every word she utters with charm and authenticity. Her descriptions of the indignities she sometimes suffered are recounted with a captivating sense of innocence but unshakeable sense of self, devoid, though, of naivete.
Providing great assists are Matthisís eight male teammates, first introduced as Toniís fellow players on the Indianapolis Clowns. While Toni actually played with various teams, the play focuses on her playing with the Clowns.
AS the narrative progresses, they artfully embody other figures in her life, regardless of gender or race. (Costume designer Dede Ayite provides a suitable assortment of wardrobe pieces to wear over the uniforms to help differentiate the role-playing.)
Two principal characters are Minnie (Kenn E. Head), who is Toniís closest female friend, and Alberga (Harvy Blanks), an older businessman and behind-the-scenes politico who is Toniís longtime companion and eventually her husband.
Completing the roster are Eric Berryman, Phillip James Brannon, Daniel J. Bryant, Jonathan Burke, Tony Goins and Ezra Knight.
†
In one of the narrativeís many telling moments, we learn how Toni and Millie first meet. Millie is a prostitute working in a brothel where Toni and some of her teammates are forced to find a nightís shelter when the local hotel with its Jim Crow regulations turns them away. The two become lifelong pals, Millie helping to keep Toniís feminine side intact.
In another scene, we witness one of the exhibition games that Negro League teams occasionally played against white teams. These were games the black teams were supposed to lose. But in this particular game, as Toni says, ďyou just donít have the lose in you.Ē So, after the final out with the Clowns grabbing a victory, the players have to run to their bus to escape the angry mobs in the grandstand.
Another key episode is Toniís hiring by the white owner of the Clowns after seasons of working as a fill-in with various teams. She is taken on with the idea that being a woman she will be an additional attraction, playing second base as a hopeful ploy to shore up attendance at the games. The racial assimilation going on in Major League Baseball at the time was diminishing interest in the Negro League. But as a condition of her hiring, Toni has to accept the fact that she will be served up soft pitches to make her look good. Itís a condition Toni objects to and eventually is dropped as Toni proves her mettle.
In addition to the expertise of their ballplaying, the teams of the Negro League were expected to provide a sort of vaudeville entertainment for their ticket buyers, and thatís well suggested in the lively staging of director Pam MacKinnon, along with a couple of energetic interludes choreographed by Camille A. Brown.
But just as compelling are MacKinnonís handling of intimate dugout conversations and the relationships entwining Toni with Millie and Alberga as well as her teammates.
The airy set design by Riccardo Hernandez, marked by lighting designer Allen Lee Hughesí banks of spotlights often punctuating the various episodes, capture the feel of the ballpark. The atmosphere is further enlivened by the original music and sound design of Broken Chord.
In times of stress, Toni relieves her anxieties by reciting the statistics of her favorite players. And there are plenty of those moments. She eventually has to face the jealous rancor over her talents brewing in some of her teammates and the discomfort of her husband with her professional comporting in the gritty male environment of baseball.
In Diamondís script, Toni takes a year away from baseball, devoting her time to Alberga, but with the final fadeout, sheís back in the game. And youíre happy to see her there. Play ball!
Review posted June 2019
Off-Broadway play
Playing at the Laura Pels Theatre in the Harold and Miriam Steinberg Center for Theatre
111 West 46th Street
212.719.1300
Playing until August 11