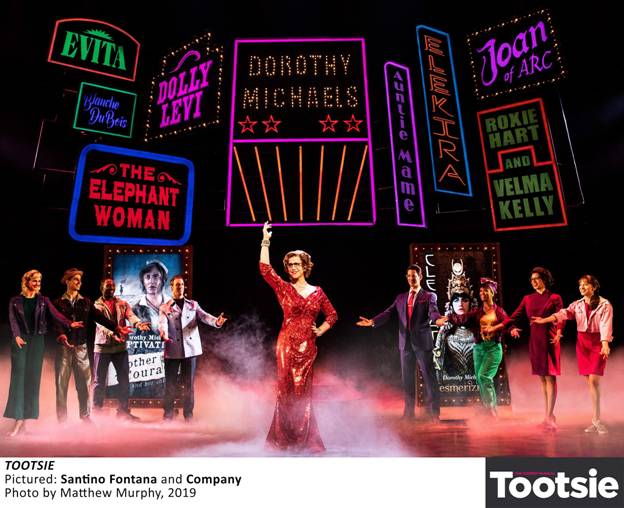 Tootsie

                  By Marc Miller
Santino Fontana. How long have some of us been waiting for him to become the breakout star we knew he could be? The anticipation goes back at least to Sons of the Prophet, through The Importance of Being Earnest and Act One and Cinderella, not to mention all those Crazy Ex-Girlfriend episodes. Now, in Tootsie, adapted rather loosely from the much-loved 1982 Dustin Hoffman film farce, he has the role he needs, and he's by far the outstanding element in a funny, expertly wrought, but somehow mildly disappointing musical. Everything about Tootsie is competent or better, and you'll watch Act One with a constant smile interrupted only by occasional out-and-out laughter. But then the machinery starts to clank a bit.
Robert Horn, the book writer whose underwhelming principal credits are 13 the Musical and Lone Star Love, has taken considerable liberties with the great Larry Gelbart-Murray Schisgal screenplay (with uncredited assistance from, among others, Barry Levinson and Elaine May). You'll recall Hoffman's Michael Dorsey, an insufferable actor whose self-righteousness renders him uncastable, to the point where he has to disguise himself as Dorothy Michaels, worming his way into a hit TV soap and straining to maintain the gender illusion. Dorothy's everything he's not—warm, empathetic, gen uinely helpful—and as her admirable traits seep into his skin, Michael becomes a better man.
The bare bones of the original remain, and Michael/Dorothy still falls uncomfortably in love with leading lady Julie (Lilli Cooper),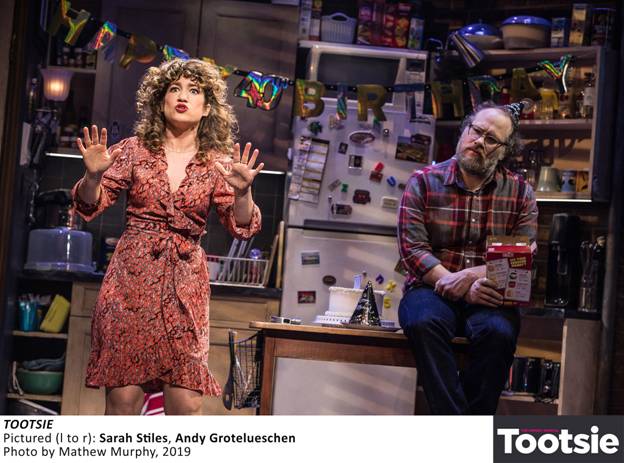 while ex-girlfriend and confidante Sandy (Sarah Stiles) fumes, and roommate-best pal Jeff (Andy Grotelueschen) backs Michael up with deadpan asides. But the soap opera Dorothy infiltrated is now a stage musical, Juliet's Curse, a misbegotten sequel to Romeo and Juliet (seems she didn't die after all). Cast as Juliet's nurse, Dorothy spars with egotistical director Ron (Reg Rogers) and reshapes the material around herself, to the point where she has the cast's full support, and Juliet's Curse becomes Juliet's Nurse.
Smart rewriting, actually, for the most part: Resetting the premise on the boards allows Horn and composer-lyricist David Yazbek, joyfully back in conventional-musical-comedy mode after The Band's Visit, to saturate the stage with diegetic production numbers and smart wisecracks about the theater.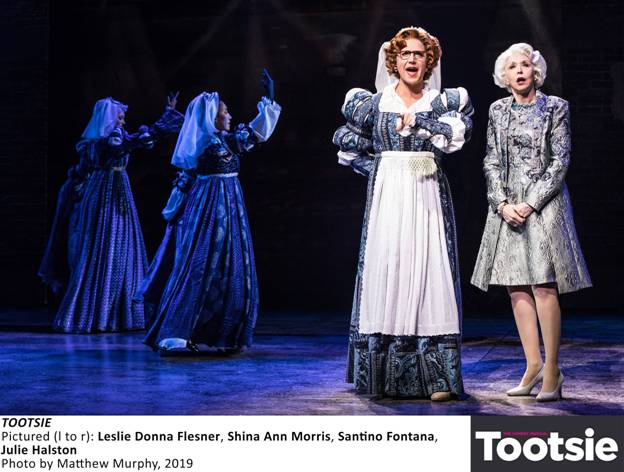 Many of the latter come from the show's producer, Rita (Julie Halston, always welcome), with additional funny theatrical one-liners from Michael's agent, Stan (Michael McGrath, who deserves a great musical of his own, and is unfortunately limited here to a couple of short scenes). The leading man of the original, so memorably embodied by George Gaynes, is now the younger, stupider alpha male Max (John Behlmann), fascinated by Dorothy and constantly removing his shirt (this is not a bad thing). Then there are Juliet's Nurse's writers, Stuart (Nick Spangler) and Suzie (Britney Coleman), who haven't much to do.
Got all that? It's a crowded slate of supporting characters, and one tends to forget about them when they're not onstage, which happens for long stretches. The focus is on Michael/Dorothy, and that's fine, because Fontana not only is a credible Dorothy, he's much more of an actor than most musical leading men, a splendid singer (in all sorts of ranges), and the possessor of no small amount of star quality. He also has great timing, and Horn has given him, and everyone, plenty of zingers. The best punchlines, though, fall to Grotelueschen, who looks like a heavier, bearded Bill Murray, and hews very close to the Jeff that Murray gave us in the movie, and Stiles, whose unhinged Sandy screams a lot, which is funny, for a while. But she's always angry—come to think of it, anger's the default emotion for everybody.
And the high-pitched emotions eventually grow a little wearing, in both book and score. Yazbek's a reliable writer of comedy numbers, and his off-the-wall humor's intact and his rhymes impressive, from "see ya/Scalia" to "Dorsey/of course he" to "unstoppable/unpoppable." His ballads, though, ring a little hollow here—I've no idea what "There Was John," Julie's establishing number, or "Who Are You," her getting-to-know-you duet with Michael, are trying to say. Neither Yazbek, Horn, nor Scott Ellis, the director, knows how to freshen the female-empowerment angle that's so pervasive on stages everywhere this season; what Ellis does know how to do is set up a gag, earn the laugh, and stretch it out. It's a dead heat with The Prom, but Tootsie might be the funniest musical of the year.
No contest, though, in casting—The Prom by a mile. We love Fontana and Halston and McGrath, but everyone else is hovering around capable. Cooper's a no-more-than-serviceable Julie, Behlmann can't bring more than one note to Max's clueless preening, and Rogers lacks his usual ability to give value-added to an unpleasant character. While the production is A-team all over—a gleaming David Rockwell set, spiffy William Ivey Long costumes, luscious Donald Holder lighting—nothing stands out, and Brian Ronan's sound design, as is becoming the regrettable standard on Broadway, is so loud that it robs us of what are probably some worth-hearing Yazbek lyrics. Denis Jones's choreography is skimpy for a big musical comedy. Horn provides a pianissimo curtain, with Michael and Julie coming to terms on a bench; quiet fadeouts are fine if you're Kismet or The Fantasticks, but one expects more brio from a big, brash property like this.
But if you want a lively, fun night out, you'll get it, along with the reassuring thought that, with Tootsie, The Prom, and the better moments of Be More Chill, musical comedy is alive and well. And welcome, Mr. Fontana, at last, to the A List. With this surely exhausting, likely Tony-winning, turn—navigating between baritone and falsetto, making countless swaps from shirt and trousers to bra and girdle, providing an often unlikable hero with all the leading-man charm it requires—you've earned it.
Open run.
At the Marquis Theatre, 210 West 46th Street, Manhattan.
Running time: 2 hours, 30 minutes with one intermission.
For tickets, visit ticketmaster.com.