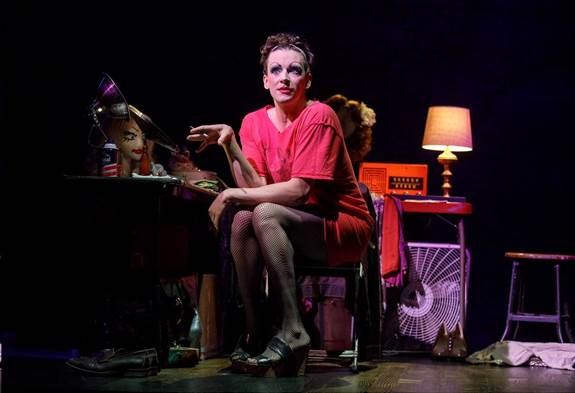 Michael Urie                      Photo by Joan Marcus, 2017
                                  By David Schultz
How can something seem both dated and au currant at the same time? This revised version of playwright Harvey Fierstein's 1982 Tony Award Winning play accomplishes just that.  With an original running time of four hours, this truncated version runs just about two hours & forty minutes. This nip and tuck makes the three acts glide by without any hiccups. The first thing…. the elephant in the room actually, is trying to forget the indelible impression of Mr. Fierstein who originated the role. Much of the character of Arnold Beckoff is custom-made for him.  Michael Urie, slight in build, the complete visual opposite of Mr. Fierstein, is what first hits you, Mr. Urie channels his precursor in his patois, with a dash of Streisand, no doubt a nod to his previous hit Buyer and Cellar a few seasons ago. 
The 1970's and early 80's are evoked with loving care; director Moises Kaufman gives each segment a different look and feel.  The audience is introduced to this gay, drag-performer in the midst of getting ready to perform. This first act entitled International Stud is set in 1971. Various platforms glide on and off stage giving the whole affair a slightly cinematic effect. In no time flat Arnold, nervous and high strung, is convinced he should go to that notorious downtown club and find the man of his dreams. By some miracle he does indeed meet up with a strapping blond hunk named Ed (Ward Horton), though with the jarring knowledge that he is closeted and also bisexual. No matter, they hook up; start up a tenuous relationship, and in a few months time the relationship seems to be on the rocks.
Both actors perfectly capture the tentative emotions that a new paramour can engender. But as luck…bad luck would have it, Ed finds another lover to occupy his time. To Arnold's horror and dismay Ed drops him for Laurel, a woman, only makes the sting of defeat that much worse to bear. Laurel (Roxanna Hope Radja) is sweet, but aware that she is involved with a switch hitter, but resolves to see where it may lead.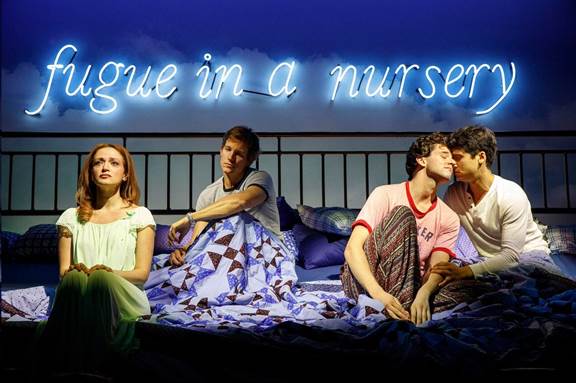 Pictured (l to r): Roxanna Hope Radja, Ward Horton, Michael Urie, Michael Rosen                         
Photo by Joan Marcus, 2017
This First short act is followed by the Second entitled Fugue in a Nursery set in 1974. This entire act takes place in an enormous bed that is unfurled downstage, engulfing the entire stage. The location has moved from New York City to Upstate New York. Ed and Laurel are cozily ensconced in a love nest and being the model of modernity invite Arnold and his new boyfriend Alan (Michael Rosen) up to the house for the weekend. This segment is the most amusing with unbridled passions, simmering jealousies, and sexual undercurrents running rampant. Laurel seems thrilled with this event bringing everyone together. With the knowledge of Ed and Arnold's past still lingering in her mind, she revels with the knowledge that she is Ed's main squeeze…but maybe not. All four characters are on the bed during the length of this act. All manner of couplings and uncoupling occur with an occasional flash-forward, and backward look in time. This refracted look into their interior lives is done in rapid fire segments, showing how they seem to know each other intimately, keep secrets from each other, and are clueless as well, all performed with metronomic precision. The funniest segment by far, this sets the dial up for the last part of the evening.
Taking place in 1980, Widows and Children First, brings all facets of the preceding evening with this much longer last segment. Arnold has lost a lover to a violent act, described in minor detail, not shown. His dear Ed has temporarily left Laurel and is crashing on Arnold's couch, and still has sexual longings and emotional ties to Arnold. In a bold move, Arnold is acting as a foster parent to a wayward teenager named David (Jack Difalco) who he plans on adopting when the trial period ends. This is just the lead up to what Arnold fears is his emotional tsunami…his mother (Mercedes Ruehl) is coming up from Florida to visit, setting up both a hilarious and intense verbal boxing match for Arnold and his unforgiving and taciturn mother.
Pictured (l to r): Mercedes Ruehl, Michael Urie
Photo by Joan Marcus, 2017
Outside appearances contradict the emotional fury and angst that bubble to the surface. Ms. Ruehl throws down some mean shade to her son; this at first stereotypical Jewish Mother shows how mother love and uncompromising rigidity coexist. Even though at times this final act is suffused with a sitcom's pacing, it suddenly shocks with raw gut-wrenching verbal arias between mother and son.
Scenic designer David Zinn gives each act a particular look and feel from tacky backroom clubs, dark dank basement venues, to that enormous football sized bed, to finally Arnold's New York apartment where the play bids a wistful fond adieu. Costume Designer Clint Ramos cleverly evokes with spot on skill the look and feel of the era…. even the hairstyles are eerily accurate which gives the production a vintage look at the way we were. Director Moises Kaufman manages to give each actor space to move and grow and espouse their newfound freedoms.
This Torch Song is not unlike looking at an album of long ago photographs, or listening to music of years gone by. The final gently moving scene encapsulates all the people that have touched Arnold's life in one-way shape or form, as this play ends on a note of grace.       
Second Stage Theater, 305 West 43rd Street.
Tickets $99--$139
Box Office 212 246 4422
Playing through December 9th