George Morfogen Jean Lichty Korinne Tetlow and

Larry Bull
                  By Arney Rosenblat
The Traveling Lady  by Horton Foote is a poignant story of longing and remorse set in a rural 1950's Texas town. On the surface, the lives portrayed may appear remote to the in-your-face tell-all lifestyle of the typical Manhattan dweller, till you get to know these reserved but real people with real problems who have their own special dreams.
An early play by one of America's most prolific writers, it quietly draws you into the lives of its characters thanks in large part to the sensitive and understated directing of Austin Pendleton and the well integrated cast which makes Harrison, Texas, the frequent center of Mr. Foote's semi-fictional universe, come alive as a full fledged community.
The excellent revival is mounted by La Femme Theatre Productions whose credo is "dedicated to the exploration and celebration of the universal female experience." Executive Director Jean Lichty plays the title role of Georgette Thomas and does so with compelling grace.
The Traveling Lady tells the story of Georgette Thomas who comes to Harrison, Texas with her young daughter, Margaret Rose, an adorable Korinne Tetlow, to await the expected release of her husband, Henry, from prison. Seeking a place to stay while she waits, Georgette ends up in the yard of Clara Breedlove, whose warm and winning ways, beautifully conveyed by Angelina Fiordellisi, have made her front porch the gathering spot of the community, a community which decides to take the lost Georgette and her daughter under their wing. What the community knows and Georgette doesn't is that Henry is already out of jail and working for Mrs. Tillman, an effective Jill Tanner, who is determined to complete his rehabilitation.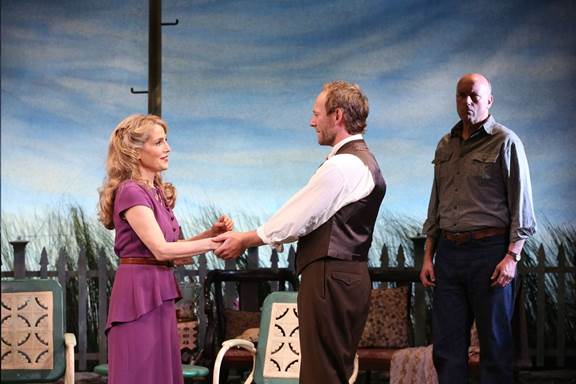 Jean Lichty, PJ Sosko and Larry Bull.
Henry, played convincingly by PJ Sosko, is an aspiring country singer whose abusive childhood, alcoholism and temperament have left him a broken man, full of regrets who is unable to move forward with his life. Ironically, only when he's drunk can Henry express the destructive feelings that haunt him and will likely prevent him from ever making a home together with Georgette and his daughter. One of the most painfully touching scenes in the play is when Henry and Georgette finally meet again and all he is able to do is shake her hand.
Among the remaining cast of characters that populate Clara Breedlove's front porch and Georgette's evolving future are Mrs. Mavis, an elderly neighbor whose faculties are slipping and whose sharp performance by Lynn Cohen bring humor, dignity and compassion to her character. She is watched over by her frequently frustrated daughter, Sitter Mavis, perfectly played by Annette O'Toole.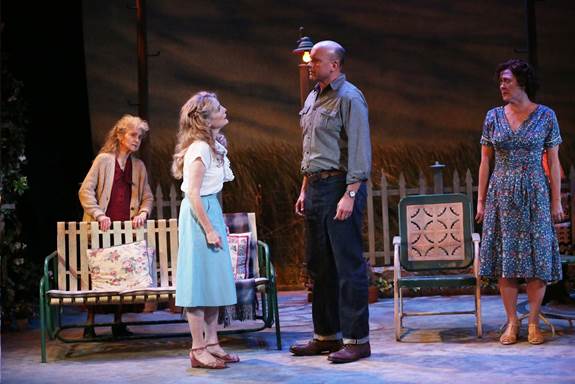 Lynn Cohen, Jean Lichty, Larry Bull and Karen Ziemba         photos by Carol Rosegg.
It is Judge Robedaux played sympathetically by George Morfogen who has houses to rent that sets the traditional and touching tone of the play but it is Slim Murray, Clara's widower brother who offers a possible stable and positive future for Georgette and her daughter, when his admiration for Georgette turns to love.
As with Georgette, love has not been kind to the big-hearted Slim Murray, who Larry Bull makes you instantly embrace
"Six months after we were married, Laura left me...she never called or wrote...Even when she was so sick...and I came back here to be near her...everybody..thought I was sitting by her bedside..I wasn't . I was sitting outside the door to her bedroom...the night before she died...she asked me to forgive her and I said there was nothing to forgive...Since her death I used to..sit by myself...wondering what went wrong...then it came to me...that right or wrong, I did the best I could."
To support the realistic story, set and lighting designer Harry Feiner creates a correspondingly realistic and inviting backdrop while Amy Stoller ensures everyone sounds like Texans and not caricatures of Texans.
Though the production of The Traveling Lady is first rate, the play itself is not one of Mr. Foote's finest as it was written long before he developed into the master playwright he would ultimately become with such gems as The Orphan's Home Cycle, The Young Man From Atlanta, Dividing the Estate and Tender Mercies.
Off Broadway Play, Drama
One Hour and 45 minutes
Cherry Lane Theatre
38 Commerce Street
Closing Date: July 30