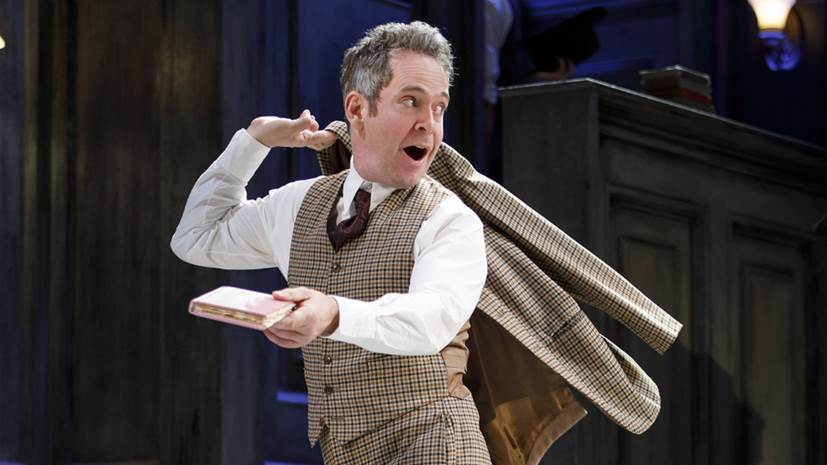 Tom Hollander                                                              photo credit Joan Marcus
                                                    by Julia Polinsky
"Early Stoppard." If those words thrill you, fill you with fantastic longing for great theater, you're in for a treat. You'll revel in every moment of the Menier Chocolate Factory's production of Travesties, Stoppard's giddy, delightful, 1974 word-nerd talkfest. Be grateful to the Roundabout Theatre Company for bringing this production from London to New York.
The plot of Travesties is hardly crowded with incident; mostly, people talk (and take pratfalls, and sing and dance). Travesties begins and ends with the aging Henry Carr (Tom Hollander) and his unreliable, haywire memory of time he spent in Zurich, Switzerland, in 1917. British consul, wounded war veteran, amateur actor, and even spy, Henry encounters author James Joyce (Peter McDonald), Russian revolutionary Lenin (Dan Butler) and Tristan Tzara, the founder of Dada (Seth Numrich). Joyce is writing Ulysses and producing an amateur production of The Importance of Being Earnest; Lenin works on his political writings, and Tzara writes, cuts up his writing, rearranges it into non-sense, and calls it art.
Fifty or so years later, aging codger Carr thinks back to the time, the place, the people, and the incidents. Henry's reminiscences reflect on the unreliability of memory, on the reason for art, on love, on politics and revolution. These ideas are couched in an epic word salad, sometimes in fragmented sentences no more coherent than the Tzara's Dada writings, sometimes in epigrams worthy of Oscar Wilde. (Wilde's The Importance of Being Earnest looms large over Travesties, in terms of style, characters, and plot; the Stoppard play can be seen as a travesty of the Wilde one).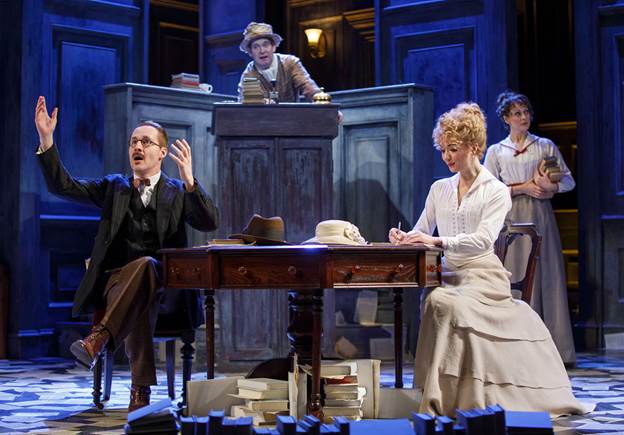 Peter McDonald, Tom Hollander, Sarrlett Strallem, Sara Topham
And yet, it's not necessary to have a PhD in English Literature or a master's degree in Early 20th Century History to enjoy Travesties. Truly, it isn't. You can sit and let the ideas wash over you to savor later, or pick out jewels of Stoppard's writing in the moment. One whole scene is written in limericks; another riffs on the Russian word "da" and the art movement, Dada. As Joyce dictates the last lines of Ulysses to his assistant, Gwendolyn (Scarlett Strallen), she repeats the "yes! yes!" of the text with great enthusiasm and for very good reason.
As much farce as thought-experiment, this Travesties pulls smashingly physical performances out of a superb cast under the direction of Patrick Marber. Tom Hollander's masterful, dazzling monologue in Act 1 will remain in memory as an exceptional example of what an extraordinary actor can do. In Travesties, actors climb on tables, fall down stairs, pop out of hidden panels, all while discussing Great Ideas. We also have mistaken identities, bizarre complications, and turn-on-a-dime plot twists.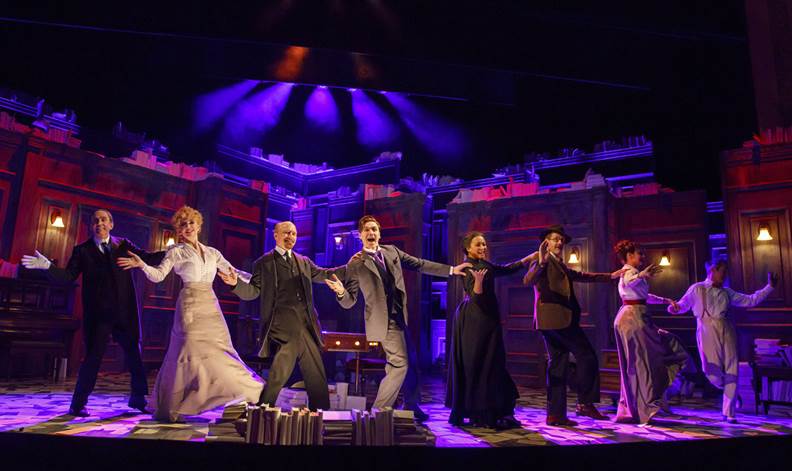 Cast of Travesties                                           photos Joan Marcus
All the terrific talk and performances are surrounded by a simply smashing production. Tim Hatley's costume and set design are superb. Sound design and original music by Adam Cork work beautifully, as does the lighting design by Neil Austin. Patric Marber's direction feels so natural, it's as if he just tossed his actors on the stage and let them do their thing, as unlikely as that may be. Performances like this don't happen by accident. Huge kudos to all involved.
Travesties
American Airlines Theatre
227 W. 42nd St, New York, NY
Tickets $59-252
Box office: Sun & Mon 10am–6pm; Tues–Sat 10am-8pm
Phone: 212.719.1300
Performances: Tuesday, Thursday, 7pm; Wednesday, Saturday, 2pm; Friday, Saturday, 8pm; Sunday 3pm (some dates and times vary; contact box office)
https://www.roundabouttheatre.org/tickets/reserve.aspx?pid=24835