Ismenia Mendes, left, Andrew Burnap and John Glover
 Photo Credit: Joan Marcus
            by Deirdre Donovan
Daniel Sullivan adds another feather to his cap by mounting Shakespeare's most modern play at the Delacorte Theater in Central Park.
Troilus and Cressida has won the difficult affection of critics over the years.  And, with Daniel Sullivan's ultra-modern staging of the Bard's play at the Public Theater's Delacorte Theater, as the second offering of their Shakespeare–in-the-Park season, it may well attract some new admirers.
So what's going on in Troilus and Cressida?  Two stories, in fact, that slowly intertwine into a whole.  First, there's the efforts of the Greeks to get the champion Achilles out of bed with his lover Patroclus and onto the battlefield.  Secondly, there's the efforts of Troilus to get Cressida into his arms, before he must arm himself again--and go back onto the battlefield.
Like Shakespeare's other plays with two lovers in their titles—Romeo and Juliet and Antony and Cleopatra—Troilus and Cressida invites us to investigate two principals at once:   Troilus, Priam's son and the so-called "prince of chivalry;" and Cressida, the daughter of the priest Calchas and Troilus' passionate lover.  And though their romance starts outs so promising, the lovers soon become a victim of their circumstances.  And the Trojan War.  Thersites perhaps sums it up best:  "Lechery, lechery; still, wars and lechery; nothing
else holds fashion."
The acting is the thing here.  And Andrew Burnap, Ismenia Mendes and John Glover are spot on as the triumvirate of Troilus, Cressida, and Pandarus.  Glover, as Pandarus, infuses his role with a mixture of sweetness and cunning early on, and later with a sourness precipitated by the harsh realities of war. Burnap and Mendes, playing opposite each other as the titular lovers, are well-matched.  The electricity between them--from the moment they are on stage together--is palpable.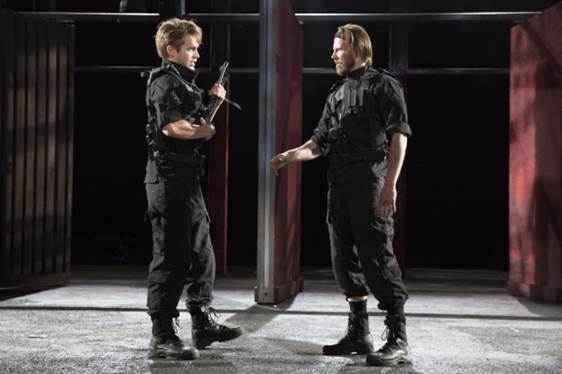 Andrew Burnap and Bill Heck
The rest of the acting ensemble turn in some fine performances.  John Douglas Thompson is utterly commanding as Agamemnon.  Corey Stoll is excellent as the brainy Ulysses, an eloquent statesman who could give Trump some real pointers on his next speech.  Edward James Hyland inhabits old Nestor with a dignified, if slightly crotchety, air.  And, in the key parts of Achilles and Patroclus, Louis Cancelmi (replacing David Harbour) and Tom Pecinka deliver some refreshing comic relief.  Although a critic once compared these male lovers to caricatures out of a William Steig cartoon, the pair are also associated with David and Jonathan in the bible (1 Samuel 18), soul-mates who preferred each other's company with no apology.
Max Casella, as the fool Thersites, is a venomous chorus of one.  (The poet Coleridge famously dubbed this scabrous character the "Caliban of demagoguery.") Forrest Malloy renders Menelaus as a milquetoast, a man who has lost not only his wife (Helen), but face in society.  And don't nod off during the play's final scenes!  Bill Heck, as the heroic Hector, is not to be missed.  His Hector gets brutally killed at the finale by Achilles and the Myrmidons.  But be forewarned:  His death scene may be the bloodiest ever executed on the Delacorte stage. 
Okay, not all the performers in this 25-member ensemble have strong Shakespearean chops.  But they all manage, more or less, to wrap their mouths around the verse.
No problems with the creative team.  David Zinn's sliding-panel set, complemented by Robert Wierzel's lighting, is the brilliant answer to doing quick set changes.  One can expect a glimpse of war-torn landscapes, a spacious orchard, posh domestic interiors, military camps, and more.  And, oh yes.  On both edges of the stage is junked furniture, which serves as an apt metaphor for the chaos of wartime.
Mark Menard's sound design, replete with gunfire and explosions, is totally realistic.  And a shout out to co-fight directors, Michael Rossmy and Rick Sordelet.  All the fight scenes are finessed with split-second timing, and the clashing of weapons is sure to make you heart skip a beat or three.
Sullivan's (Proof, 2001 Tony Award) even-handed direction is superb here.  He never over-reaches himself but adds some terrific millennial touches to his production.  Case in point:  In Act 1, for the parade of the Trojan nobility returning from battle (think Antenor, Aeneas, Hector, and Troilus), he has Cressida and her Uncle Pandarus intently watching the ceremonious event on a computer screen.  Yes, Sullivan adroitly manages to retain the medieval flavor of the mythic story but overlays it with telling artifacts from our contemporary culture.  With 10 Delacorte productions already under his belt, this Troilus and Cressida adds another feather to his cap.
Troilus and Cressida has rightly been dubbed Shakespeare's most modern play.  After seeing this production, you surely won't be looking at the world through rose-colored glasses.  But you will gain a better insight into politics, love, and war.
Through August 14th.
Tickets to all performances are free.  For information on tickets, visit www.publictheater.org.
At the Delacorte Theater in Central Park.
Running time:  3 hours with one intermission.