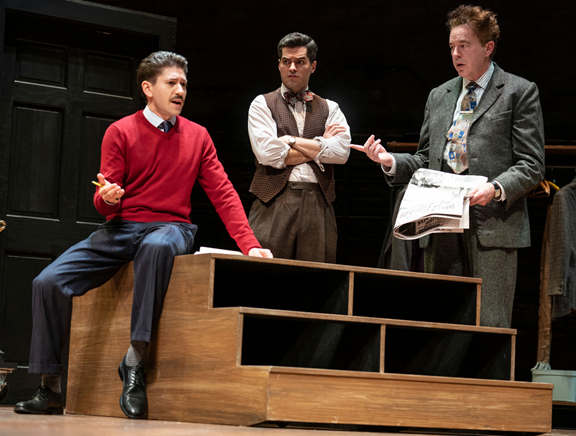 (l to r): Michael Zegen ( Al Manners ) , Alex Mickiewicz ( Eddie Fenton ) , Don Stephenson ( Bill O'Wray ) Photo: Joan Marcus
Trouble in Mind
By Alice Childress
Reviewed by Julia Polinsky
Originally an off-Broadway success in the 1950s, the play was slated to move to Broadway, but the producers wanted Childress to ease up on the racist themes and make a happier ending. She wouldn't and couldn't, and so Broadway had to wait until now to have a handsome mounting of this difficult play.
Difficult? Yes. Trouble in Mind looks simple on the surface, but there's a lot going on and attention must be paid. It's 1957, and an interracial company is rehearsing an anti-lynching play, written by a white author (never seen) and led by a white director, Al Manners (Michael Zegen).  
LaChanze plays Wiletta, a Black actress who's had a long career as servants and mammys and in "character roles." It's magnificent to watch her be all the different people demanded of Wiletta: the experienced Black actress, capable of excellence but relegated to subservient roles; the "yes man," telling the White folks what they want to hear; and the superb actress, provoked by the director to be truthful.
Al Manners, the director, reveals himself to be a patronizing fool, complete with poor choices, bad behavior, and outright stupidity. He is cruel to the stage manager, Eddie (Alex Mickiewicz) and the iconic old stage-door guy, Henry (Simon Jones). Manners himself makes the characters in the play-within-the-play one dimensional at best, while paying lip service to wanting truth from them. He encourages the Huey Long mannerisms of Bill (Don Stephens), who plays the white father. He directs the super-overacting of John, playing the doomed Job (Brandon Micheal Hall) and the super naivete of Judy (Danielle Campbell), the ingenue to end all ingenues, the nothingness of Sheldon (Chuck Cooper), whittling his stick; the superfluousness of Millie (Jessica Frances Dukes).  None of it makes the play-within-the-play work.
It's really LaChanze's star turn as Wiletta Mayer that makes Trouble in Mind work. She is just terrific. Few of the other characters are written as fully as hers; nobody else gets to be grand. Michael Zegen, as the director, Al Manners, has the other most fully written role, but even he cannot hold a candle to LaChanze's performance, her magnificent, blazing truth.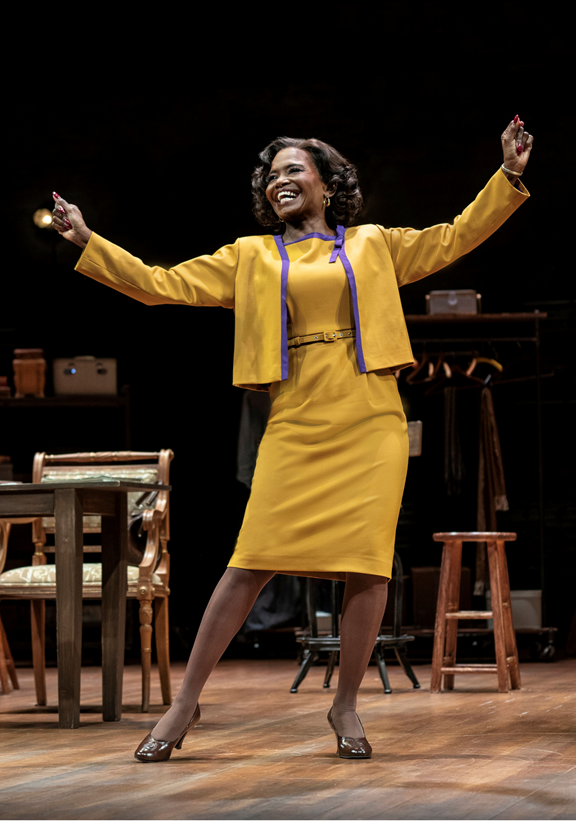 LaChanze ( Wiletta Mayer ) Photo: Joan Marcus
Truth hurts; the director gets more than he asks for when he demands that Wiletta dial it back. She can't; she's awakened the anger and intelligence inside herself, and it has to come out. The truth, as he sees it?
…There's damned few of us interested in putting on a colored show at all, much less one that's going to say anything… The American public is not ready to see you the way you want to be seen because, one, they don't believe it, two, they don't want to believe it, and three, they're convinced they're superior…
Wiletta's real-ness provokes him to betray his own hypocrisy, patronizing, and racism, and when he does, the rehearsal crashes to a halt.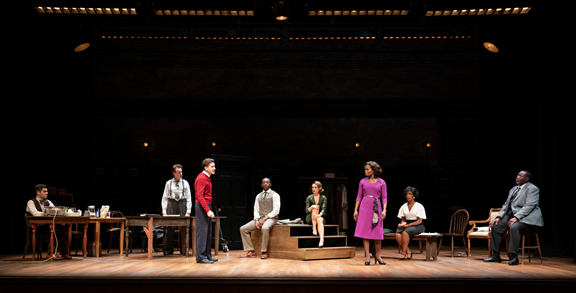 The Company of Roundabout Theatre Company's Trouble in Mind . Photo: Joan Marcus
Arnulfo Maldonado's handsome and evocative set looks great, as do costumes by Emilio Sosa and, in particular, Kathy A. Perkins' lighting works like magic. Charles Randolph-Wright directs Trouble in Mind as if it were a treatise on how not to put on a show, how not to treat your cast and crew, how not to be a human being – as, in a way, it is.
Trouble in Mind makes plenty of Biblical references, and some moments of song (blues/spirituals) but never uses the title song, a classic Blues song from the 1920s. Doesn't need it – there's plenty of trouble in everyone's mind, here. We have to go further and do better, Wiletta says, and that is a truth in 2021 as well as 1955. Do something grand, as she does. We haven't managed that too well in the past 60 years, but we can, and that's the truth to take away from Trouble in Mind.
Trouble in Mind
Roundabout Theatre Company
Through January 9, 2022
At the American Airlines Theatre
227 W. 42nd St. between 7th and 8th
https://www.roundabouttheatre.org/get-tickets/2021-2022-season/trouble-in-mind/performances