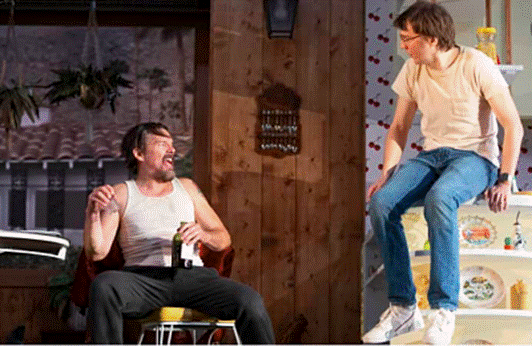 Ethan Hawke, Paul Dano   Photo: Joan Marcus
                                   by Fern Siegel
Before we knew the term "toxic masculinity," Sam Shepard's 1980 play True West, now in revival at the American Airlines Theatre, reveled in it.
The story of two mismatched brothers is a study in menace, sibling rivalry and family despair. It's like watching a deranged tennis match: Each lobs insults at the other. And over time, they morph into one seriously disturbed player.
Austin (Paul Dano) is a mild-mannered screenwriter, hoping to sell his latest creation to producer Saul Kimmer (Gary Wilmes). But work proves futile — he is constantly interrupted by Lee (Ethan Hawke), his shiftless sociopath of a brother. Both are holed up at their mother's California home. Lee is a thief who has been living rough in the desert. He's the kind of guy who drinks cheap beer — incessantly — and spouts ludicrous comments he thinks pass for conversation.
Austin, armed with a family and career, makes tentative offers to help his troubled sibling, but it's clear he is the more psychologically vulnerable of the two. Lee is wrapped in self-interest; willing to steal anything, even his brother's chance to score big with Saul.
And that battle defines True West.
Lee prowls the stage like a caged animal, ready to spring at any opportunity. He's even managed to con Kimmer into doing his half-baked idea for a Western instead of Austin's tenderer romantic tale. That betrayal shatters Austin and sets the stage for the final act of destruction.
As they face off, Shepard places them on a collision course between civilized man and his violent, primordial past. Masculinity becomes a race for the bottom. There's even a discussion of the West, and what defines its authenticity.
But it doesn't help that glaring strobe lights separate scenes. The drama is punctuated by action; it doesn't need an artificial in-your-face reminder.

Issues of family dysfunction and losing control consume Shepard. True West is often considered the third in a trilogy that includes Curse of the Starving Class and Buried Child. All posit figures usually excluded from the American Dream.
In the last Broadway incarnation of True West in 2000, Philip Seymour Hoffman and John C. Reilly alternated roles. In the Roundabout Theatre's production, each man is set. It's a fight between Austin's sensitivity and work ethic and Lee's relentless desire to get something for nothing. In the middle of an intense encounter, their oblivious mother (Marylouise Burke) enters, oddly unaware of the havoc her sons have wreaked.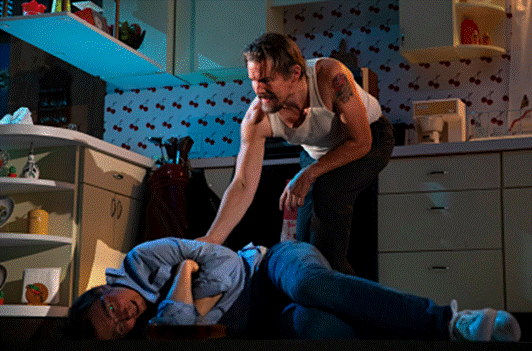 Paul Dano, Ethan Hawke  Photo: Joan Marcus
Destruction is simply part of the family ethos — including the alcoholic father who abandoned them. He's never seen but often invoked, a specter that haunts his sons.
Meantime, there is the war for the new — or is it old — West and the desire to determine destiny. That the brothers begin to resemble each other is all the more frightening. Intelligence and manners are no match for darker forces.
Hawke is a perfect Lee; he carries a sense of danger even in the most casual of encounters. He wears Lee's craziness like a second skin. Similarly, Dano masters the quieter Austin. Even when he tries to mimic his brother's simple thievery, it's reactionary. Neither embraces the essence of the other, yet ideally, audiences should see glimpses of a dual reflection, since they strangely commingle.
Still, under James Macdonald's tight direction, the sense of danger and disquiet is real. While stark questions of identity and place are broached, the shattering play underscores the overarching sadness in Shepard's world: There are no winners; only degrees of losers.
True West. American Airlines Theatre, 227 W. 42 St. Running time: 2 hours, 15 minutes. Tickets: www.roundabouttheatre.org/get-tickets/find-tickets/
Through March 17