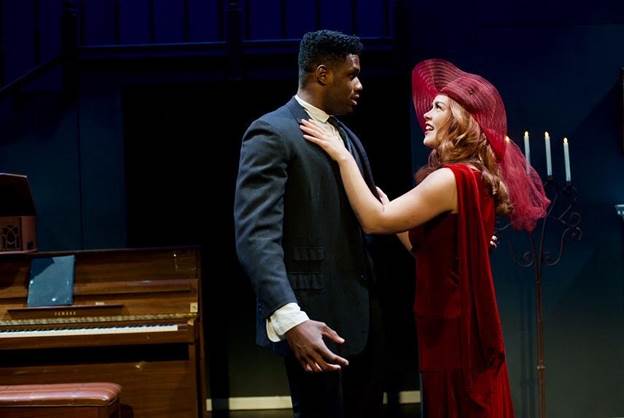 Joshua Balan and Ruthellen Cheney (Photo: Ted Alcorn) 
Twelfth Night
By Fern Siegel
To keep Shakespeare fresh for 21st-century audiences, directors often set the plays in new locales.
Whether Shakespeare's works are grounded in a Nazi-like England (Richard Loncraine's Richard III) or a prison (Edward Hall's The Merchant of Venice), it clicks with the right actors and staging.
The Mechanicals' production of Twelfth Night, now at The Flea Theater, is set in the Roaring 1920s, an age of jazz, indulgence and Gatsby-like wealth. It's a smart era choice for the comedy, which traffics in mistaken identity, class distinctions and appearance vs. reality.
Director Alexis Confer even adds a jazz quartet to underscore the raucous, as well as romantic nature of the story. And she succeeds on many fronts.
But given the demands of any Shakespearean production, since it takes time to adjust to the language, the overarching concern is cast. And in this Twelfth Night, the results are mixed.
Most of the performances are solid and a few actors deliver standouts. But the twins, Sebastian (Joshua Balan) and Violet (Soma Okoye), on whom the main plot rests, are both flat and monotone. He's on stage for short time; she has a trickier role to play. Projecting their voices and fully embracing their characters' specific sensibilities would kick up their performances.
Violet, especially, has a tough assignment. She and her brother are separated by a shipwreck and presume the other dead.
To survive in the city of Illyria, she disguises herself as a man, Cesario, and enters the court of Duke Orsino (a stylish Alejandro Oliva). There, she/he attracts the attentions of the high-born Countess Olivia (a standout Ruthellen Cheney), who carries off imperious, funny and self-possession with ease, while falling in love with Cesario. In turn, Cesario is written as someone who says what he feels — a new experience for Violet — who is indifferent to Olivia's overtures. That coolness intrigues Olivia. So does her assessment of him as both masculine and feminine looking.
Here's the comic/gender twist: Violet has to work that same magic on Duke Orsino. He is so smitten by her as a man, he's just as happy to discover she's a woman! Twelfth Night's exploration of gender suggests it is performative and fluid. It's largely due to Cheney's Olivia that the premise succeeds.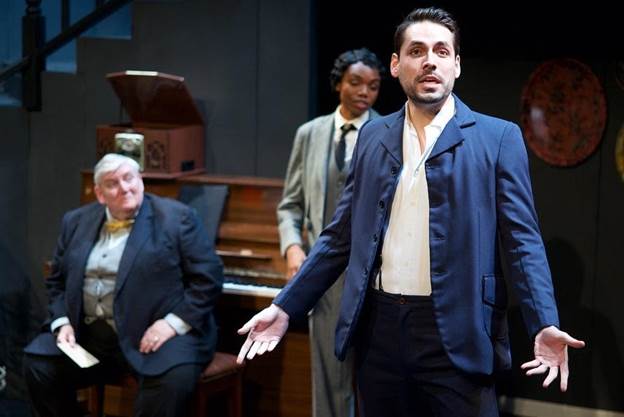 (L-R) Joe Bowen, Soma Okoye and Alejandro Oliva (Photo: Ted Alcorn) 
It's notable that in Twelfth Night, Shakespeare posits Orsino as a man who likes music and love and disdains hunting. Both female and male roles are upended. Shakespeare's gender-bender moments are always thoughtful — think Rosalind in As You Like It.
There is also a subplot involving an inebriated Sir Toby (Armand Lane), Olivia's cousin, Sir Andrew (Sam Parrott) and Feste (Imani Youngblood, possessed of a lovely jazz singing voice. All three score as comic relief.
Lane plays Toby, an entitled, always-soused lord to the hilt, so does Parrott as Andrew, who is desperate to get Olivia to love him. They function as a humorous interlude, though are cruel to Malvolio, Olivia's steward (a fawning, well-played Eric Ryan Swanson). They, along with her servant Maria (Libby Barnard), trick and humiliate him. Class cruelty, a reality of Gatsby-era life, is underscored here.
Director Confer uses her space well and, given its physical limits, moves the scenes along at a clipped pace. The Jazz Age setting is a lively one and fits the demands of the romantic subterfuge. A second plus is costume design, thanks to Brynne O'Rourke. She neatly captures the period, especially in the women's flapper-style clothes.  
The new Flea, now on Thomas Street in Tribeca, offers stadium-seat style theater. It's a cozy setting for the intimate story of Twelfth Night.
Twelfth Night, The Flea 20 Thomas St. (Through Nov. 13)
Running time: 2 hours
Tickets: www.themechanicalsnyc.com