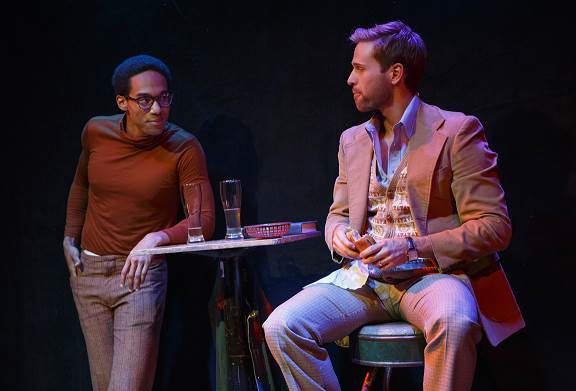 Photos by Joan Marcus
                                     By Ron Cohen
Student-teacher relationships get a workout in Two Class Acts, the umbrella name for two one-acts by A. R. Gurney, being premiered in repertory at the Flea Theater.
While esteemed playwright Gurney made his name as an incisive and bemused chronicler of the declining stature in America of white Anglo-Saxon Protestants (or Wasps, as the familiar acronym identifies them), the university is not unfamiliar ground for him.  For many years, he taught literature at M.I.T. Nevertheless, these two new plays, entitled Ajax and Squash, while containing some entertaining moments, register as minor contrivances of borderline credibility.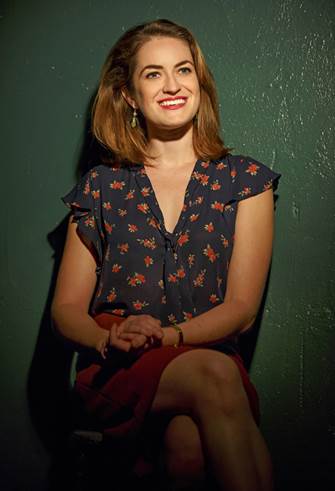 Olivia Jampol        photos by Joan Marcus
In Ajax, a cocky, almost boorish student, Adam Feldman, joins the Greek drama class of adjunct instructor Meg Tucker four sessions late. In addition to making a pass at the teacher, he announces that instead of writing an assigned paper on The Orestia by Aeschylus, he wants to write about Sophocles' play Ajax. The Greek classic deals with the tribulations of hero warrior Ajax after his victories in the Trojan War. Adam sees it as a treatise on post-traumatic stress disorder. While he himself has not served in the military, it's a subject he feels deeply about. He further states, rather incongruously, "I think that I myself have a little PTSD. I mean, as a Jewish boy, and the special guilt I feel about my people's treatment of the Palestinian people."
Chris Tabet
Meg gives in, but later Adam declares he's not going to write a "dumb paper." Instead, he has written an adaptation of Ajax, stressing PTSD, and the script is going to be given a reading by appreciative fellow students that very evening. The reading turns out to be such a success that the head of the drama department decides to mount a full production, and Adam convinces Meg, once an aspiring actress, to take a role.
Well, believe it or not, the full production is such a success that the president of the university is convinced to remount the play on a bigger scale during an alumni conference to kick off a major fund-raising drive. As rehearsals go apace, romance blooms, but Adam also is busy rewriting so that the play becomes more and more about Israel and the Palestinians.  So much so that the final draft is determined by the university's powers to be anti-Semitic and is cancelled. Furthermore, Meg is fired for having relations with a student. But the play ends on a happy note, as Meg reveals that a former teacher of hers – her mentor at drama school – who attended the first reading thinks the play should be mounted in New York.
"He's a big fan of a brave little theater in New York called the Flea," she says. "He thinks he can persuade them to put us on."
It's a blithe, laugh-getting conclusion, but it hardly compensates for all the unconvincing stuff that precedes it. (It's also interesting to note that are echoes here of an earlier play by Gurney from 1987, called Another Antigone. In that play, a Jewish female student turns in a reworking of Sophocles' Antigone rather than a formal paper. However, her professor rejects her work and then is accused of anti-Semitism. Oh, well, a playwright is certainly entitled to revisit his own plots or themes.)
At the performance of Ajax reviewed, Olivia Jampol and Chris Tabet, under Stafford Arima's direction, gave solid performances as Meg and Adam. (At some performances, the roles are played by Rachel Lin and Ben Lorenz. All four are members of The Bats, the Flea's young non-Equity resident acting company.)  Jampol's sudden transformation in one brief blackout, after performing in Adam's play, from prim school teacher to a vivacious dish, with eyeglasses gone and hair let down along with an appropriate costume change, was perhaps the highlight of the piece. Stafford has also staged things with a clever touch, transforming most of the Flea's small downstairs theater to a class room, with several members of the audience seated at the worktables placed around the space. However, all the cast's labors and their director's, too, can't quite make us believe what we hear is happening.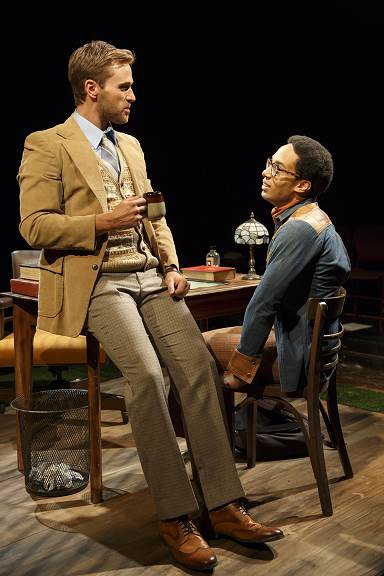 Dan Amboyer and Rodney Richardson
Then, there's Squash, which is performed in the Flea's upstairs theater and is even harder to swallow. It's the mid-1970s, and a young, extremely hunky classics professor at a Boston university, Dan Proctor, who excels at the very Waspy sport of the title, finds one of his students, a guy named Gerald Caskey, waiting for him in the locker room after a game. Gerald is there to turn in early his paper on Plato, but he's also there, as he readily admits, "because I wanted to see you naked." Dan stomps out, telling Gerald he should see the "school shrink."
Gerald, however, continues to pursue Dan relentlessly, coming into his office and suggesting they meet at a bar he knows. Dan, who's married with kids, continues to politely reject. But when he comes home one night to find his wife has not prepared dinner because she had planned to go to her book club, he goes out to have a meal. It makes you wonder whether in the mid-1970s there were any restaurants in Boston that delivered.  Dan, for some reason or other, goes to the bar which Gerald suggested, which of course is a gay bar, and meets up with Gerald, who continues his seduction attempts, rejected again. But then, Dan pulls a muscle in a squash game, and goes to a masseur that Gerald suggests. The masseur, as we learn, offers an "explicit" treatment that cures Dan. Dan now is really doubting his sexuality, and so is his wife, who goes off with the kids for a visit home to mother.
Meeting up with Gerald again, Dan offers to try sleeping with him. But guess what? Gerald is no longer gay. He's taken up squash, giving him all kinds of confidence, and he's acquired a live-in girlfriend he plays the game with. But don't worry. Things turn out really swell for Dan. It's some time later, and Dan's wife, Becky, is back home, talking on the phone to the female head of Dan's department, promoting his getting tenure. We learn there's a new baby, Dan has finished his long-pending book which has been well reviewed in a scholastic journal, and he's started a female squash team. And just to prove how swell things are, the final scene finds Dan and Gerald bantering playfully together in the locker room after a great game of squash and without a hint of homoerotic charge.
While all this is going on, there's a lot of talk about the classic definition of love, but it hard to tell whether the play is meant to be a sort of jokey, deliberately naïve look (at least we can hope it's deliberate) at homosexuality or a sexually-charged melodrama like a Douglas Sirk epic from the 1950s. Arima has directed here, too, and his staging is nicely fluid on Jason Sherwood's elongated set, divided into four specific locales – bar, office, dining room and locker room – with the audience seated on either side. But he has not been able to keep the production from waffling gracelessly between the two moods. The actors, while obviously stage worthy, also seem to drift back and forth in their approach to the material. Dan Amboyer, who plays the professor, seems almost too young and hunky for even a young hunky professor, but he does capture effectively at times the self-doubt that afflicts the character. Rodney Richardson is certainly earnest and logical as the relentless Gerald, while Nicole Lowrance imbues Becky with intimations of motherly concern along with some inbred comic bitchiness.
The plays mark the final show that the 20-year-old Flea Theater will present in its present space. It is moving to new quarters a few blocks away at 20 Thomas Street. The Gurney name gives this farewell production a celebratory aura, but one might wish the plays themselves could generate more huzzahs.
Playing at the Flea Theater
41 White Street
212-352-3101
Playing until November 14