Richard Topol and Cassie Beck           photos by Joan Marcus
                             by Deirdre Donovan
Misogynist? Madman?  Genius?  The Swedish-writer August Strindberg was all of these, and then some.  Born on January 22, 1849 on the islet of Riddarholmen in Stockholm, Strindberg became—in the admiring words of Eugene O'Neil—the "most modern of moderns" when it came to interpreting the spiritual conflicts of human beings in drama. 
Strindberg's shadow is now haunting the boards of the Classic Stage Company (CSC) in two adaptations of his classics:  Yael Farber's Mies Julie and Conor McPherson's version of The Dance of Death, running in repertory through March 10th.
In Dance of Death, a couple—a retired military captain Edgar and a former actress Alice-- are on the cusp of their silver wedding anniversary. But instead of sweetly reminiscing about their 25 years of wedlock, they are formally interring their marriage before our eyes.  And their instruments of torture?  Words, words, words.  Yes, they both excel at spewing razor-sharp insults at each other as they ride a merry-go-round of hatefulness that never ends.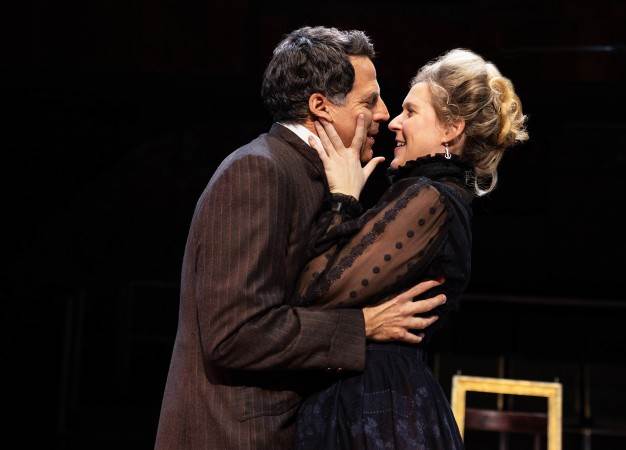 Christopher Innvar and Cassie Beck
In spite of being 119 years-old, The Dance of Death still has astonishing good skin tone under the direction of Victoria Clark.  Clark, who is best-known for her Tony Award winning performance in Light in the Piazza, is slowly gaining a toehold on the other side of the footlights.
According to my press materials, Clark nearly "fell off her chair" when CSC's Artistic Director John Doyle namedropped Strindberg to her as a directorial project (most of her theatrical ventures have been in musicals).  But no worries.  Clark lands on her theatrical feet here by mining the music within Strindberg's play.  Take the scene when Alice plays on an invisible piano for her ailing husband Edgar and we hear her chord progressions swell into Johan Halvorsen's Dance of the Boyars. Who said you need a real piano in a play to create incidental music?  Clark subscribes to the less-is-more philosophy, and it works.
The production is bolstered by the excellent acting of the cast.  Richard Topol plays Edgar with a droll humor and a curmudgeonly temperament.  His Edgar is arrogant, devious, sharp-tongued as a serpent—and unmistakably dying. 
Though at first blush, Cassie Beck seemed miscast for her role, she grabs hold of it just fine as the scenes progress, conveying the enflamed resentment of a woman who gave up her acting career for a man who shortly would shrug at her beauty and talent. 
Christopher Innvar, as the newly-appointed quarantine master, is pitch-perfect.  He is an old friend who introduced Edgar to his Alice 25 years ago.  On this visit, however, he will learn from his cousin Alice that Edgar was responsible for his divorce and then persuaded the court to award custody of his children to his ex-wife.  Yes, many secrets are uncovered here and old wounds ripped open.
The creative team make splendid use of the small performing space at CSC's Lynn F. Angelson Theater.  David L. Arsenault's set and Stacey Derosier's lighting conjure up the claustrophobic atmosphere of the tower (it was once a jail) that Edgar and Alice call home.  Tricia Barsamian period costumes are right on the money, whether it's Alice's turn-of-the-century dress or Edgar's military uniform, replete with riding boots that he almost never takes off.
Although the 2001 Broadway production starring Ian McKellan and Helen Mirren had more sweep and grandeur, this current CSC iteration allows one to experience the play in a more intimate space and watch up-close the growing irritation between Edgar and Alice. 
Strindberg himself, in fact, wrote his Dance of Death as a chamber piece, and fittingly gave it its Swedish premiere at his own Intimate Theatre.  Indeed, this CSC production seems to be in the same line.  And it surely packs a big emotional punch.
Mies Julie
Yael Farber's reworking of Strindberg's Miss Julie changes the setting and implications of the classic drama. Mies Julie takes place in a farmhouse kitchen in the Karoo of South Africa on the eve of the Freedom Day celebration in 2012.  Julie, the white Afrikaans landowner's daughter, harbors a long-time love for her father's charming Xhosa farmworker, John, and when she finally seduces him, a Pandora's Box instantly seems to open. 
Her imagination goes wild.  Could she be pregnant from their erotic evening together?  Could she and John perhaps elope before her father returns home?  Perhaps for the first time in her life, she profoundly senses that what's done cannot be undone.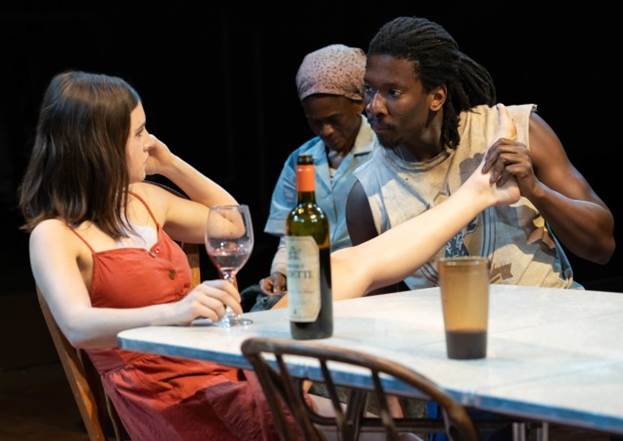 Elise Kibler, Patrice Johnson Chevannes, James Udom
Shariffa Ali directs this piece with a knowing hand.  The Kenya-born artist lived in South Africa before immigrating to the United States in 2013.  So she brings a wealth of personal experience to Mies Julie.  In my press materials, it notes that Ali began the project with a question that scratches beneath the surface of the present-day political situation in South Africa.  Or as she succinctly puts it:  "10, 15, years after Nelson Mandela was freed, was South Africa truly a liberated space?" 
It's a question that falls heavy on the ears—and has no facile answer.  It also begs another question:  Does this play have global significance?  In a word, yes.  Ali, in fact, dares U.S. viewers "to pull from this [Farber's] work. . . similarities and resonances with our current state of the U.S."
There's some fine—and sizzling--ensemble acting here.  The title role is played with ferocity by Elise Kibler.  When it comes to sexual adventure, her Julie is a moth to the flame, a bad girl who sees too late that her rebellious nature can destroy her.
James Udom, as the Xhosa farmworker John, looks and performs his part with a confident swagger and cool demeanor.  Udom's John is savvy to the society in which he lives; however, he's still a young man who feels passion racing through his blood and eventually succumbs to Julie's bold sexual advances.
In the supporting role of Christine, Patrice Johnson Chevannes is the soul of righteousness as John's mother and the devoted Xhosa domestic servant.  She senses the tragedy brewing between her son and Julie (Christine raised her from birth) even before the play's close—but is unable to prevent it.
And let's not forget Vinie Burrow who inhabits the other-worldly ancestor Ukhokho.  Burrow's Ukhokho hovers on the periphery of the action for the majority of scenes.  But her presence is always felt, and when she crosses the stage at crucial moments, one can sense the ephemeral nature of human life.
The production values underscore the play's bleak atmosphere and mood.  Arsenault's set, abetted by Derosier's lighting, is the living image of a real 19th century kitchen in South Africa:  a grimy stove, plain kitchen table, and all its homely accoutrements.  Ntokozo Fuzunina Kunene and Andrew Moerdyk's traditional costume design looks as authentic as anything featured in a National Geographic story about Mzantsi (the colloquial name for South Africa).
Farber's play first surfaced in New York at St. Ann's Warehouse in November 2012 and was directed by the playwright himself.  While that production truly heated up the boards in Brooklyn, this new staging is just as steamy with Kibler and Udom performing the two passionate central characters.  No question that Mies Julie is meant for adult audiences.  Farber's reimagining of Strindberg's 1888 drama about love—and social taboos--will raise the temperature of even the most seasoned theatergoer.
This double dose of Strindberg at the CSC may well be the best tonic to those who are weary of the splashy over-sized musicals and sentimental plays that have surfaced this season and sugar-coat human nature.  When it comes to plays that have the look and feel of real-life, these Strindberg dramas are second to none.  And when it comes to emerging directors, Clark and Ali are clearly worth following.  One can only wonder what project is next for these gifted artists.
Through March 10th
At Classic Stage Company, 136 East 13th Street, Manhattan
For more information, phone 212-677-4210 or visit www. www.classicstage.org
Running time of Dance of Death: 1 hour; 55 minutes with no intermission
Running time of Mies Julie:  75 minutes with no intermission