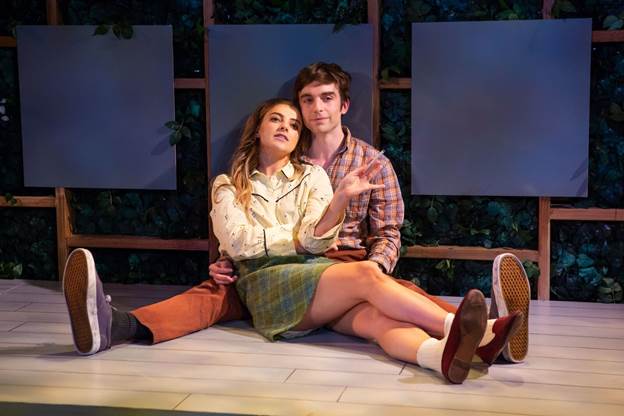 Aoife Kelly and Phil Gillen                                                    photos by Jeremy Daniel
                                 By Ron Cohen
The course of true love never did run smooth.
That probably wasn't big news circa 1598 when Shakespeare wrote that immortal line in his A Midsummer Night's Dream. And it certainly wasn't any more astounding some 400 years later when the master Irish playwright Brian Friel (1929-2015) took on the proposition in the two short plays being presented by Irish Repertory Theatre under the banner Two by Friel.
Nevertheless, Friel fleshed out the matter into two achingly beautiful scenarios, and they're given pretty much full justice as brought on stage in this intimate mounting in Irish Rep's minuscule but comfortable Studio Stage.
The first part of the program is Lovers: Winners. Originally, it was part of a show succinctly entitled Lovers, made up of two separate playlets: Winners and Losers. It premiered in Ireland in 1967 and came to Broadway in a Lincoln Center production in 1968, picking up a Tony Award nomination for best play.
The second half of Two by Friel is The Yalta Game, which Friel wrote in 2001. It's an adaptation of a well-known Anton Chekhov short story The Lady with the Lap Dog. Such an adaptation was a natural for Friel, who is often called the Irish Chekhov. The Irish Rep production marks the play's New York premiere.
In both parts of Two by Friel, romantic love becomes entangled with external circumstances, either, as in the first half, simply the unpredictability of fate or, as in the second play, the conventions of society engrained in our consciousness.
Lovers: Winners centers on two Northern Ireland teenagers. Mag is 17, and Joe is 17-1/2. Mag is also pregnant with Joe's child, and the pair will be married in three weeks. Joe, who's a studious type, has been expelled from school because of the dishonor he has brought upon the school, his family and himself, but because of his mother's pleading, he will be allowed to take final exams to continue with his education.
On a fine June morning, the two have come to a hilltop overlooking their town to study for the exams. Joe often has his nose in a book, while Mag is garrulous, talking about the scandalous and possibly not true happenings of their nun teachers and various acquaintances. However, Joe can also talk up a storm when he's not studying, and fills his talk with colorful impersonations of his fellow townspeople.
One thing is perfectly clear, however. The two are blissfully in love and pretty much ready to face the future. Joe has already leased their apartment, even though it's next to a slaughterhouse, a fact he meets with good humor. He also seems to have their marital finances pretty well figured out.
However, there are two other characters in the play, a more mature man and woman, simply known as the Commentators. They sit on either side of the stage, and in a rather impersonal mode, fill us in on various details from the weather to the family histories of Mag and Joe. And about midway through the play, they begin to intimate that later in the afternoon Mag and Joe borrowed a boat situated on the town's lakeshore for a ride around the lake. While the circumstances are never fully explained, it's a ride that proves fatal, with both bodies of the young couple found and determined to have drowned.
It's a knowledge that adds a sudden heart-rending pathos to the proceedings, heightened by the vibrant, very-much alive performances of Phil Gillen as Joe and Adife Kelly as Mag. Friel's colorful writing sometimes becomes a bit circuitous: Mag and Joe chat and gossip playfully, Joe urges Mag to settle down and study, Joe loses his temper, and then they make up. Joe then loses his temper again, and then they make up again. Nevertheless, the warmth and urgency of the two performers, along with the finely shifting tempos of Conor Bagley's direction, keep us involved, while the objective manner rendered by the two Commentators, portrayed by Jenny Leona and Aidan Redmond, add a chilling note. It's a stunning and heartfelt miniature of a play.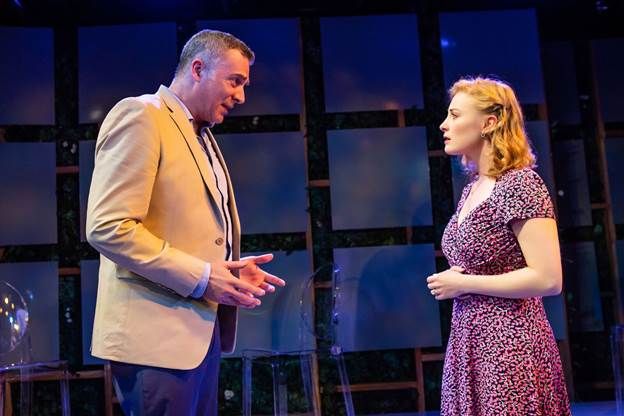 Aidan Redmond and Jenny Leona
In The Yalta Game, Leona and Redmond take center stage, and the scene shifts to the Crimean resort town of Yalta. Redmond is Dmitry Gurov, an aging womanizer and Moscow banker, spending holiday time away from his wife and family who remain at home. He sits at a plaza café and plays "the Yalta game" imagining the back stories of the people he sees. When a young woman with a tiny Pomeranian dog captures his attention, he moves in on her. She is Anna Sergeyevna, a married woman in her early twenties, whose husband, forty years of age, we learn, has stayed home for work in their town of Pargolovo.
The dog, of course, provides a reason to strike up conversation, and eventually a romantic spark is ignited. But this is not just a holiday fling, and by the time Dmitry returns to Moscow, Anna tells him, "It would have been better if we had never met. Indeed it would. But we did meet and now my life can never be the same again."
As time moves on, echoes of" "the Yalta game" kick in. The two begin to wonder if their affair was strictly in their imaginations, but no, the passion and longing are real. Dmitry travels to Pargolovo for a clandestine meeting, the two arrange for sequestered, regular rendezvous in Moscow. They sense they are doing something wrong, happiness and unhappiness intermingle, and finally the two are haunted by the intimation of an ending. As Anna says in her final lines, "the drawing to a close had already begun and we were now embarked on the most complicated and most frightening and the most painful time of all."
Friel does not spell out what that close will be, but it makes for a haunting mood as this poetic love story comes to its dramaturgical end. Leona and Redmond give deeply felt performances, adding to the captivating quality of Friel's writing.
Both sections of Two by Friel are played out against Daniel Prosky's fairly neutral set: a series of gray squares mounted on what looks like a polished wood fence, behind which thick bunches of shrubbery peek through. The somewhat contemporary costuming by China Lee adds to the timeless feel of the production.
Director Bagley imbues Lovers: Winners with a more naturalistic aura. Joe carries an overloaded book bag; he and Mag unwrap neatly wrapped sandwiches for lunch. In contrast, The Yalta Game has a more theatrical tone, props are mimed, even the Pomeranian, and the two actors stay in the same costumes, the same garb they wore as the Commentators in Lovers: Winners, although Redmond adds a summery looking sports coat.
This use of costuming may be an attempt by Bagley to tie the two plays together, as if somehow Anna and Dmitry are privy to the tragedy of Mag and Joe, and he makes an even bolder attempt to do so at the show's conclusion.  What it is won't be revealed here, but it sort of detracts from the deeply moving conclusion of The Yalta Game.
However, it's the only misstep in an affecting production, which once again finds Irish Repertory Theatre glowingly living up to its mission of bringing Irish and Irish-American works to the stage.
Review posted November 2018
Off-Broadway play
Playing at Irish Repertory Theatre's W. Scott McLucas Studio Stage
132 West 22nd Street
212 727 2737
irishrep.org
Playing until December 23