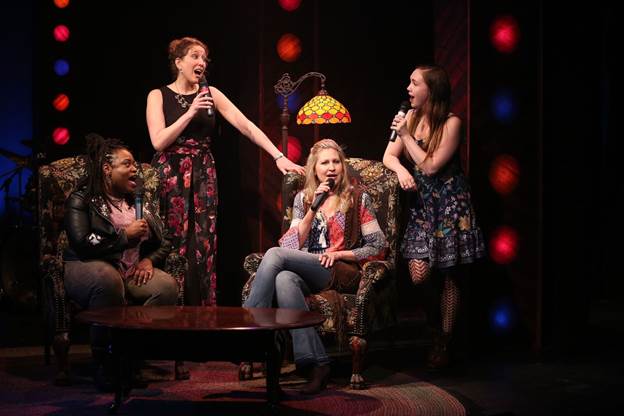 Allyson Kaye Daniel, Courtney Balan, Luba Mason, Celeste Rose       photos Carol Rosegg
Unexpected Joy- A New Musical
                       by Julia Polinsky
For all the heart and soul and considerable talent that's gone into Unexpected Joy, it's a pity the story hews to a predictable formula: Generation 1, hippie. Generation 2: super conservative. Generation 3: I wanna be Grandma!
Grandma, the Joy of the title (Luba Mason), is a hippie chick musician, living on Cape Cod, rehearsing a memorial concert for Jump, her life partner and once the other half of her music act. Her daughter Rachel (Courtney Balan) and granddaughter Tamara (Celeste Rose) arrive from Oklahoma for the concert.
From moment one, things don't go well; Joy has forgotten the date, didn't pick them up at the airport, and greets her daughter by her hippie name. "Rainbow!" she cries, as she moves in for the hug. From the tight-jawed response, you know that conflict in Unexpected Joy centers around the too-tightly-wrapped daughter of the unregenerate hippie.
Joy and Jump were never married and never wanted to marry.  Rachel, a fundamentalist Christian married to a prominent televangelist, can't get past her anger about being born out of wedlock and her non-traditional upbringing. Tamara, the sweet-girl rebel, can't wait to be a nonconformist musician, just like the Grandma she adores. She sings one of her own, revealing songs for "Glamma," as she nicknames Joy. She's all set to sing in the memorial concert for her grandfather, until her mother's knee-jerk "no" sets off sparks.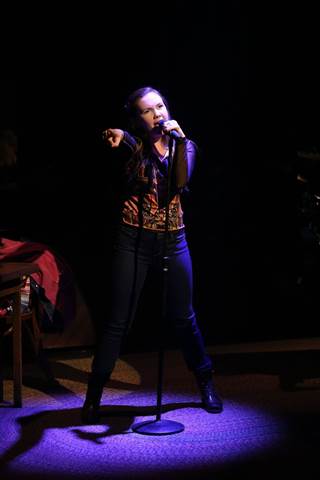 Celeste Rose      
Those sparks blaze up when Joy reveals that she's about to get married. To a woman. A Black woman named Lou (Allyson Kaye Daniel). And thereby hangs the rest of this tale of intergenerational angst, great big love, and finding common ground.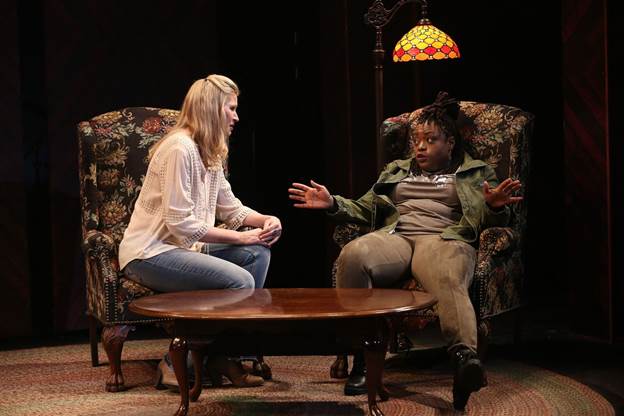 Luba Mason, Allyson Kaye Daniel
Director Amy Anders Corcoran lets her actors do what they do best – sing—and pulls decent performances from all of them. Even so, Unexpected Joy feels like a very good staged reading, partly because James Morgan's scenic design has to evoke too many places and barely succeeds at any of them.  Bill Russell's book needs tightening, but several songs he wrote with Janet Hood knock it out of the park. "I Think I'm Losing My Voice," "She's Got a Mind of Her Own," "You Are My Worst Nightmare," and "Raising Them Right" really work, on every level.
Even though Unexpected Joy still feels like a work in progress, the music elevates a so-so family drama from collection of predictable moments to joyful theater. The four terrific performers dish up heartfelt moments, and their splendid singing is the best part of the evening; it's worth seeing the show just to hear them.
Unexpected Joy
The York Theatre Company
Tickets $67.50, 72.50; $25 student tickets
https://yorktheatre.org/on-stage/mainstage-series
Performances: Tuesday, Wednesday, 7pm; Thursday, Saturday, Sunday, 2:30pm; Friday, Saturday, 8pm
Through May 27, 2018