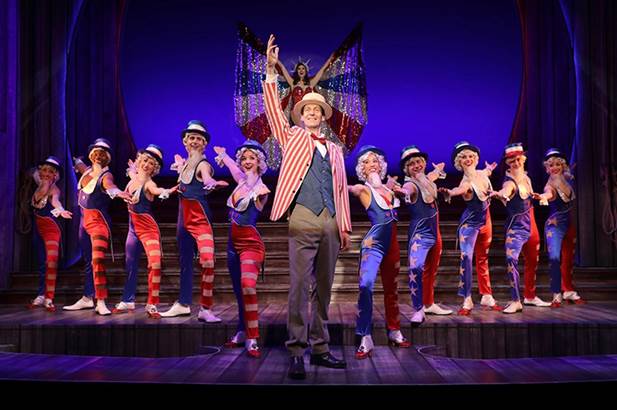 ††††††††††††††††††† By Edward Lieberman
Goodspeed Opera House has opened its 2018 season with a rousing revival of Cy Colemanís The Will Rogers Follies, a largely biographical rendition of the life of Will Rogers, arguably Americaís first multimedia star.† Mr. Rogers, a part-Cherokee Oklahoman, started out as a real, honest-to-goodness cowboy in Argentina; got his start in show business in South Africa in "Texas Jackís Wild West Circus"; honed his pony riding and trick-roping act in Australia; and came back to America at age 25 to appear at the 1904 St. Louis Worldís Fair. He then took his act to vaudeville, eventually headlining the famous Ziegfield Follies. By this time, Rogers had refined his act to include a monologue on the dayís news, saying "All I know is what I read in the papers." As his popularity increased, Rogers wrote several newspaper and magazine columns, had a highly rated radio show and emigrated to Hollywood, where he acted in some 70 films, essentially playing himself. By the time of his untimely death in in an airplane crash at the age of 55, he was the highest paid celebrity in every media of the time Ė stage, screen, radio, newspapers and public appearances, hobnobbing with Presidents, kings, movie stars and other celebrities, while simultaneously being loved by the common man. In short, he was a phenomenon, a fact summarized in the opening of the show in a song called "Will-a-mania."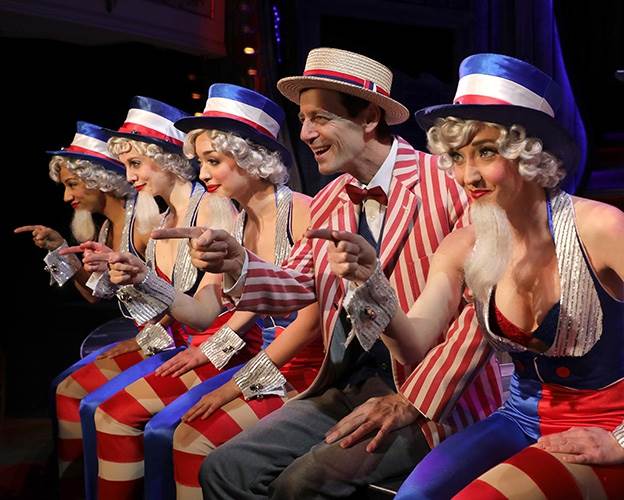 The show opened on Broadway in 1991. Its Broadway pedigree is undeniable, with a book by Peter Stone (Charade, 1776), music by Cy Coleman (Sweet Charity, City of Angels) and lyrics by Broadway greats Betty Comden and Adolph Green (Singiní in the Rain, On the Town), all under the direction and choreography of the great Tommy Tune. It ran for over two years and won six Tony Awards, including Best Musical. That said, the show mirrors the incongruity of Mr. Rogersí life: he was, at heart, a homespun cowboy, dispensing frontier aphorisms, but the show presents these qualities in the context of the Ziegfield Follies, replete with scantily-clad chorus girls and big production numbers. Indeed, the theatrical impresario Florenz Ziegfield is a prominent character in the show, and makes no bones about† rearranging the chronology of Mr. Rogersí life (the wedding always ends the first act). If it werenít for the fact that Mr. Rogers really did appear in the Follies, this reviewer would have dismissed the artifice as an unnecessary distraction from the valuable and entertaining life it purports to depict. Indeed, the show often deviates from telling Willís story by breaking the fourth wall, having the actors banter with the audience. While that works with Willís character because that was a part of his act, having Ziegfeld rearrange the chronology of the heroís life, and having other characters joke about Flo Ziegfeldís legendary stinginess by using actors to play several roles, although amusing, detracts from the narrative.†
Perhaps the reason for the emphasis on the Follies is that the show was originally written as a star vehicle for John Denver (who, ironically, also perished in a plane crash in his early 50ís). As the production was nearing completion, however, Mr. Stone refused to accept a proposed change in a song lyric by Mr. Denver, who then left the show.† Instead of recasting the role with another singer, the team hired actor Keith Carradine, who made the role -- and the show -- his own, but by then it was too late: the emphasis on the Follies was already baked into the plot.
As fortunate as Broadway was to have Keith Carradine portraying Will Rogers, Goodspeed theatergoers are fortunate to have the great Will portrayed by the equally great David M. Lutken. Mr. Lutken, who created and toured in the award-winning Woodie Sez, about the life and music of another icon of the forgotten man, Woodie Guthrie, has the laconic manner of Will Rogers, and can handle some of Rogersí roping tricks. In addition he has the ability to play several instruments (guitar, banjo and harmonica), dance and sing, often simultaneously. He also has an infectious way about him, the ability to banter with the audience and ad lib about the dayís news, and is generous to his fellow cast members, announcing that in the performance attended by this reviewer, one of the major roles had been played by an understudy for the first time.† In short, Mr. Lutken is well worth the price of admission all by himself!
Although this is primarily a one-man show with peripheral characters, this being the Goodspeed, those characters are played by talented actors, as well, several playing multiple roles in a running gag about Florenz Ziegfeld being too cheap to hire additional actors.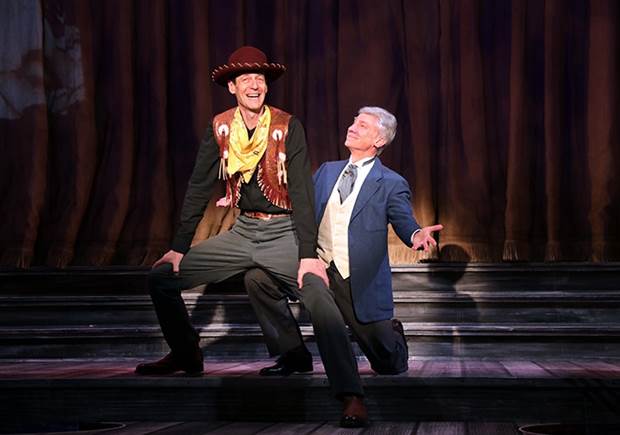 Thus, for example, David Garrison, who plays Willís father, comes back after his death to play the officiant at Willís wedding† and a butler, commenting to the audience "Can you believe what he [Ziegfeld] has me doing now? . . . Heís "too stingy to hire another actor!" Similarly, the child actors playing Willís four children (Catherine Walker, Ben Stone-Zelman, Brendon Reilly Harris and Nathan Horne), play them at different ages (and one even after his character died, at age two), for the same reason.† Standouts are Catherine Walker, who plays Willís long-suffering wife, who gamely plays along with the back-and-forth between the Rogers and Ziegfeld characters changing where she met Rogers and when they get married, as well as the fact that she essentially became a single mother to four children due to Rogersí increasing travels and bicoastal schedule.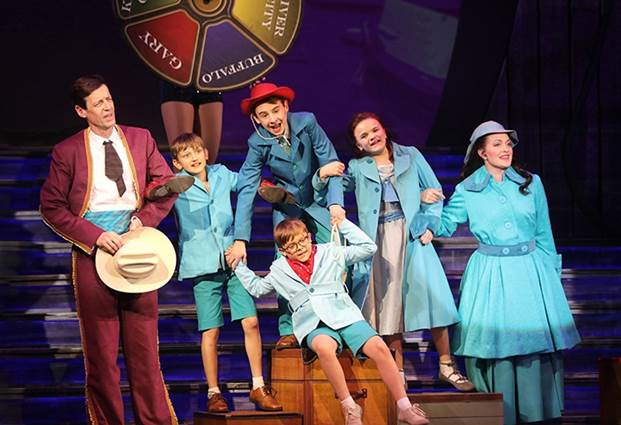 She gives voice to her plight in the plaintiff torch song "No Man Left For Me." The campy, but politically incorrect, role of "Ziegfeldís Favorite," was played by Emily Jeanne Phillips, the aforementioned understudy. She was terrific, embracing the required sauciness and coyness, especially with expressive facial expressions. The role of Wiley Post, played by Dewey Caddell, the aviator who was flying with Rogers when their plane went down in Alaska, had an easy role: he had only one recurring line: "Letís go flying, Will!" Unfortunately, whenever he appears (and he appears several times), it dampens whatever humor or joy that was going on at the time, since, from the beginning of the show, when the headline is shown of his fatal crash with Rogers, it is clear that he is, in effect, the angel of death.
Kudos must also be given to the backstage crew, starting with Director Don Stephenson and Choreographer Kelli Barclay, who somehow manage to convey the impression of the large-scale production numbers for which the Follies were famous, with a scaled-down 10-member chorus, who do most of their work on the spare set by Walt Spangler. They were ably abetted by Ilona Somogyiís† opulent costumes and Rob Dentonís lighting, especially in the back-lit opening number of the second act, "Give a Man Enough Rope." My only quibble would be to have had Mr. Lutkenís hair powdered to match that of Mr. Rogers.
In the end, of course, the real stars are Mr. Lutken and, of course, Will Rogers himself, who provides much of the material in the form of his famous maxims, among which were:
"Never let yesterday take too much up of today."
"Don't tell me you were expelled from school again! You've got to get an education boy, so you'll never have to worry about winding up in Congress!"
"I'm not a member of any organized party. I'm a Democrat!"
"I never believed man descended from the apes. I never met an ape who was devious, heartless† or greedy. I always figured man was descended from lawyers!"
And, his trademark line and epitaph:
"I never met a man I didn't like."
The Will Rogers Follies
Goodspeed Opera House
†††††† 6 Main Street
†††††† East Haddam, CT
Runs through June 21, 2018
Box Office: (860) 873-8668