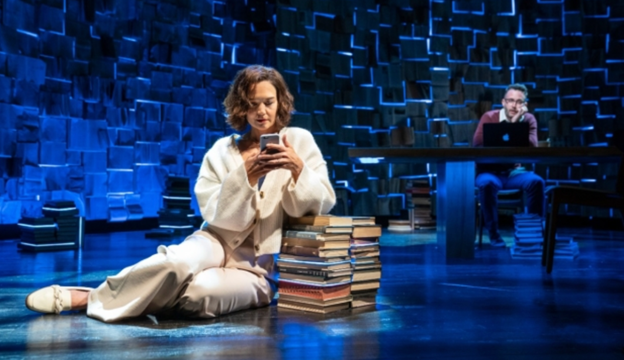 Katie Holmes and Eddie Kaye Thomas in The Wanderers. (Photo by Joan Marcus)
The Wanderers
By David Schultz and Julia Polinsky
David: Playwright Anna Ziegler's overly stuffed The Wanderers has quite a lot on its mind. The comingling of past and present at first seems confusing, but the story does settle eventually with a semi-cohesive plot development. Williamsburg Brooklyn is the setting circa 1973 and 2017, with two married couples in conflict.
Modern day couple Sophie (Sarah Cooper) and Abe (Eddie Kaye Thomas), both writers, are at a marital crossroads. Her one book was panned and she has never recovered from her disappointment. Hubby Abe had garnered various accolades and won a few awards, including a Pulitzer and a National Book Award. His halfhearted encouragement of Sophie to commence writing again only creates more animosity and thinly veiled anger.
Julia: Perhaps The Wanderers isn't as much confusing as it is tedious. If there are no characters to sympathize with, things get tedious fast. Of the two stories, and the two married couples, the modern Abe is pretentious and self-consciously literary, while Sophie borders on whiny. In the Orthodox Jewish 1970s couple, Esther's (Lucy Freyer) frustration with wife-and-motherhood leads her to break out of her Orthodox Jewish community, while Shmuli (Dave Klasko), her husband, is the only character in The Wanderers who is content to be himself.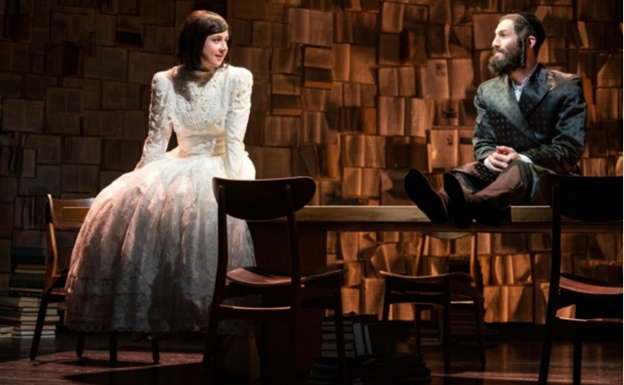 Lucy Freyer and Dave Klasko in The Wanderers. (Photo by Joan Marcus)
And then, into the modern couple steps the perfect fantasy lover: a Movie Star Who Loves Abe's Books. They email avidly, acting like they're meant for each other. What could be a better monkey wrench in the works? The whole concept that anyone can be anyone else's "bashert" — meant to be together — runs through the play, perhaps not as successfully as the author means it to.
David: The attempt at point/counterpoint with the couples is lacking depth, I agree. The dialogue is filled with references to Philip Roth as this modern writer sees himself as the heir to this esteemed writer.
The connection to Julia Cheever (Katie Holmes) seems oddly surreal as the ongoing email conversations between the two gets personal. Frequently the actors are speaking in the same room to each other but not looking directly at each other or breaking the fourth wall and directly addressing the audience.
Julia: It was too hard to like any of these people, to care about Abe's successful mediocrity, Sophie's lack of direction, Esther at all. It was too easy to feel bad for poor Shmuli, who is content to be an 18th century man in 20th century Brooklyn, until he stole his daughters from their mother.
David: The rather wan and haven't=we-been-there-before refrain of finally discovering that you can rediscover how special your relationship always was feels hollow and tacked on. The troubled relationships on view both seem damaged and, not to sound like a curmudgeon, rather doomed. These conflicted souls actually would be better off flying solo or with other mates.
The orthodox couple Esther and Schmuli in particular seems quite unrepairable with all the religious claustrophobic Satmar teachings. The display of meeting (somewhat) of an understanding that these two ultra-orthodox people can coexist gives a faux sense of closure. There is no way that the head rabbi would condone their modern updated marriage in this tightly knit community.
The late reveal of the epistolary conversations via email with Abe and Julia is lightly gasp inducing. But then again, this renewal of rejuvenation and rebirth also signals that the playwright wanted her audience to leave the theater with a smile on their faces. After all the Sturm Und Drang that playwright Ziegler unfurls during the intermission-free play she throws in an unearned sense of hope and renewal.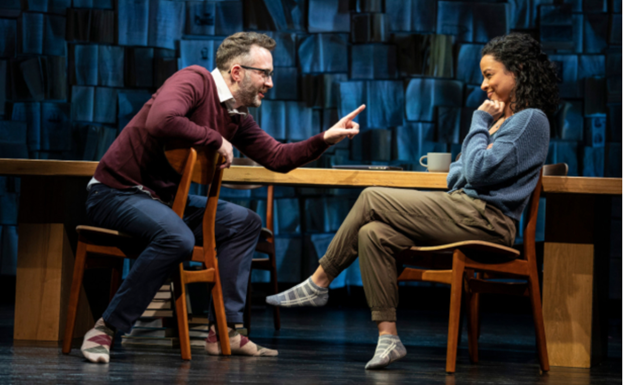 Eddie Kaye Thomas and Sarah Cooper in The Wanderers. (Photo by Joan Marcus)
Julia: The plot twist in the modern marriage makes it even less likely that these "bashert" married people would forgive and move on. Ziegler's point seems to be that, when people are destined, it'll all work out in the end. That she's spent the preceding hour and a half building an entirely different outcome makes this happy ending a cheap shot.
David: Totally agree. All paths lead to a circuitous never-ending repeat of making the same mistakes ala Groundhog Day.
On another note, any thoughts on Marion Williams' set design?
Julia: I actually liked the set more than the play. Our characters are all people of the book, in one way or another: writers, readers, and Orthodox Jews. The set's continuous background of words, words, and more words, in layered, stacked, books, puts a clear literary spin on the play.
David: Oddly the floor to ceiling books and infinite pages and pages upon pages on display reminded me of a columbarium. Well-lit by Kenneth Posner, this visual background does give one a sense of papyrus niches for funeral urns to be stored. Not sure if that was the intent but it is a nice understated touch that comments indirectly on the proceedings at hand.
Julia: David Israel Reynoso's costumes were inconsistent. The frumpy cardigan/sweatpants/socks looked deliberately unattractive; even the glamorous movie star was wrapped in a concealing cardigan, or voluminous pants that concealed her. Yet Esther and Shmuli had costume-as-character. You knew exactly who these people were the moment they came on stage.
The Wanderers works too hard, and the reward isn't really worth the effort.
The Wanderers by Anna Ziegler
Roundabout's Laura Pels Theater through April 2, 2023
Running time: 105 minutes with no intermission.
Tickets: $79-$89
https://www.roundabouttheatre.org/get-tickets/2022-2023-season/the-wanderers/performances