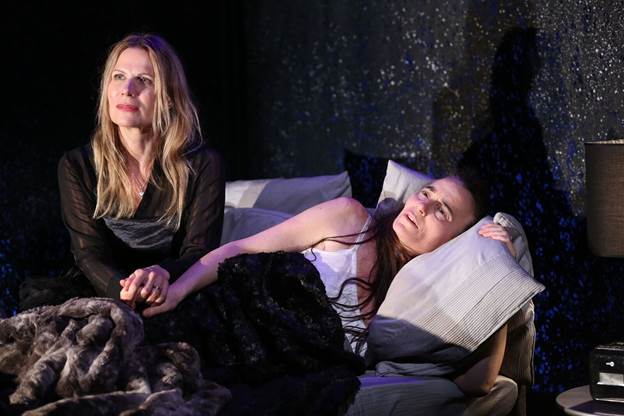 Pamela J. Gray & Stephanie Roth Haberle                      photos by Carol Rosegg
                                  By Ron Cohen
Deathbed dramas with expiring ladies seem to be thing this spring. Right on the heels of the superb revival of Edward Albee's Three Tall Woman comes the brilliant Woman and Scarecrow by Marina Carr, being given an exhilarating production by Irish Repertory Theatre. Both prove that a depiction of our final moments can be terrifically entertaining as well as illuminating.
While there are similarities between the two plays, there's nothing superfluous in this work by Carr. While hardly a name as resonant as Albee's, Carr is one of Ireland's most prominent contemporary playwrights, and she writes in her own distinctively invigorating voice. While defining her characters, her writing is also filled with bracing observations on the matters at hand – life and death, of course, among them, the ravages of both, along with the complexities of love, marriage and parenting – often seasoned with a wry wit and without a drop of sentimentality. When the dying woman eyes herself in a mirror, she is overjoyed at what she sees: "I have transformed myself into the ideal. Look at me! I am graveyard chic, angular, lupine, dangerous."
Carr's heroine is simply identified as "Woman." We spend her last two hours with her in her bedroom, located in The Midlands of Ireland, while she converses with another woman called Scarecrow, pondering the pleasures and pains of her life. Who or what Scarecrow is is never specifically defined; she is obviously some sort of alter ego, perhaps Woman's subconscious, perhaps her id, although she often talks with a coolly cynical logic.
 At one point. Scarecrow tells Woman: "This world's job is to take everything from you. Yours is to not let it."
At times you might think Scarecrow is her conscience, as when Woman rails at her: "You vicious parasite that's led me a crazy dance. Barking orders to kingdom come. All that unnecessary guilt. All those sly commands. All that wrong advice!"
The presence of Scarecrow plus the dark menace ensconced in the bedroom's wardrobe give the proceedings a compelling layer of the supernatural. Yet the harsh reality of the actual situation is always present, equally compelling.
Much of their intense back-and-forth between Woman and Scarecrow involves Woman's long marriage to her chronically unfaithful husband, simply called Him, the father of her eight children and a ninth "who didn't make it…gone before he was here."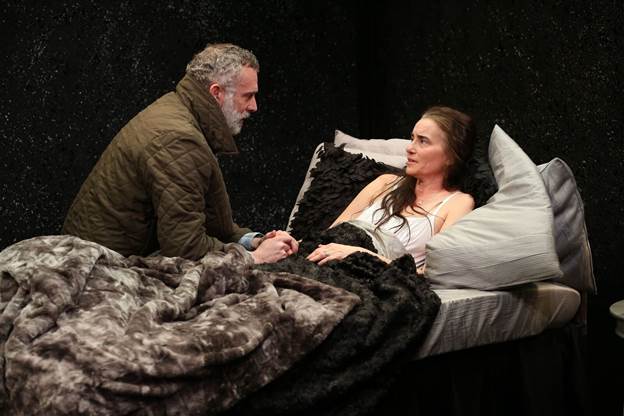 Aidan Redmond & Stephanie Roth Haberle
When Him appears on the scene, there is a fierce depiction of the patriarchal architecture of marriage, in which he declares that despite all the women in his life, Woman is still his wife. "You have no right to leave me like this," he cries with anger as well as sob at her bedside.
When she taunts him with the fact that she too has had affairs, affairs he never suspected, he counters angrily that women are not "allowed" such subterfuge. "The whole point of a woman is not so much wanting her, that waxes and wanes, but that no one else can go near her," he says.
Their time together goes from moments of tender love to Strindbergian ferocity, and to mention that other playwright again, it's a ferocity reminiscent of a pair of Albee characters: George and Martha.
Their bonding and recriminations, along with the rest of the play, are realized in arresting fashion under Ciarán O'Reilly's taut but never forced direction. His varied stage pictures and guiding of his actors into richly detailed performances on the minuscule playing area of Irish Rep's W. Scott McLucas Studio Stage are masterful.
As Woman, Stephanie Roth Haberle travels a monumental journey that within a moment can switch from a girlish romanticism to heart-breaking infinite despair, giving full value to every turn of the character and keeping her intensely human. At the same time, her connection to Scarecrow – however unclarified – is never in doubt, and Pamela J. Gray as Scarecrow delivers a pungent counterpoint to Haberle's emotional rollercoaster, sometimes disparaging, sometimes consoling, but always with her own mysterious subtext.
Aidan Redmond brings a striking macho persona to Him, while also lacing the portrayal with a vulnerability that goes beyond self-pity.
Dale Soules, Stephanie Roth Haberle & Pamela J. Gray
Adding additional flavors to the mix is Dale Soules as Auntie Ah, who raised Woman after her mother's untimely death. A woman of some religious fervor, she can also be practical, and Soules brings an ear-tickling musicality with an Irish brogue that informs such lines as: "Happiness! Everyone thinks they have a God-given right to it. Sure, it's only a recent invention of the Sunday newspapers."
(An Irish brogue is used to good effect by all the players. Stephen Gabis is the dialect coach.)
The look of the production also belies the tiny space it is playing in. The black accents on the bedding and the walls of Charlie Corcoran's set design give it an expansive mood of foreboding. Whitney Locher's costumes adroitly augment character, with dark-haired Woman in a simple white loose-fitting nightgown, contrasted with the sleek black gown worn by the blonde Scarecrow. (No, there's no attempt to make her look like a scarecrow, although at the very end there is a terrifying transformation to the bird part of the appellation, thanks to Bob Flanagan's puppet and mask design.) Further heightening the ominous mood are the dramatically shifting light by Michael Gottlieb and Ryan Rumery's sound and original music.
Another tangible element of the production is the sheer intimacy of the theater. At times audience members may find themselves only a foot or so away from an actor, and such proximity can be enthralling. However, Carr's play throbs with such big ideas and emotions, and the four performances are so potent that the closed-in space almost seems to rob the proceedings of some of its grandeur.
Woman and Scarecrow is a play of large dimension. It could use more breathing room.

Off-Broadway play
Playing at Irish Repertory Theatre
132 West 22nd Street
212-727-2737
Playing until June 24