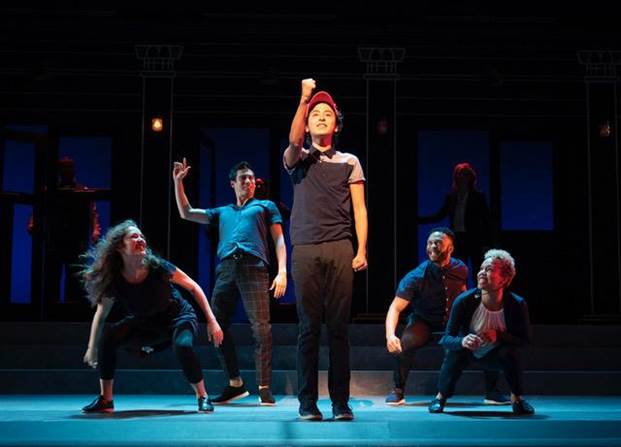 Mateo Ferro in Working: The Musical at New York City Center
Photo: Joan Marcus
Working:  The Musical
                                                           by Deirdre Donovan              
The qualities that have made Studs Terkel's Working a modern classic are all present in the current revival of Stephen Schwartz and Nina Faso's musical of the same name at New York City Center.  The show, which is part of New York City Center's Encores! Off-Center summer series, had a brief four-day run in late June. 
Directed by Anne Kauffman, and choreographed by Avihai Haham, it was an homage, not only to those ordinary laborers who make our country go round, but to those who work within the hallowed halls of New York City Center.  The entertainment came on the heels of the institution's 75th anniversary season.  And it allowed theatergoers to become better acquainted with those who provide the real muscle for the productions staged at the prestigious venue.
This latest iteration, which featured seven principals and a four-member ensemble, portrayed American workers in vivid roles in today's society.  Its dramaturgy still relied on the alternating confessional monologues and songs that always have characterized the musical. 
The musical is best-known for James Taylor's soulful song "Millwork" (freshly sung here by Tracie Thoms and Christopher Jackson).  And that anthem about a Massachusetts millworker's sedulous labor still proved to be powerful on New York City Center's mainstage. 
The musical, in fact, has a long stage history, with several revisions developing over the years.  It began its life in Chicago in 1977, landed on Broadway in 1978 (with Patti Lupone and Joe Mantegna in the cast) for a run that fizzled out after 24 performances and 12 previews.  Still, the blue-collar revue kept resurfacing and finding an audience, even though critics continually complained that it didn't quite gel into a whole.
It features songs by a gaggle of composers, including Craig Carnelia, Micki Grant, Mary Rodgers and Susan Birkenhead, Stephen Schwartz, and James Taylor.  And, oh yes, Lin-Manuel Miranda contributed two new songs in 2009, "Delivery" and "A Very Good Day," when Schwartz revised the musical.
And that's not all.  Writer-director Gordon Greenberg tossed in new material in 2011 for a revival in Chicago, which would later transfer to Off Broadway's E59E Theaters.  After all, Terkel gathered his oral histories in the late 19th century.  And Greenberg felt that the musical needed to represent those new jobs (think bag-checker and Verizon tech-support person) that are part of our contemporary society.
 The musical employs more symbolic figures than characters with recognizable familiar names.  For example, there's the veteran teacher (Helen Hunt) in the number "Nobody Tells Me How" who explains how the absolute authority of the teacher has shifted to the absolute authority of technology in today's classroom.  The teacher also mentions her pet peeves in education today:  the bad manners of students; and the officious attitude of administrators who tell her to keep up with the times—yet never telling her how. 
Okay, Oscar and Emmy award winner Hunt, who played the role of the teacher, doesn't possess the pipes that could send that song soaring into the back row of the balcony.  But she did manage to deliver the theatrical goods nonetheless by the sheer truth of what her character was expressing about education now.
In the humorous sketch "Delivery" a young McDonald's worker called Freddy (Matteo Ferro) declares: "This is my first job.  I smell like a burger."  His honesty was endearing, and his description of his daily routines at the restaurant emphasized the boring nature of his entry-level job:  (1) standing at the register (2) taking orders from customers (3) tapping the right pictured item on the register.  Of course his hope every day was that the manager would send him "far away" on delivery and he'd be able to taste freedom a while.  Indeed, this sketch smacked of New York, and Ferro's understated performance was colored by the naiveté and ambition that belongs only to youth.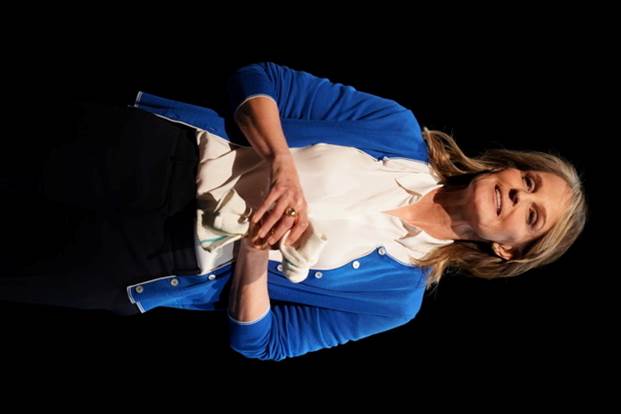 Helen Hunt in Working: The Musical at New York City Center
Photo: Joan Marcus
Several songs were more melancholy.  "Just a Housewife" captured the sentiments of a housewife (Hunt again) bemoaning the unimpressive work she does each day.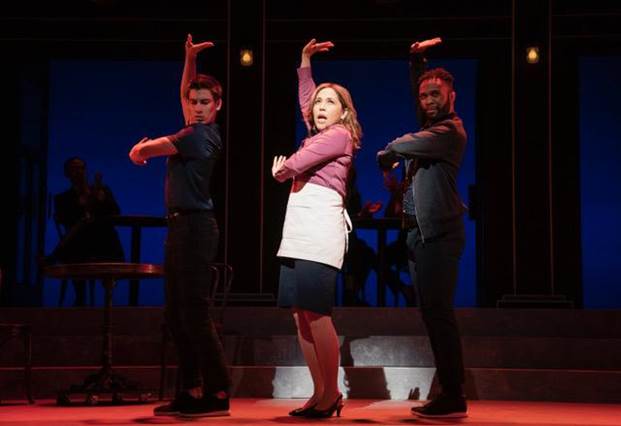 Captions: Andrea Burns in Working: The Musical at New York City Center
Photo: Joan Marcus
Then there was the ballad "If I Could've Been" (Andrea Burns, Javier Munoz, & company) that explored the reality of those who wanted to do "big things" but had to settle for the mundane when life stepped in. 
Captions: David Garrison in Working: The Musical at New York City Center
Photo: Joan Marcus
Perhaps the most affecting song is "Joe" (David Garrison) that portrays a retired man who has the blues, his life slowly losing definition when he discovers he has no real place to hang his hat.
In the sketches focusing on New York City Center's workers, the musical gained more texture and local color but they didn't always mesh smoothly with the rest of the material.
Christopher Jackson in Working: The Musical at New York City Center
Photo: Joan Marcus
But how could you not like Abdou (Christopher Jackson) who informed you that he was the site supervisor for security and "New York City Center's face?"  Or how can you not be touched when Angie (Hunt again) shared that on 9/11 "we were the only theater in the city open that evening, with their workers going to hotels to give tickets to people.  So say what you will, the latest retooling of Working gave theatergoers a rare behind-the-scenes look at the beloved institution and revealed what their workers did during New York's darkest hour.
Avihai Haham's 's choreography was competent, without having any new terpsichorean surprises.  Donyale Werle's set fared better, evoking New York City Center's handsome architecture with minimal strokes.  And Clint Ramos' costumes aptly fit each performer's assumed occupation. 
When it came to the musical direction, Alvin Hough Jr. firmly held the baton and led the six-piece orchestra with panache.  The orchestra never overshadowed the performance but its presence was always felt.  And I would be remiss if I didn't give a shout out to Justin Hornbach (keyboard), Hidayat Honari and Matt Hinkley (guitar 1 & 2, respectively), Damien Bassman (drums), Andy Blanco (percussion), and Wilbur Bascomb (bass).  All virtuosos, they performed with excellence.
Critics have dubbed Working the "nonshowbiz counterpart to A Chorus Line."  But what gave this latest incarnation of Working its unique character is that it invited theatergoers to see New York City Center from an insider's perspective.  Too bad if you missed it.
Working:  The Musical
June 26th through 29th.
At New York City Center, 131 W 55th Street (between 6th and 7th Avenues), Manhattan.
For more information on future programs at New York City Center, phone 212-581-1212 or visit www.nycitycenter.org.
Running time:  90 minutes with no intermission.