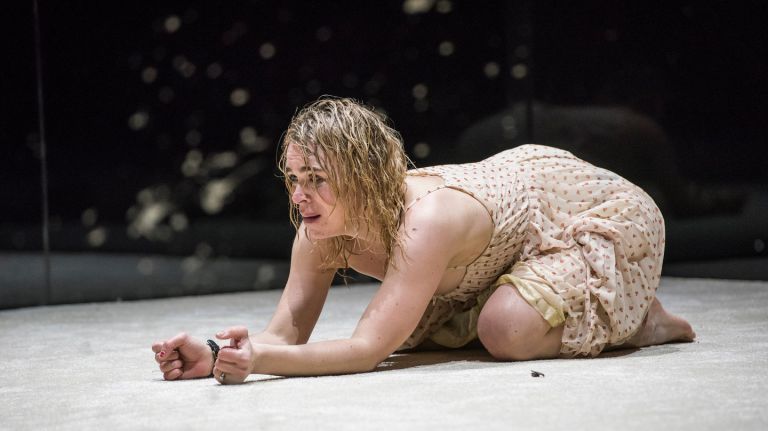 Billie Piper                                                                                        Photo Credit: Stephanie Berger
                                  By Arney Rosenblat
With every beat of Her heart she and the audience slip further into searing despair as her desire to be a mother and have a child of her own unravels into an unfulfilled dream, which leaves the audience as wounded as Billie Piper, who virtually embodies Frederico Garcia Lorca's lead character in his scorching play Yerma.
Whether one can accept Yerma's premise that a woman's inability to conceive a child can send her down the rabbit hole to madness, it is impossible not to accept that this is what unquestionably happens to Her, the otherwise unnamed successful blogger and journalist who becomes obsessed with her own fertility. Piper won the 2017 Olivier Award for her role when the play premiered at the Young Vic in London in 2016
Lorca's original Yerma, the second part of what is called his "Rural Trilogy" which also includes Blood Wedding and The House of Bernarda Alba, was originally set in a Spanish Village in the early thirties where a farmer's wife prays unrelentingly but without success to be a mother. Her name, Yerma implies the Spanish word for barren.
The creative Australian director and playwright, Simon Stone saw something timeless and universal in the Lorca story and reinterpreted it for a 21st-century audience placing the story in London where a successful modern feminist heroine in her thirties, known as Her, decides with her life partner that it's time to start a family, a decision ceremoniously marked by her partner stomping on her birth control pills.
Stone reveals the longing of the play's central character to be a mother, the pressure that mounts around her and the desperation that ultimately consumes her as totally contemporary. (TV fans may recognize Billie Piper, Mr. Stone's choice for Her, from her roles in "Doctor Who," "Penny Dreadful," and the Netflix series "Collateral.")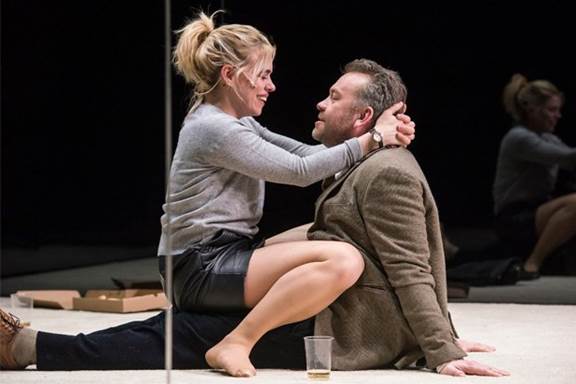 Billie Piper, Brendan Cowell                                           Photo Credit: Stephanie Berger
The difficulty of infertility not only deeply impacts Her but also begins to destroy her relationships with everyone else around her and sympathies see-saw between Piper's Her and her partner John, superbly portrayed by Brendan Cowell with a mixture of affection, frustration and incomprehension. Throughout the process Her confessional blog documents the trauma online trapping her character within the ruthless echo-chamber of the Internet.
According to Mr. Stone, "I wanted to engage in an almost scientific dissection of a modern woman's descent into personal tragedy. We watch her as if she's under a microscope or inside a terrarium." Lizzie Clachan's austere set design wrapping the action in a veritable glass box in which the audience sits on two side serves the director's goals extraordinarily well. Particularly at a venue such as the Park Avenue Armory. From this vantage the viewers watch facts mount and the specimen react. Likewise, Stefan Gregory's soundscape enhances the story's impact as it provides increasingly dissonant musical interludes between Brecht-like captioned scenes, such as "Conception," "Disillusion," "Moratorium," "Reality," "Deception," "Descent," and "Coming Home."
While Her is willing to do almost anything to get pregnant, failing again and again to do so, virtually everyone around her is getting pregnant whether they really want to or not, which heightens her torment. Especially frustrating to our central character is her ever fertile sister Mary, Charlotte Randle giving a subtle understated performance, who is overwhelmed by her parenting responsibilities and her aloof mother, Helen, chillingly captured by Maureen Beattie, for whom being pregnant was like being inhabited by an alien.
Says Helen, "I hated the idea of getting pregnant. Being colonized by someone's sperm. You know that film Alien. Well that's a very accurate representation of what my pregnancies felt like." Apparently, things didn't change much after Her was born as her mother still finds it all but impossible to even hug her.
Also in Her's immediate circle and pull/push relationship are Des, a sparkling Thalissa Teixeira, her trendy assistant, and Her's former boyfriend Victor, an engagingly perplexed John MacMillan, who works at Her's same publication.
One of the most poignant moments in the play is when Her and John's union comes to its shattering end.
Grieves John, "You ate up all the oxygen in our relationship, you left no room for me."
Her responds, "If you wanted a… child, then you would have mourned with me, you would have ached with me, you would have hoped with me, you would have struggled and... fought..."
John, "I wanted you... you to be happy...you, to be mine."
Her takes us on hellish journey with a shocking conclusion, but you can't help but take the ride nor can you look away.
Yerma
Off Broadway play
1 hr. and 40 minutes, no intermission
Park Avenue Armory
643 Park Avenue at 67th Street
212-933-5812
Closing Date: April 21,2018