E.Y. "Yip" Harburg: Follow the Fellow Who Follows a Dream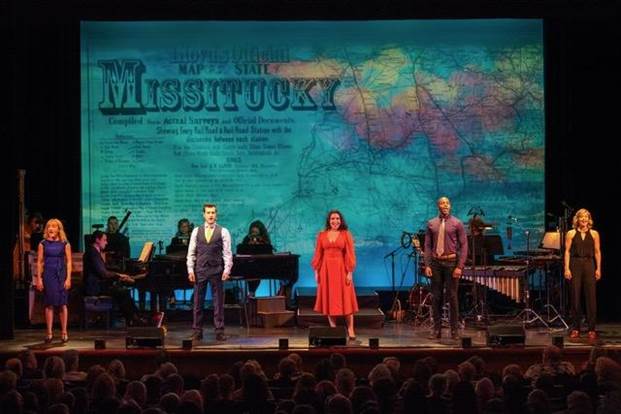 (Left to right) Laura Darrell, Nick Spangler, Mikaela Bennett, Clifton Duncan, Megan Sikora in Yip Harburg: Follow the Fellow Who Follows the Dream
Photo Credit: Richard Termine
E.Y. "Yip" Harburg:  Follow the Fellow Who Follows a Dream
                         by Deirdre Donovan
The 92nd Street Y's popular "Lyrics & Lyricists" series kicks off its 2020 season with E.Y. "Yip Harburg:  Follow the Fellow who Follows a Dream."  This tribute to Harburg was chockfull of his iconic songs that continue to make us laugh, cry, and think.  Featuring five resourceful artists—Mikaela Bennett, Laura Darrell, Clifton Duncan, Megan Sikora, and Nick Spangler—and melodically supported by the 92nd Street Y's orchestra, it illuminated the life and rhymes of one of the major lyricists of the 20th century and left you wanting more.
 Harburg was born in Manhattan on April 8, 1896.  His birth name was Isidore Hochberg but gradually evolved into Edgar Yipsei "Yip" Harburg.  During his long and prolific career, it's estimated that he wrote over 600 songs, including the dream-drenched "Over the Rainbow" and politically-pointed "Brother, Can You Spare a Dime?" (more later on both of these songs).  
There were 19 songs in all in the program (9 in Act 1; 10 in Act 2), with the five artists doing double duty as narrators.  Each read, in turn, from scripts, providing us with fascinating background information on Harburg's life and peppering in some juicy anecdotes.  The artists' smooth transition from vocalists to narrators, and vice versa, was admirable, given that they not only sang but dramatized their songs, creating tableaus to fit their individual moods. 
Many past presentations have been narrated by various personalities in the theater, including Rex Reed, David Loud and lyricist Lynn Ahrens (she was the subject and host of the program that closed out the 2018 season)—to mention a few.  While the current presentation by the five artists was well-balanced between songs and patter, there's much to be said about having a designated host as narrator and letting the vocalists do what they do best:  belt out their songs.
The performance was launched by the whole company, singing the robust chorus from Finian's Rainbow, "That Great Come-And-Get-It Day."  Harburg hammered out this song, in collaboration with composer Burton Lane, in 1947.  And judging from the audience's response to it at the Saturday evening performance I attended, the song hasn't lost its appeal.  What's more, in spite of being nicknamed the Messiah song, it's NOT a holy-roller hymn.  Indeed, it urges folks not to wait until the Second Coming but to change our troubled world in the here-and-now.
The songs in Act 1 came thick and fast.  Laura Darrell performed "Down with Love" and Megan Sikora segued into "Napoleon's a Pastry" (music by Harold Arlen).  Both hail from the anti-war musical Hooray for What! and are saturated with Marx Brothers' type of humor.  Spangler and Bennett flexed their vocal cords with their duet "You're a Builder-Upper" (lyrics with Ira Gershwin; music by Arlen) from the revue Life Begins at 8:40.  Whereas this was met with a warm welcome, it was the Depression anthem "Brother Can You Spare a Dime?" (music by Jay Gorney), and sung by Duncan and the company, from the revue Americana that made the bigger splash.
Spangler, with his tongue firmly implanted in cheek, belted out "The Son of a Gun who Picks on Uncle Sam" from Panama Hattie (music by Burton Lane).  Although serious in theme, it managed to coax smiles from many with its arsenal of witty lines that promised to "sock the sukiyaki out of any diaphragm" that disagreed with American ideas and Roosevelt's New Deal. 
Some of the tunes presented, notably "Ain't It the Truth" (music by Arlen) from the musical Jamaica, was fine listening fare, as delivered by Duncan.  But why skip over the musical's most memorable tune, "Leave De Atom Alone," which points out the folly of a nuclear showdown?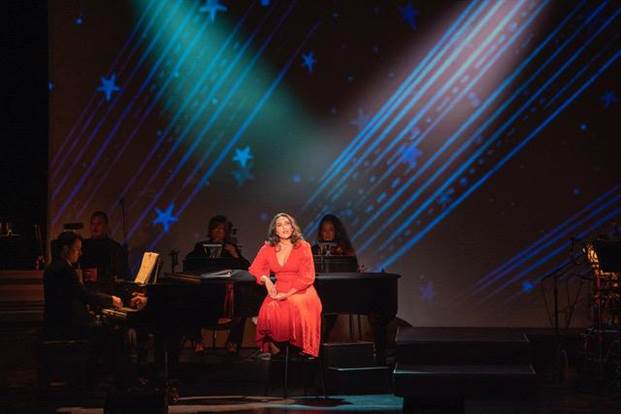 Mikaela Bennett in Yip Harburg: Follow the Fellow Who Follows the Dream
Photo Credit: Richard Termine
The brisk pace of the concert worked in its favor, however.  And the next number, "Happiness is a Thing Called Joe" from Cabin in the Sky, soared.  Mikaela caressed the melody with her able vocal cords and brought out its rich emotional colors.  Everybody, however, should treat themselves to Ella Fitzgerald's soulful version, which is easily found on YouTube. 
Wrapping up Act 1 were selections from The Wizard of Oz, sung by the company.  But the song that truly cast a spell in the Kaufmann Concert Hall was—you guessed it--"Over the Rainbow."  One of the performers interjected afterwards that there was no mention of a rainbow in the source novel by L. Frank Baum, and that it was Harburg himself who dreamed up the rainbow for the classic film The Wizard of Oz.
If Act 1 was jam-packed with vintage Harburg, so was Act 2.  Darrell led off with "It's Only a Paper Moon" (lyrics with Billy Rose; music by Arlen) from the potboiler The Great Magoo and on its heels came Spangler crooning "Paris is a Lonely Town from the film Gay Purr-ee.  Duncan and Spangler brought a LGBTQ flavor to the program with "Let's Take a Walk Around the Block" from Life Begins at 8:40 (lyrics with Ira Gershwin; music by Arlen). 
In the mood for the circus?  Well, Sikora took you there with her rendering of "Lydia, The Tattooed Lady" (music by Arlen) from At the Circus.  In stark contrast, Bennett edged in with "Right as Rain" from Bloomer Girl (music, again, by Arlen) reminding you that love between two people sometimes manifests itself not in a miraculous but more natural manner. 
And let's not forget the wonders of science!  Harburg certainly didn't when he penned "Free and Equal Blues" from Blue Holiday.  To reacquaint everybody with this tune, Duncan freshly sang it at the 92nd Street Y, driving home the inescapable truth that human plasma is color-blind.  Written in 1945, it anticipates the 60s Equal Rights Movement and shows that Harburg, however comic his lyrics are on the surface, had a strong social conscience as an artist.

Megan Sikora in Yip Harburg: Follow the Fellow Who Follows the Dream
Photo Credit: Richard Termine
The final burst of songs came from Finian's Rainbow and flowed along like the River Liffey.  Darrell started off on a nostalgic note with her solo "How are Things in Glocca Morra?" If this had a pleasing lilt, so did the ballad "If This Isn't Love," sung by the company with a light air.  And, last but not least, Darrell ended the program fittingly with "Look to the Rainbow." 
Harburg has sometimes been referred to as the "forgotten lyricist."  But, happily, the 92nd Street Y's recent Lyrics & Lyricists' program resurrected Harburg's oeuvre with the assistance of five fine vocalists.  Visually embellished with Dan Scully's fine projection design that provided authentic photos of Harburg and his collaborators plus glimpses of Broadway marquees and Hollywood landscapes, it was a dream of an evening.
January 25th through January 27th, five performances only.
At the 92nd Street Y, Lexington Avenue at 92nd Street
For more information on the Lyrics & Lyricists series, phone the 92nd Street Y's box office at 212.415. 5500 or visit www.92y.org
The next program in the series:  Jerry Herman:  You I Like, February 22th through February 24th.