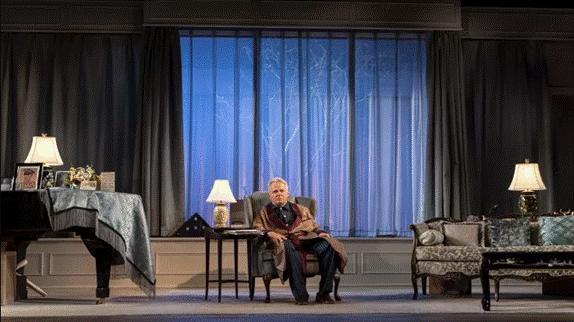 Aidan Quinn   Photo: Monique Carboni
Young Man From Atlanta
                         By Fern Siegel
Many in the post-WWII years enjoyed a booming American economy. Business was brisk, the stock market soared and returning veterans were the recipients of unprecedented prosperity.
The Kidder family is no exception. It's 1950, and Will Kidder (Aiden Quinn) is a successful salesman, employed for nearly 40 years by the Sunshine Southern Wholesale Grocery. Will is cast in the American booster tradition; he believes hard work and a competitive spirit will carry the day.
His wife, Lily Dale Kidder (Kristine Nielsen), has lived a privileged life in Houston, thanks to her husband's work ethic. But behind the curtains of their expensive new home  ("the biggest and the best"), lay sadness, despair and anger.
Will and Lily Dale, who have appeared in earlier Horton Foote plays, reappear in the revival of Young Man From Atlanta, now at the Signature Theater Center. And it isn't a happy reunion. Foote explores the dark side of the American Dream, as well as the lies we tell ourselves in order to survive.
Times are changing, and 61-year-old Will has not kept pace. He's forced to reckon with the boss' son Ted (Devon Abner), eager to promote younger men like Tom (Dan Bittner), Will's protégé. That's a bitter blow to Will who needs to work, even if his colleagues wish for his retirement.
The generation gap — and the cruelty of ending someone's career prematurely — is heartbreaking to watch. Experience and loyalty are not valued commodities. The fruit company would rather show Bill the door than teach him to adapt. Here, youth and technical expertise are championed over all other virtues.
As if that isn't insult enough, Will and his semi-ditzy wife contend with a private tragedy: the death of their 37-year-old Bill. (She has a wacky theory that Mrs. Roosevelt organized Houston's maids into a club to disappoint their white employers.) And here's where Young Man From Atlanta careens into murkier terrain. Six months ago, their son Bill walked into the ocean and drowned.
His suicide is apparent to all — except his mother. So she turns to Randy, the unseen man of the play's title, for solace.
Randy was Bill's roommate in their Atlanta boarding house — and despite subtle hints, their relationship is never explicitly stated. What we do learn is that Lily Dale finds the young man a comfort, while Will sees him as a con artist and parasite. The big issue is money, which Randy needs and Lily has. Will needs it, too — which ups his exasperation at discovering his wife's profligate attitude toward a stranger as he endures a life of not-so-quiet desperation.
But the real stranger is within. Did the Kidders ever know their son? Do they know each other? Do they understand the world they inhabit?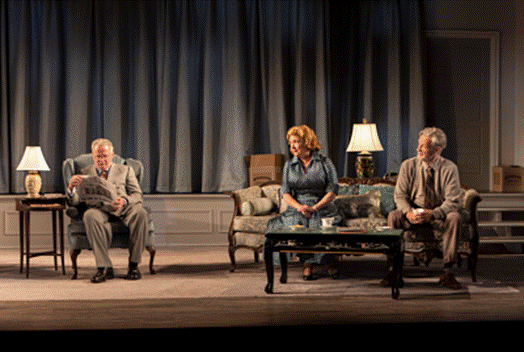 Aidan Quinn, Kristine Nielsen and Stephen Payne  Photo by Monique Carboni
Foote used fictional Harrison, Texas — and neighboring Houston — as a metaphor for the world at large. He employs the Kidders and their extended friends, colleagues and family to explore larger themes of identity, ageism, privilege and grief. Clara, the Kidder's longtime housekeeper (Harriet D. Foy), has a practical kindness; Ted can only muster inchoate stabs at understanding.
Quinn plays Will for all he's worth, with brutal honesty. He's an angry, blustering man, but it's hard not to feel sympathy for anyone who loses control of his life. Nielsen, often cast in comedic turns, utilizes the same facial tics in all her roles to indicate disbelief or confusion. It may be humorous the first time, but it wears thin. Her mood swings are as frequent as her eye rolls.
Yet her gullible character, a mother longing to be reassured despite the facts, rings true. So does Lily Dale's insensitivity to others, noted in a brief scene with an elderly former maid. The ensemble cast is sound, and Michael Wilson's direction is smooth. Foote is a subtle, understated playwright not known for his poetic dialogue. But he is adept at capturing ordinary people facing difficult moments with authenticity.
The Young Man From Atlanta, Signature Theatre, 480 West 42 St., through Dec. 15.  
Running time: 125 minutes
Tickets: SignatureTheatre.org