†††††††††††
†††††††††††††††††††††††††††† by Arney Rosenblat
A luxury hotel located in Zurich, a city known as a center for discreet international banking transactions carried out in one of the world's most famous neutral states Switzerland, is the setting for recounting a significant moment in time which occurs in the lives of 10 residents in five of its rooms on the 40th floor..
Like in the works by Alan Ayckbourn and, more tenderly, in Neil Simon, playwright Amelia Roper artfully links what first seem like disparate lives with a common gnawing theme Director Adrienne Campbell-Holt effectively guides a top-notch cast, including Paul Wesley from the CW's Vampire Diaries and Austin Smith from Hamilton, through the plot intricacies shaped by a globally corrupt social order.
Helping to pilot the audience through the various stories is the hotel Maid, the talented Carolyn Holding, who is compelled for her economic survival to wheedle tips and positive survey results from hotel residents for management that confirm her service and friendliness. In a moment of openness with a current sojourner, who she discerns is as miserable as she, the Maid admits, "I do not like it here, I want something bigger...for my life."
Also piloting the segments to their shattering resolution is the sound of a very loud gunshot then a bright white light followed by utter darkness which transitions the first four scenes. John McDermott's clever set with a simulated pane of glass separating the audience from the action in the rooms creates a voyeuristic yet powerless atmosphere which is supported with strong sound design by Brendan Aanes and lighting by Grant Yeager.
There are five interlocking stories which the audience encounters. First is "Anthem" in which "He" a half-naked banker, a compelling Paul Wesley, is trying to put together what happened in his drunken sexual encounter the previous night with "She," a perfect Juliana Canfield. He's in Zurich for a conference with select clients who are in defense contracting, tech systems, and aged care big money fields as well as government officials who could be useful to the bank. She's in Zurich to meet with her ex-husband, with whom She feels the need to take precautions. Now that the sun is up, She wants to get He out of her room, which he confuses with his own One of the few things He does remember, however, is selecting the Star-Spangled Banner when he's tapped by upper management to comply with their CEO's request for a song at the conference. " There's ..some..odd stuff going on at the bank..I just think it might be good to remember who we are," He says.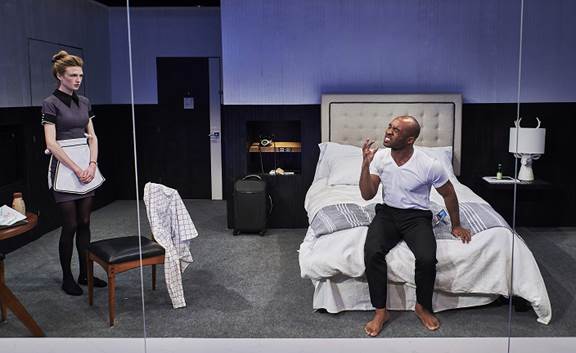 Second is "Domestic" Here the audience meets a "Guy," movingly portrayed by Austin Smith, climbing the corporate ladder in tech systems who, like the maid he's called to clean up the mess in his bathroom, is increasingly being sucked into self loathing by corporate pressures requiring that he surrender more and more of his ethical beliefs, "My client is corrupt," he ultimately confesses to the maid, "now it's my job go help them...they're a big client,..very important, a bank, actually...I'm really a good dad. I am not a good man." His predicament is also exacerbated by the fact that he is African American and realizes that he has to go along to get along. When the Guy assesses, however, that in the present power situation with the Maid, he has the dominant edge, he starts to bully her, until at the last moment he reclaims the threads of his humanity.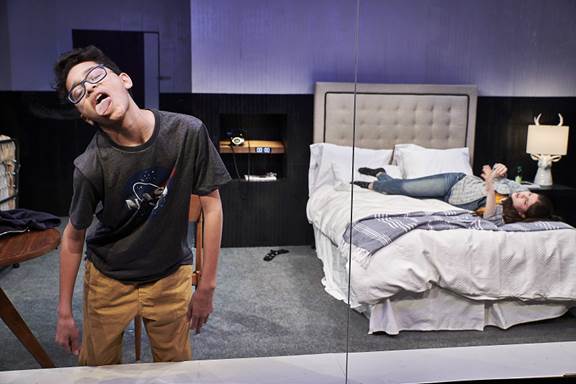 The third story "Chekhov" focuses on two pre-teens, a brother and sister, an outstanding Samantha Cutler and Gregory Diaz IV, who are dealing with the fall out of what appears to be the ongoing violence and sexual power struggle that define their parentís relationship with one another. After fighting all night in the hall, the pair have left the children to their own devices telling them to sit there and wait till they get back. As much out of boredom as curiosity, the children decide to explore their parents luggage. What the Boy finds in his dad's bag is one of the key catalysts that lead to the play's denouement.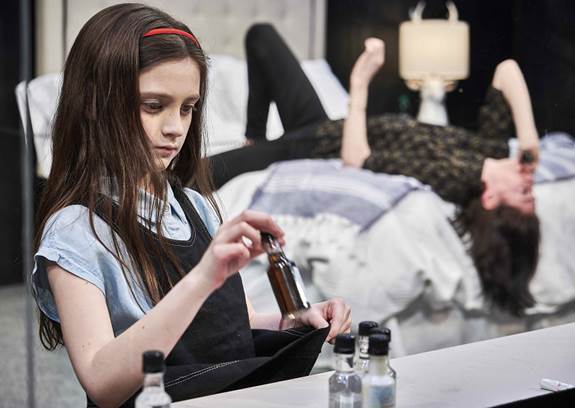 The fourth vignette "Zeitgeist" spotlights a German woman Emily, beautifully embodied by Renata Friedman, who is getting the run-around from a Swiss bank as she tries to track down a bank account established there by her grandmother, Fryda, a Holocaust victim. Throughout her frustrating experience, her young daughter, named after her great-grandmother, played by an endearing Sami Molly Bray, vies for her attention.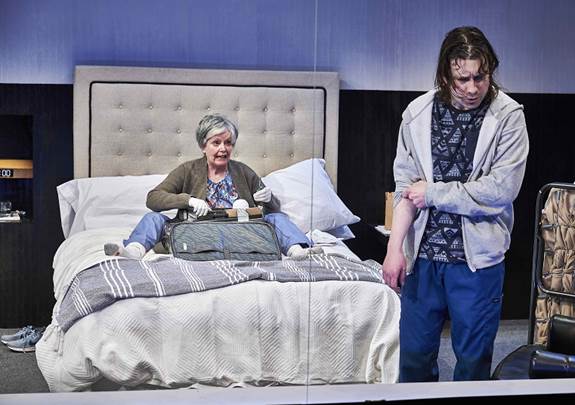 Lynne Lipton and Matthew Stadelamnn††††††††††††††††††††††††† Photo © Robert Altman
The fifth story "Baby Hitler" ties up the loose ends and the audience meets the last two members of the ensemble cast an old woman and her aide who have skipped out of the nursing home that has taken advantage of each of them in different ways. The pair, effectively portrayed by Lynne Lipton and Matthew Stadelmann, have decided to fight back against a system of "toxic masculinity" that has created a world "full of big Hitlers."
Zurich
Off Broadway play
Fourth Street Theater
79 East Fourth Street, East Village
Closing Date May 4th