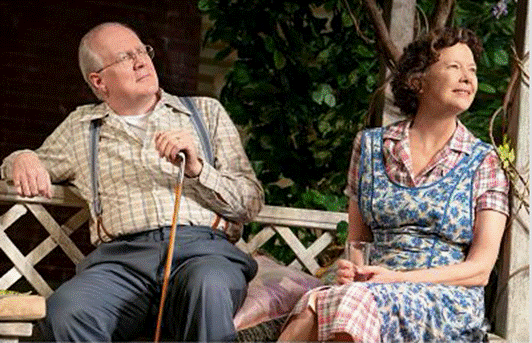 Tracy Letts, Annette Bening. Photo: Joan Marcus
                         By Fern Siegel


"What kind of a person are you? Don't you live in the world?" an outraged Chris asks his cornered father. Welcome to the complicated arena of ethical anger and public responsibility that is Arthur Miller's forte.
The current revival of All My Sons at the Roundabout is a powerhouse of moral indignation in a post-war era struggling with trauma and guilt. Here, in this beautifully lit Midwest backyard, a nasty tale of duplicity, greed and self-justification unfolds. 
A munitions manufacturer Joe Keller (Tracy Letts) and his partner are accused of selling damaged engine cylinder heads to the military, causing the death of 21 pilots. The friendly, blustering Joe is cleared of the crime, but Steve Deever, his timid partner, is convicted. And that saga opens the floodgates to the real question: Who is guilty?
Bound by affection and betrayal, the Kellers and the Deevers play out their destinies.
It begins in the aftermath of a storm, a foreshadowing of the emotional tempest to come. Joe's son Chris (Benjamin Walker) has returned from war, haunted by his father's past. Chris loves Steve's daughter Ann (Francesca Carpanini), much to his mother's chagrin. Ann was his brother Larry's girlfriend, and until Larry, currently declared MIA, returns, his mother Kate (Annette Bening) considers her off-limits.
Chris longs to move forward; his mother clings tenaciously to the past, convinced her son is alive. Both underscore a key generational and moral divide. Chris refuses to put his life on hold or live a lie; his mother refuses to rebuild hers or confront reality.
Once Ann's brother George (a nuanced Hampton Fluker) arrives to challenge the accepted version of his father's guilt, the action, building at a leisurely pace, explodes.
Truth takes no prisoners.
Miller's indictment of capitalism is intense, but so is his demand that individuals account for their actions. That clash — of right and wrong — macro and micro — is the essence of All My Sons, and why it feels so timely to 21st-century audiences.
If the business of America is profit, what happens when the pursuit of money clashes with ethical imperatives? Or does ambition and money trump all?
These are fundamental questions for the Kellers and the Deevers, especially given the play's time frame, August 1947. Commenting on the period, in which America's Marshall Plan helped rebuild Europe, director Jack O'Brien told Upstage: "We were a moral society, and we were naïve; but it was real. This play touches on all those issues to remind us who we once were, and what we need to change in order to be better."
Being better, in the context of All My Sons, means promoting collective morality. It's one thing, Miller suggests, to justify spurious behavior. It's worse to do so at someone else's expense. 
That's a compelling thesis — and it demands top-notch actors to deliver the goods. Letts expertly plays a small-city booster who champions his self-made status with fervor. He boasts a friendliness and rough-hewed charm that hides his darker self.
Miller isn't known for his female characters, yet Bening mines Kate for every ounce of emotion. At once vulnerable and controlling, her Kate works overtime to present an unyielding public persona. Her body language speaks volumes. Together, Bening and Letts are marvelous to watch, their craft on full display. As Chris, Walker skillfully walks the tightrope between love and duty, familial and societal.
Benjamin Walker, Tracy Letts, Annette Bening, Hampton Fluker  
O'Brien gets the most from his cast — even in tiny roles. Douglas W. Schmidt's set design, augmented by Natasha Katz's lighting, is lovely. Jane Greenwood's costumes nicely capture the period.
All lives intersect in the backyard, where proximity masquerades as intimacy. And where, in this beautifully calibrated production, we reckon anew with the meaning of the American Dream.
All My Sons, American Airlines Theater, 227 West 42 St., through June 23
Running time: 2 hours, 15 minutes, with intermission