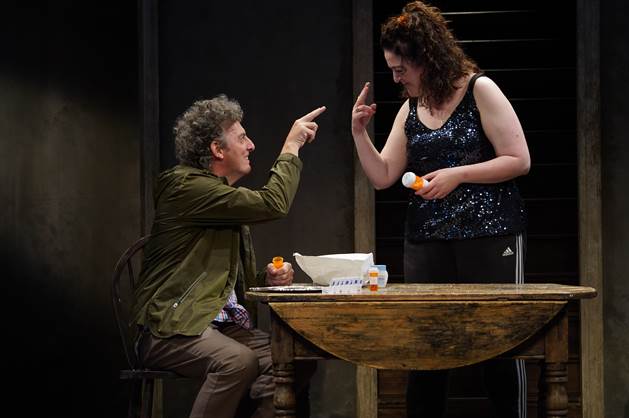 (left to right) John Keating, Maeve Higgins      Photo: Carol Rosegg
Autumn Royal
                            by Deirdre Donovan
If you think that the theme of siblings taking care of an aged parent has been exhausted, think again. Internationally renowned writer Kevin Barry has penned a new one-act play, Autumn Royal, that gives it a fresh slant. Helmed by Ciarán O'Reilly (who's also the co-artistic director of the Irish Repertory Theatre), this dark comedy is well worth a look, especially if you are a Barry devotee.
Set in Cork city, the play brings before us May (Maeve Higgins) and Timothy (John Keating), both middle-aged, who are taking care of their aged father suffering from dementia. Unmarried and with non-existent social lives, the two find themselves contemplating their options. Do they keep their father at home and put their lives indefinitely on hold? Or place him in one of the local nursing homes (May mockingly calls them "old people farms") and endure the scathing criticism of their neighbors?
Patricidal thoughts creep in. But, as May bluntly tells Timmy: "I dunno if I have the pillow-over-the-face job in me." Tim similarly shrinks from it. After all, smothering his father with a pillow might take as long as a half hour. And what if he gets "sentimental" about his dad when he's offing him?
Of the two siblings, Tim is the dreamer. He fantasizes on relocating to Australia, marrying a cute blonde wife, and having two kids with no "Irishy-type names."
May is more taciturn than Tim—and a killjoy. She listens to her brother's fantasies about Australia with a skeptical ear and tries to dampen his enthusiasm by reminding him that he's been a homebody since childhood and likely won't get any further than their local gas station.
Barry's characters in Autumn Royal have a bit of Beckett-like flavor to them. They yap away, agonize about their pitiful lives, and discuss how they hopefully might improve them. . . .
In a monologue early on, May remembers the Sunday drives with her parents and Tim to "godawful places" like Tipperary. But then that was before their father accused their mother of infidelities--and she up and left them for parts unknown.
It's hardly a spoiler to share that the two eventually decide on placing their father in a nursing home. After all, the play's title is a reference to the geriatric facility that they find listed in the Yellow Pages, amidst the agglomeration of other places graced with saints' names or poetic imagery ("Whispering Groves," "Winter Roses Retirement Village").
The acting is sturdy. Maeve Higgins, a stand-up comedienne who keeps extending her range (she appeared in the 2019 film Extra Ordinary), portrays May with the right belligerent air. John Keating, a veteran actor at the Irish Rep, acquits himself well as the dreamer Tim.
The bleak set by Charles Corcoran, with a plain wooden table, two cane-back chairs, and a disintegrating ceiling, is an ideal visual metaphor for May and Tim's desolate lives.
What's off? In spite of its wit and noir-ish humor, the play lacks the inevitable feel of Barry's fiction. Barry is a master at the short story and novel form, snagging a raft of prestigious awards, not to mention loyal fans around the globe. A book review (January 2021) of his latest collection of short stories "That Old Country Music" described his style as a nervy mix of high poetry and low comedy that he applies with unceasing vigor."
 Barry brings much the same ingredients to Autumn Royal. But the piece feels slight, clocking in at 70 minutes sans intermission.
Autumn Royal, as Barry's first stage work, might come up short. But it tackles a theme that is timely and increasingly relevant as many seniors live longer and their families must ponder if a geriatric facility is really the best and most compassionate answer for the whole family.
closed
At the Irish Repertory Theatre, 132 West 22nd Street.
For more information, visit www.irishrep.org or call 212-727-2737.
Running Time: 70 minutes with no intermission.