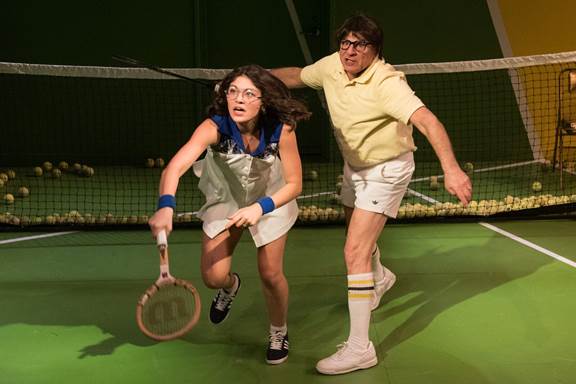 Elisha Mudly and Donald Corren
                                              By Fern Siegel
Gender equality is one of the defining issues of our time. The battle for sexual equality isn't new, but in the sports world, it hit a circus-like apex in 1973. That's when the much-hyped Battle of the Sexes match between tennis greats Billie Jean King and Bobby Riggs hit prime-time TV.
Balls theatrically captures several games, shot-by-shot, in the $100,000 winner-take-all Houston Astrodome event. True, tennis has its serious fans, but it's a challenge to present it on stage as a dynamic set piece.
That the show achieves a you-are-there feel is thanks to Natalie Lomonte's clever movement direction. Every ball bounce or thwak is recreated with physicality and Brendan Aanes' smart sound design.
The high-energy pacing underscores the serious stakes, though audiences can be forgiven for initially thinking they are just there to watch a game. (Even the seats are covered to resemble tennis decorum.)
Riggs' challenge, despite his crude remarks, was more than a boastful stunt. The hustler/gambler pushed sexism to hype his ego and future endorsements. But the backdrop proved far more fascinating.
Privilege, inclusion and women's rights are all on the agenda. And those big-picture concerns are neatly played out before our eyes.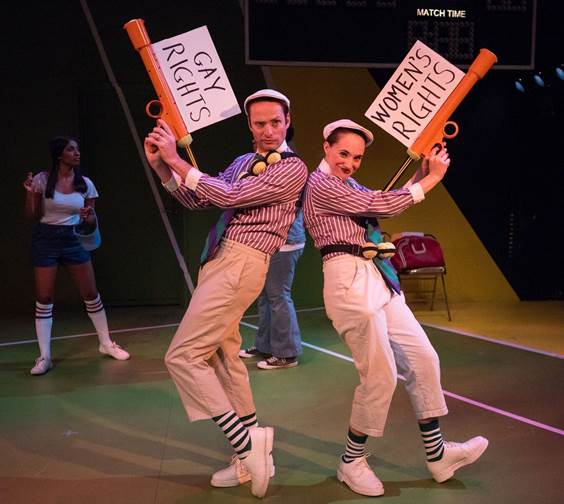 Photos by Russ Rowland (Richard Saudek and Olivia McGiff)
In 1973, 90 million people watched the feminist vs. chauvinist tourney in real time. If you were sentient in the era, you'll recognize the players, celebrities and casual misogyny that defined the period. If not, appearances by Jim Brown and Chris Evert will only confuse.
On the plus side, you will see something more: the genesis of a shifting cultural paradigm still being played out today.
Billie Jean (a super-focused Elisha Mudly) and Bobby Riggs (Donald Corren in a crazy Riggs'-like wig) are the main event. But playwrights Kevin Armento (Please Excuse My Dear Aunt Sally) and Bryony Lavery (Frozen) open the court, literally, to secondary characters whose lives reflect the maelstrom of changing sexual mores.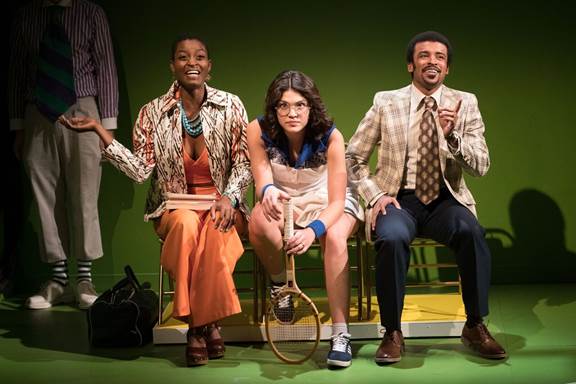 Zakiya Iman Markland, Elisha Mudly and Dante Jeanfelix
Their goal is to broaden the panorama, but the move is also confusing. It takes a while to determine what's going on or why King's husband (Dante Jeanfelix) and lover (Zakiya Iman Markland) are together courtside. (That trio is a worthy subject all its own. The sacrifices and artifices are carefully constructed to protect image and income — until the cruelty of betrayal shatters them.)
Produced by One Year Lease Theater Company and Stages Repertory, which brought the show from Houston to New York, Balls has a credible cast, interesting staging and sometimes fun, even heartbreaking moments. It lobs various stories — but the most telling is the backstory to Billie Jean King.
Visibility, like talent, often comes at a price.
Balls
59E59 Theaters, 59 East 59 Street, Manhattan (Through Feb. 25)
For tickets visit: http://www.59e59.org/
Running Time: 85 minutes no intermission