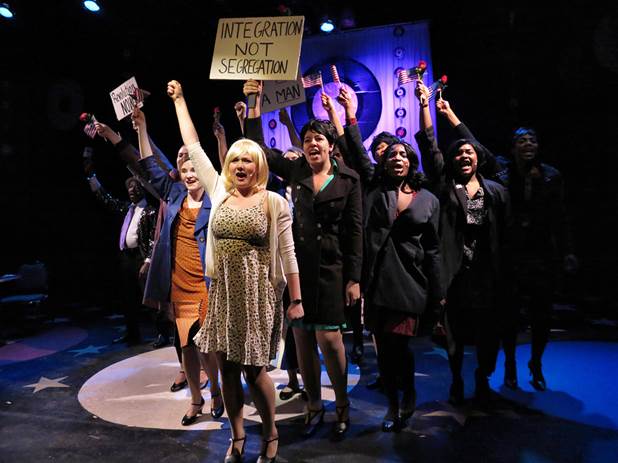 Betty and the Belrays
                      by Julia Polinsky
William Electric Black's Betty and the Belrays takes place in Detroit, in 1963. The Motown sound is hot and getting hotter – on black radio stations. Betty Belarosky, (Paulina Breeze), a perky blonde teen with a serious love for the music of black girl groups she hears on the radio, lives with her parents, Joe and Mary (John Michael Hersey and Gretchen Poole). Betty gets a reality check as her parents send her out to get a job as a telephone operator. While waiting for an interview, she meets the needy Connie (Kalia Lay) and street-tough Zipgun (Alexandra Welch), two girls who also need a job.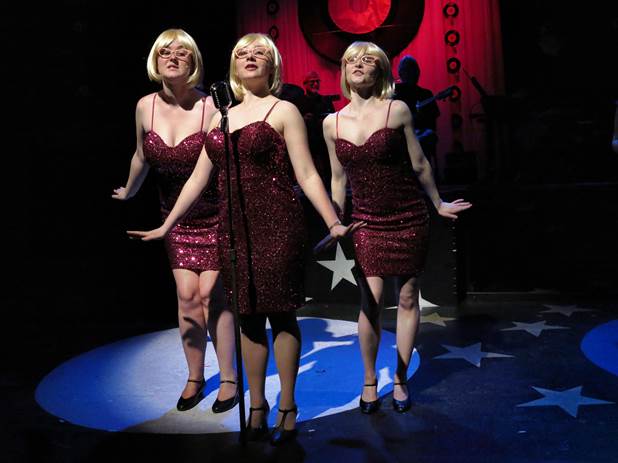 Betty & The Belrays, L-R: Alex Welch, Paulina Breeze, Kalia Lay.
The three girls form a girl group, like Betty's idol, the black trio, LoveJones, led by Joy Jones (the terrific Alexis Myles). LoveJones's music may be successful in the Black community, but they still don't make real money with it. When Betty meets Joy, who is also looking for work, for the first time Betty understands that black people are not treated like white ones; they can't get jobs as telephone operators, or sing on national TV shows.
That moment of knowledge sets up the rest of Betty and the Belrays, which follows Betty as she puts together a trio, apprentices with Joy's mother, Loretta (the amazing Aigner Mizzelle), an old-timer who knows all about this music, who teaches these white girls about dedication, persistence, soul, and singing. And civil rights.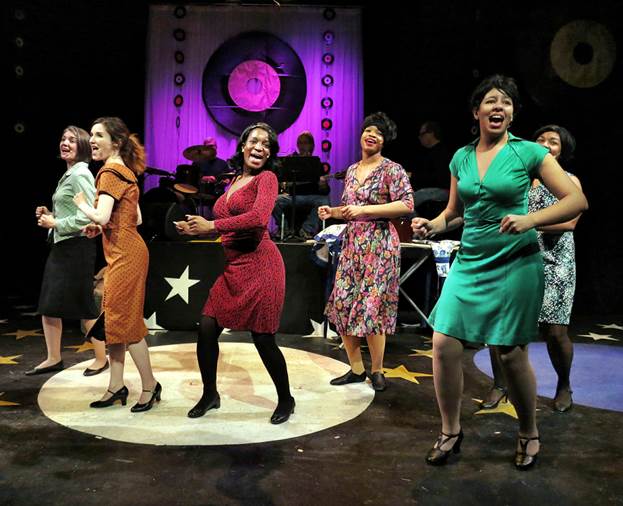 L-R: Gretchen Poole, Kalia Lay, Kennedy Jazz, Aigner Michelle, Alexis Miles, Christen Dekie.
These lily-white teenage girls know nothing about race issues in America, until they learn from Loretta. Betty, in particular, embraces black culture, and writes such songs as "Why Oh Why (The Segregation)" and "My Boyfriend is a Negro." They're odd songs, to say the least, but they illustrate Betty's dedication to black culture.
Betty (Paulina Breeze) leads a civil rights demonstration. Photos by Jonathan Slaff.
Betty and the Belrays become successful, and with that success comes difficult choices: sell out to a white record label and stop singing about race issues, or stay dedicated to black culture? Leave Detroit to protect her parents from death threats, or stay, and face hatred?
Betty's decision, and its consequences, make Betty and the Belrays something other than a series of scenes that showcase a wonderful cast, ensemble, and musicians, and a cute group of songs with 60s style choreography (by Jeremy Lardieri and Kerry Bremer), strung together lightly by a barely credible plot. The show is really a lesson in the history of race relations in the past fifty or so years. It's a pity that's still necessary.
Standouts among the cast: Levern Williams, primarily as DJ Sam the Beat; and Kennedy Jazz, a singer/dancer so marvelous you could watch her all night, who plays Gladys, a singer in LoveJones. The ensemble is wonderful; the ensemble pieces are terrific.
The onstage band, led by musical director Gary Schreiner, lends liveliness to the songs. Susan Hemley's costumes evoke time, place, and character with affection. Lytza R. Colon and Mark Marcante's set is terrific; lighting design (Alexander Bartenieff) was a little off, or maybe the cast missed cues, but sound by Alex Santullo was excellent.
A bubbly, humorous 60s girl-group story, and a dark tale of segregation and civil rights makes for an odd combination, but author/director William Electric Black pretty much pulls it off. To say that he has considerable experience in family entertainment would be putting it mildly. He has won seven Emmy awards as a writer, and it shows. Betty and the Belrays has the pacing of episode TV, or a children's "chapter book;" things happen in quick cuts, not long swaths of story.
That style of quick scenes suits Betty and the Belrays, keeping the show from feeling too much like a history lesson, even though that's what it really is. Yes, it makes a point, and yes, it has a message, and yes, it's fun. But you learn something along the way, as Betty herself learns.
Betty and the Belrays
January 31 - February 17, 2019
Theater for the New City, 155 First Ave. (at E. 10th Street)
Presented by Theater for the New City
Thursdays - Saturdays at 8:00 PM, Sundays at 3:00 PM
$15 general admission, $12 seniors/students, $10 groups
Recommended for ages 10 and up.
www.bettyandthebelrays.com
TNC Box office:  212-254-1109 and 212-475-0108
www.theaterforthenewecity.net
SMARTTIX 212-868-4444, www.smarttix.com