by Eugene Paul
They're going to have a bit of a problem over at Southern Comfort. Well, kind of a joyous one. And after all they've been through, well, why not:  who's going to get the nomination for best leading actor?  That's always fun.  That and best leading actress.  Fun, too.  And best play.  And best musical.  And best music. And best supporting – oh, you know, the whole darn megillah. Because once again the Public Theater is showing them up town what should be on the boards up town and down.  And all around the town.  What a show.  Grabs you by your insides and never lets go.
And the way it sneaks up on you! You come into the Anspacher, maybe the biggest but the oddest theater in the Public complex and you are instantly won over by the set bathed in warm, sensitive lighting by Ed McCarthy. Oh, let's throw in best lighting as well as best set.  Designer James J. Fenton has snookered our senses with the warm, homey, nutso, even beautiful home he conjured up as Robert Eads's  poetically ramshackle back woods home in deepest Georgia, that porch with a porch swing you know just looking has seen serious swingin', and the scatter of table and chairs in the yard and that tree!  Such a tree, full of Joseph Cornell boxes?  Loads of them, each one different, filling the branches.  And picket fence everywhere, even around the tree, all of it just – beautiful.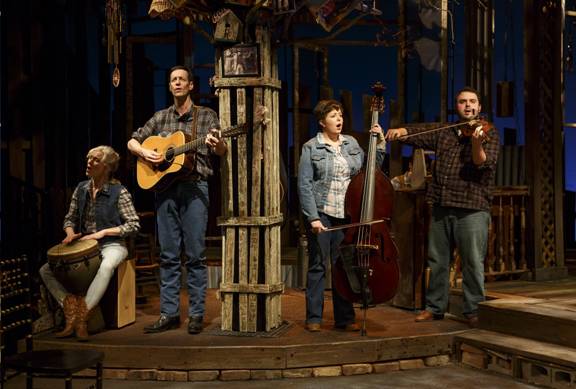 Elizabeth Ward Land, David M. Lutken, Lizzie Hagstedt, and Joel Waggoner
                                                                                Photo credit: Carol Rosegg.
The musicians mosey into that back area around the porch and set up, sweet and comfortable.  They're the Storytellers. Country and Bluegrass specialists.  And will you look at that base fiddle that Lizzie Hagstedt's carrying, that's the handsomest, handmade bass fiddle I ever saw and old, too.  My god, they sing even better than they play in their spring song. David Lutken, Joel Wagoner, Elizabeth Ward Land, along with Lizzie.  They work in the show as well as play music. They do summer, fall, and winter songs, too, plus a score of lilting, moving, sometimes spellbinding declarations of turmoil.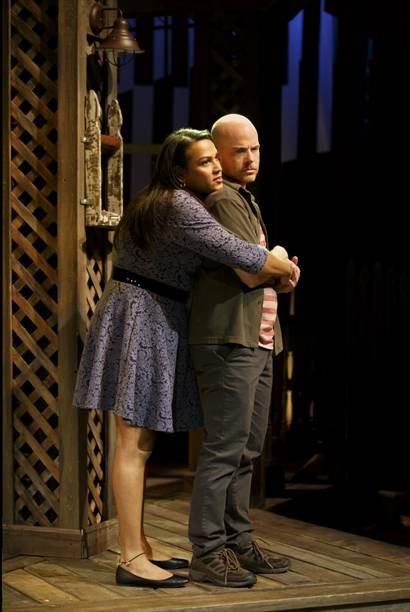 Aneesh Sheth and Jeffrey Kuhn
And right away there's this awful nice lady, Melanie, (simply wonderful Robin Skye) not so young any more; she's still got this childlike, trusting, willingness to think and hope for the best and she's setting up a table for a picnic because it's that time of month, every month the family gets together, and Robert's son, ( simply remarkable Jeffrey Kuhn) he's fortyish, younger than Melanie,  is helping and so is Melanie's husband, roly poly, calm,  bearded Sam,  (simply winning Donnie Cianciotto) – what a nice, nice funny, warm, even goofy comfortable family.  And here comes the neatest, skinny little old man, all cowboy gear, little goatee, little mustache, its Robert and little he may be but he's boss all right.  Sweet man, not too well. Cancer. Everybody's really concerned.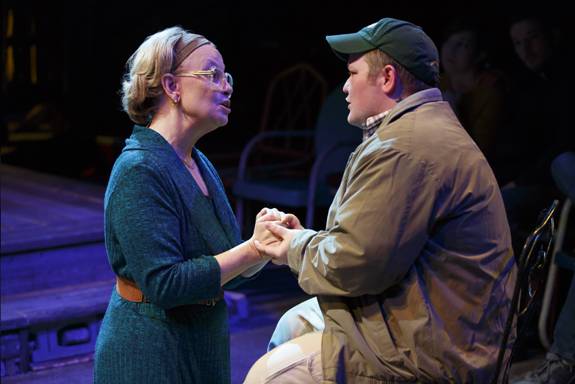 Robin Skye and Donnie Cianciotto
So, we're back to best leading actor.  It's got to go to the male lead, especially in this show.  But – guess who's playing Robert Eads, the male lead?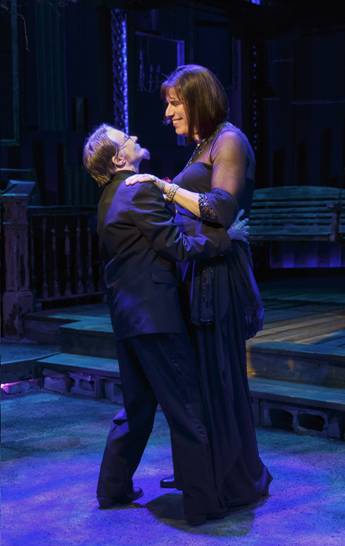 Annette O'Toole and Jeff McCarthy
Annette O'Toole.
And you realize that the family you're meeting is truly special. They've chosen to be family.  They've chosen to be who they are. But only here, in the Robert Eads yard can they be totally comfortable with their choices.  And when huge Lola Cola , Robert's lady friend (simply marvelous Jeff McCarthy) turns up for the picnic and Robert has to reach way up to give her a kiss, you know right away that Lola is not comfortable one bit.  She's never been here before, and she sure isn't a she. Which they all know instantly and are very kind about, except for Jackson, who doesn't want his father to be fooling around with a drag queen. There's tension over Jackson's jealousy until Jackson, Robert, and Sam join Melanie in singing a funny, terrific song, which could have been as bitter as its underling theme: about the women they used to be. Only, Melanie sings with a difference, because she is still a woman but her choice in men in the past has been brutal.  Sam is perfect for her, the best man.
Robert DuSold and Tom Caruso saw the amazing documentary by Kate Davis, Southern Comfort, in 2001 about the Robert Eads family of transgender people living in rural Georgia and knew they wanted to make a musical out of their story. They got Dan Collins to write the book and lyrics and Julianne Wick Davis for the music and have been working their hearts out  on the show ever since.  It may be the best show you've seen in years and years because it does far more than just entertain, it opens your mind and your heart and touches your soul.  It teaches. We think we know something of the tribulations of transgender people in big city life if we've paid the least bit of attention but we don't experience the pain and the love.  The pain and the love is here, in this musical that delights as well. It's uplifting. These people are not just these people they are all of us, they are human in ways we've never understood that all of us are of the same humanity.  As Robert says, it's in your head and your heart; it's not what's between your legs that makes you who you are.
So… Annette o'Toole for best leading actor? All of them, heart wrenching Jeffrey Kuhn, terrified Jeff McCarthy, and finally at peace Donnie Cianciotto are deserving nominations for male actor, too. And what about Robin Skye and Aneesh Sheth for female actress as deserving?  Redundancies? Are we going to have to reconsider the whole voting basis? Should we?  Shouldn't we? And this only the beginning of the twenty-first century. What a show.
Southern Comfort. At the Public Theater, 425 Lafayette Street. Tickets: $50. Members, $40. 212-967-7555. 2 hrs. Thru Mar 27.