by Marc Miller
When Dames at Sea was announced for the Broadway stage, the main worry was: Would bigger be better? The formerly off-Broadway musical by George Haimsohn and Robin Miller (book and lyrics) and Jim Wise (music), a 1968 hit that first got Bernadette Peters noticed, satirizes the large Warner Brothers Busby Berkeley musicals of the 1930s with economy, to the point where the smallness is the joke. A cast of six, acting as its own backup chorus, stages gigantic production numbers with minimal resources, and runs through the familiar 42nd Street-derived story of a chorus girl becoming a star with tactful overstatement. A larger stage, larger production, larger (but still small) orchestra—would all that kill the joke?

Well, fear not. The Helen Hayes has one of the smallest stages on Broadway, and the theater's rather shabby interior provides an ideal hardscrabble setting for the spoofery. Directed and choreographed by Randy Skinner, who inhabits a universe where no sentiment can't be embellished with a time step, this Dames at Sea has merriment, heart, and plenty of sparkle. It's evident from the first note of the overture, which here accompanies a projected title sequence, complete with Warners-First National Deco graphics and full cast-and-crew credits. (What happens when there's an understudy?)
The running time is about that of 42nd Street or Gold Diggers of 1933, and no cliché is left unturned. Ruby (Eloise Kropp) arrives off the bus from Centerville, Utah with a suitcase containing only a pair of tap shoes. She shows up at a rehearsal of the about-to-open Dames at Sea just as a chorus girl has eloped with an Astor, luckily allowing her to audition for hard-luck director Hennessy (John Bolton), who's battling with temperamental leading lady Mona Kent (Lesli Margherita), and whose theater has just been sold out from under him to make room for a roller rink.

EloEloise Kropp as Ruby, Cary Tedder Production images by Jeremy Daniel

Ruby's lost suitcase is recovered by sailor-songwriter Dick (Cary Tedder), whose buddy Lucky (Danny Gardner) is an old squeeze of Ruby's fellow chorus girl Joan (Mara Davi). Dick is from Centerville, too—Ruby used to serve him Eskimo Pies, can you believe it?—and their love-and-song-at-first-sight is threatened by Mona, who wants Dick, and his songs, for herself… This stuff may appear to write itself, but Haimsohn and Miller constructed it extremely artfully, modeling it on the Berkeley extravaganzas, but poking gentle fun at the optimism, coincidences, and then-fashionable patriotism that powered them, while telescoping the action so that Ruby literally becomes a star overnight. It's not all laugh-out-loud funny, but you'll probably find yourself smiling pretty much all the time.
Dames at Sea isn't a carbon copy of the Berkeleys, though. One important difference: All the numbers in the films are "diegetic," meaning they exist as performance numbers, not plot-forwarding or character-revealing songs as developed later by Rodgers and Hammerstein and others. (Think of Dick Powell warbling "When You Were a Smile on Your Mother's Lips and a Twinkle in Your Daddy's Eye" to Ruby Keeler in 1934's Dames, and top that for useless trivia if you can.) Dames at Sea uses the more modern model, with about equal doses of diegetic and non-diegetic numbers, and the latter offer nice glimpses into the characters' less-than-brilliant minds. Ruby's "The Sailor of My Dreams" is a sung letter to President Roosevelt, and her "Raining in My Heart" is a plaintive cri de coeur when Mona has once again stolen Dick, while the rest of the cast helpfully twirl umbrellas and interject "la la la"s. It's all unfailingly tuneful, and Rob Berman's eight-piece orchestra, playing Jonathan Tunick's expert orchestrations, sounds terrific and, appropriately, larger than it is.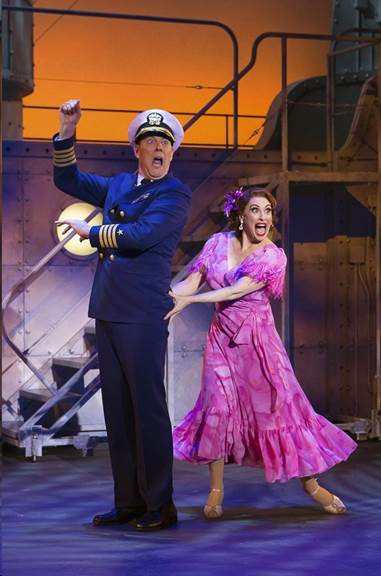 John Bolton and Lesli Margherita

Skinner sends his sextet tapping all over Anna Louizos's just-right sets, a dingy backstage for Act 1, and Dick and Lucky's battleship for Act 2, where the pair have persuaded their commanding officer (Bolton again), an old flame of Mona's, to stage the suddenly homeless Dames at Sea. The original production, I'm told, wasn't nearly as tap-happy as this one, and Skinner prides himself in showing how varied the form can be. All six step impressively, in particular Gardner's leaping-while-kicking-the-piano maneuvers, and Tedder's combinations of intricate taps and ballet moves. Kropp's feet never stop, even while she's belting out "Star Tar"; she's exuberant or wistful as required, and while this role may not propel her into stardom as it did Peters, she's pretty adorable. And Margherita's bossy Mona is a hammy delight, whether emoting through the torchy "That Mister Man of Mine" or, in a superb sight gag, simply carrying a ladder across the stage. (You have to be there.) Davi's Joan exudes sass and sympathy, and Bolton nicely differentiates his two roles, perpetually mopping his sweaty brow as Hennessy and wittily playing the captain with an amiable cluelessness resembling, of all people, President Reagan.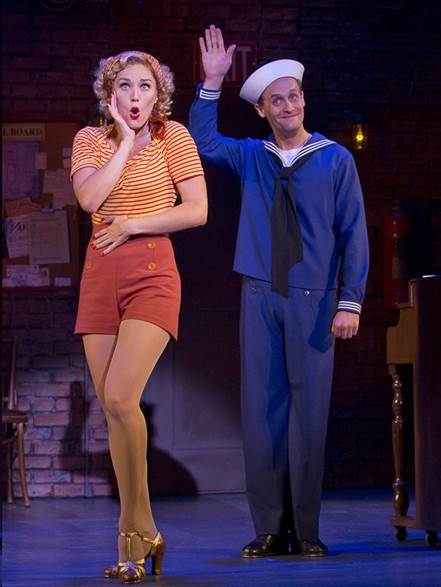 Mara Davi as Joan and Danny Gardner

One misstep: "Singapore Sue." This, another Dick-penned production number, is quite specifically a spoof of "Shanghai Lil," from 1933's Footlight Parade, wherein James Cagney and a slant-eyed Keeler tapped together while she nasally sang to him, "I miss you velly much a long time." "Singapore Sue" has been, as it were, deracinated, scrubbed of rhymes like "gentle"/"Oriental" and references to "the Malay evening," and retrofitted with bland, site-nonspecific lyrics. Did the PC police descend on Skinner and company, and did they fail to understand that the number is a mockery of the casual racism of 1930s Hollywood, not an endorsement of it? What's left is cute but pointless.
Some grumpy reviews of this Dames at Sea, speculate that younger audiences may not know the source material well enough to fully appreciate what's being satirized (they may be right), deriding the material for being just empty-calorie escapism. Well, it is, but it's as solidly built as escapism gets, and one of the rare musicals currently on display that actually sends you out happy and humming. If you know the material well, you may occasionally fret that a line hasn't been socked across with sufficient panache, or that the voices, Tedder's and Gardner's in particular, are a little light (and a little overmiked, by Scott Lehrer). So be it; the rest is shipshape.
2hrs, with intermission
Helen Hayes Theatre,
240 W. 44th St. between Broadway and 8th Avenue
Box office hours: Mon-Sat, 10am-8-pm, Sun, 12-7:30pm
Website: Damesatseabroadway.com