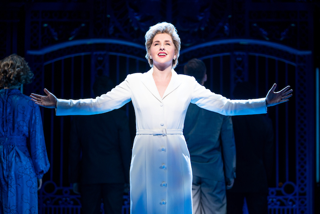 Jeanna De Waal in Diana: The Musical
Photo: Matthew Murphy
Diana: The Musical
by Deirdre Donovan
The much-anticipated Diana: The Musical arrived at the Longacre Theatre in mid-November. Helmed by Christopher Ashley, and starring British actress Jeanna De Waal as Lady Diana, it may please those theatergoers who are die-hard Diana aficionados. But for those who are yearning for an illuminating bio-musical about the iconic Royal, this show may disappoint.
When it comes to spectacle, this production has more glitz and glamour than anything else opening on the Great White Way this season (more on this later). But its main flaw is that it fails to give us any fresh insights on the "People's Princess" and instead leans too heavily on the tabloid media's hounding of Lady Diana throughout the 80s and 90s.
The musical (book by Joe DiPietro, lyrics by DiPietro and David Bryan, and score by Bryan) primarily focuses on Diana's relationship with the Prince of Wales (aka Prince Charles), with its storybook beginning and tragic ending in a car accident on August 31, 1997.
Prince Charles and Lady Diana's relationship, of course, is immediately clouded by the fact that Prince Charles has a "chum," Camilla Parker Bowles (Erin Davie), who seems to pop up everywhere they go. Those theatergoers of a certain age may remember Diana's famous quote in a TV interview with Martin Bashir in 1995 that referred to her marital problem: "There were three of us in this marriage. So it was a bit crowded". Indeed, that quote becomes three dimensional in this show.
The songs best tell Diana's story here. With their witty lyrics and ever-changing vibes, they capture the zeitgeist of Great Britain in the late 20th century. There are 22 musical numbers in all, and each one propels the narrative forward and adds definition to the phenomenal Princess.
For a warm-up, we listen to "Underestimated," which reveals the canny mind-set of the teen-aged Diana who knows from the get-go that she has an advantage over the Royal Family. After all, nobody suspected that she had an intellect—or backbone. The Royals, in fact, smugly felt that she would be easily manipulated as Prince Charles' young wife (he was 32, she was 20 when they married), as did his mistress Camilla.
This opening song also ideally serves as a lead-in for Diana and Camilla's first encounter at a party hosted by the Prince in 1980. Camilla, acting as "Cupid" for Prince Charles and Diana, discovers Diana outdoors getting some air and approaches her: "Lady Diana, is it? His Royal Highness was wondering where you went. He sent me to find you."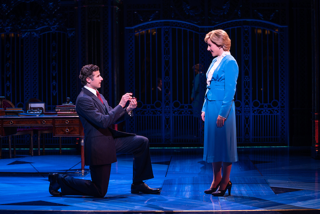 (Left to right) Roe Hartrampf, Jeanna De Waal Photos: Matthew Murphy
If romance is in the air, so is motherly advice. And the song "The Worst Job in England" shines a light on the complex relationship between Queen Elizabeth and her spouseless oldest son. As stalwartly sung by Tony Award winner Judy Kaye and the company, this tell-it-like-it-is tune bluntly points out that whoever marries the Prince of Wales will hardly enjoy a dream life but be burdened with the reality of royal duties.
The song also underscores the very unique social dilemma of the Prince in the prime of life, with a mother who's pressuring him to find, if not the "right one," the proper one to wed. Since his mistress Camilla is out of the question, given the mores of the 80s, the Prince reluctantly raises the name of the youngest Spencer girl, Lady Diana, as a marital possibility to his mother. Having once dated her older sister (the courtship ended when she began "mouthing off to the press"), Prince Charles already had met the "shy" Diana. And what does "mommy" think of his new love interest? Well, as Judy Kaye's Queen Elizabeth belts out in her no-nonsense voice: "She's "a Princess we could get behind."
Less effective is the song "The Words Came Pouring Out." Performed by Jeanna de Waal (as Diana) and Nathan Lucrezio (as the author Andrew Morton), this anonymous phone interview, which was proposed by the Princess, dishes the dirt on the Royal Family, and raises all kinds of ethical questions about the media and their power to exploit the private lives of those in the public eye. But, equally important, it also reveals that Lady Diana was desperate to tell her own story, and not be silenced by the Royal Family.
The good news is the acting is sterling. Jeanna De Waal looks and acts the part of Diana, persuading us that she has temporarily brought our British heroine back to life. Roe Hartrampf, playing opposite her as Prince Charles, is convincing with his understated language and aristocratic mannerisms. Judy Kaye, as Queen Elizabeth, is the epitome of royal clout. And Erin Davie portrays Camilla with the requisite sophistication.
In the supporting cast, Zach Adkins' plays Camilla's philandering husband, Andrew Parker Bowles, with appropriate male-entitlement. And when it comes to sisterly supportiveness, no one can outshine Holly Ann Butler's Sarah Spencer. Gareth Keegan's James Hewitt possesses enough chutzpah, not to mention the good looks, to capture Princess Diana's eye—and bed.
The creative team don't always hit their marks. David Zinn's set is literally too flashy (high-voltage lighting by Natasha Katz) when the paparazzi are afoot, although he gets it right in the majority of scenes by creating an elegant look with a minimum of props.
Kelly Devine's choreography is a mix of modern and classical styles. In the mini-discotheque scene early on, there are more gyrations going on than any viewer can possibly track. But Devine's efforts hit the bull's-eye at the Royal Ballet's Christmas Gala. And why? Well, who can resist watching Jeanna De Waal's Princess Diana unexpectedly joining the ballet star in a pas de deux on stage as the Royal Family looks on in horror.
William Ivey Long's costumes are a knockout! The veteran Broadway costume-designer whipped up 38 different outfits for Diana alone, including the iconic "revenge dress," "Elvis dress," and many others that the Princess used to "weaponize" her way from being a "beautiful English rose" to a woman of substance. His dresses for the Queen are in a rich but restrained style, rightly choosing blues and burgundies to complement her jewels. In sharp contrast to Diana's vibrant outfits, Prince Charles and Camilla's clothes are grounded in more neutral tones
There are no villains in this story! Joe DiPietro and David Bryan have created a musical that points no fingers or tries to hit you over the head with a moralistic lesson. They simply present the principals and let us decide for ourselves on who's right? Who's wrong? And, truth be told, what we see unfolding before our eyes in this show involves a lot of gray area.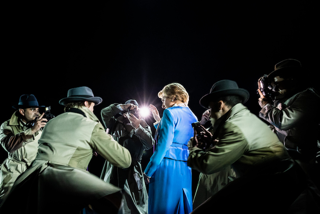 Jeanna De Waal and company in Diana: The Musical
Photo: Matthew Murphy
DiPietro and Bryan have taken a mis-step in allowing the tabloid media to overshadow Diana's story here. But when their best songs take center stage, and the cast delivers them with their titanium pipes, the musical soars.
This Broadway production, which got its stage legs at the La Jolla Playhouse (and it can now be streamed on Netflix), may be flawed. But it's a better-than-nothing bio-musical about the phenomenal Princess Diana who brought light and love into many a dark corner of our modern world.
Closes Dec 19
At the Longacre Theatre, 220 W. 48th St., Midtown West.
Phone (212)239-6200.
Running time: 2 hours; 30 minutes with intermission.