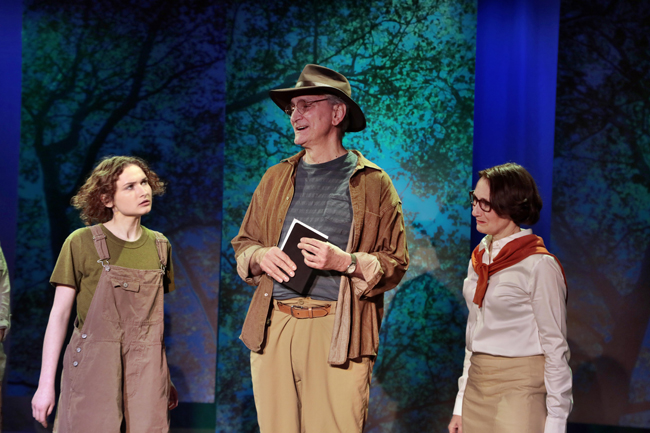 L-R: Emma Rose Kraus, Rocco Sisto, Dee Pelletier Photography © Beatriz Schiller 2
By R. Pikser
Climate change is an imminent danger to every one of us. Addressing this overwhelming issue dramatically can be difficult. attendant on global warming in 2004.
Set during the record-hot summers of 2004 and 2012, the play pits a scientist named John Bjornson (Rocco Sisto) against his twin sister, Jeanne (Dee Pelletier), in a no-holds barred struggle over land ownership and the future use of their family's wilderness estate. The sister is an energy spokeswoman and is married to a climate-skeptic lobbyist (Khris Lewin), who helps strategize her actions. The siblings' dispute reveals the fault lines in America today over land usage, global warming and climate denial. Supporting John's struggle for the land are three people. One is the caretaker of the estate, an oracular, Thoreau-like man named Uncle (Obie-winner George Bartenieff). The others are John's precocious 13-year old intersex daughter (Emma Rose Kraus) and a young ice scientist with an important new theory (Clea Straus Rivera).
Convinced that he must alert the larger public, he finds his work censored by his bosses at the National Aeronautics and Space Administration. Even his speaking engagements are canceled, but he still can survive: He and his daughter Annie live on a nature preserve willed to them. Annie is the living examples of what can go wrong when our environment becomes polluted, as she has apparently ingested some sort of hormones from the water and is hermaphroditic, like her favorite frog. But then things become more complicated and more muddled. The relationship between John and his colleague, Rachel, is never developed, so that we are not prepared when they become lovers, nor do we care. Johnsí twin sister Jeanne, a publicist, and her gun toting husband, Sam, are representatives of the villainous people who will turn paradise into a fracking ground only for present profit.



George Bartenieff
The most interesting character, Uncle, who may or may not be a family member, played with zest and welcome humor by George Bartenieff, is not even essential to what may be the plot, though he represents God, or Nature, or Philosophy as he readies himself for death.
Karen Malpede, writer and director of extreme whether is a veteran of the Lower East Side theater scene and has given us interesting and provocative works. By bringing her talents to political questions she forces us to examine them with our imaginations, so that they become more real to us. Her current focus is climate change and the dangers it poses to our survival, and also to the least expected aspects of our everyday lives. This is important work.
The problem, which might have been attenuated if Ms. Malpede hadnít also directed her play, is that she has tried to graft interpersonal relations onto a polemical morality play and does not quite accomplish either. Instead of the personal exemplifying the polemics, both become confused.
The menís characters offer the actors more interesting choices than those available to the women. John goes from diffidence to anger to despair, and even some hope. Sam, played with pushy physicality by Khris Lewin, gets to progress to sleazy rapist. The womenís characters are flatter. Emma Rose Kraus as Annie is the anguished pre-teen on the verge of tears, no matter the circumstances, whether her passion for her fatherís girlfriend, or her own rape. Johnís colleague, Rebecca, (Clea Strauss Rivera) though purportedly a scientist, does not seem at all focused on her own work involving changes in planetary ice: She is always available to help John with his research, to mother him, to mother Annie, to help take care of Uncle, and to cook and to clean. Both the character and Ms. Rivera spend a lot of time standing around with no clear purpose. The twin sister, Jeanne, is supposed to be a successful publicist who may have a more sympathetic side, but Dee Pelletier has not found the authority with which to play her and we are not given a way to see into the internal conflicts that cause her finally to become one of the villains. Finally, there is too much haranguing about political positions for the relationships to come to life, and the sketchy relationships cloud what might be a straightforward agit-prop piece. The most exciting part of the play was the terrible coda, set sometime in the future, or perhaps only in our minds as a warning.
The sets and lighting, by Gian Marco LoForte and Tony Giovannetti respectively, create a lovely forest scene that suggests the escape we would all like to have access to.
Theater can be a powerful tool for activism and Ms. Malpedeís heart is in the right place. There was even a talk-back with a climate activist after the opening night show, to get the audience involved in practical activity. This is admirable, but extreme whether needs to be reshaped and focused so that it can have its full effect.
Theater Three Collaborative
extreme whether
March 1stĖ18th, 2018
La Mama
66 East 4th Street
New York NY
$25, /$20 students and seniors
212 352 3101; www.lamama.org