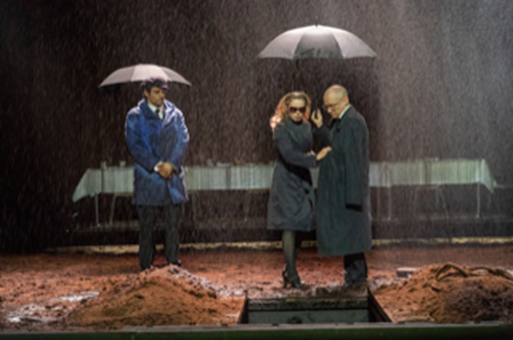 (left to right) Konrad Singer, as Laertes, Jenny König is Gertrude, and Robert Beyer plays Polonius in Thomas Ostermeier's Hamlet at BAM's Harvey Theater.
Photo Stephanie Berger

Hamlet
By Deirdre Donovan
How to stage Hamlet with a razor-sharp edge?

Director Thomas Ostermeier may well have the answer with his German language production of Hamlet, presented as part of the Brooklyn Academy of Music's Next Wave festival. He simply casts the ferocious Lars Eidinger in the titular role, and assembles six other fine actors from the Schaubühne Berlin theater company to round out the company. The result? A wild and wooly interpretation of Shakespeare's most popular tragedy.

This is not your grandmother's Hamlet. Before the show begins, we see a bifurcated stage, divided by a scrim-like curtain. Upstage, there are actors, milling around a long table that eerily looks like a double to the one in Leonardo da Vinci's The Last Supper. In front of this tableau, there is a closed coffin and a large expanse of dirt, which will serve, in turn, as graveyard, palace grounds, and courtyard at Elsinore (set design by Jan Pappelbaum).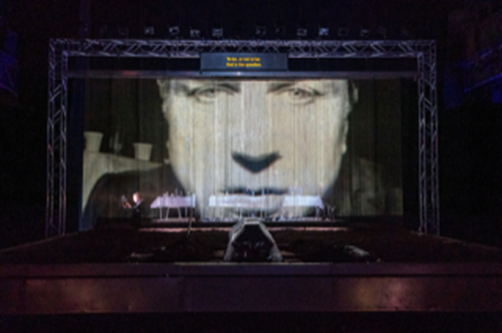 Lars Eidinger, as Hamlet, in Thomas Ostermeier's production
of Hamlet at the Brooklyn Academy of Music.
Photo: Stephanie Berger

When the play proper begins, we see the face of Eidinger projected on a giant screen (excellent video design by Sébastien Dupouey), reciting the "to be or not to be" soliloquy. Although this speech is typically delivered at the play's midpoint, Ostermeier has smartly moved it up to launch the drama. Thus, we no longer listen to the familiar speech as a clichéd set piece. We hear it as if for the first time, heartfelt words spoken by a distraught prince.

A beat later, the lights come up (lighting by Erich Schneider) and we meet the various denizens of Elsinore, gathered to celebrate Claudius' (Thomas Bading) coronation ceremony: Claudius' wife Gertrude and young Hamlet's mother (Jenny König), the councilor Polonius (Robert Beyer), Hamlet's best friend Horatio (Damir Avdic), Polonius' son Laertes (Konrad Singer), and Hamlet (Eidinger). Almost everybody is seated around the table, except for Hamlet, who sullenly sits apart. Admittedly, he's had a lot on his mind of late: his father's sudden death, his Uncle Claudius' hasty marriage to his mother, and now uncle's wearing of Denmark's crown.

This modern-dress production (costume design by Nina Wetzel) takes poetic license, and then some. It invents a burial scene for Old King Hamlet, in which we watch the gravedigger, like a latter-day Buster Keaton, fall over, crawl under, and finally straddle the king's casket before sliding it, helter-skelter, into the earth. Indeed, Ostermeier new-fangled version of Hamlet is of a mingled yarn, boldly mixing comedy and tragedy.

While Shakespeare's Hamlet is famous for his madness, Eidinger's Hamlet isn't just mad –he's unhinged. He eats dirt, regurgitates his food, and wanders, willy-nilly, into the audience. Eidinger is a very physical actor and his stage business is designed to make you laugh. Oddly, he doesn't seem to have a romantic molecule in his body. And his supposed girlfriend, Ophelia, is no sooner introduced into the play's world that we learn she is drowned in the brook. His BFF, Horatio, gets short shrift in Ostermeier's version as well. Little wonder that Eidinger's Hamlet finds it difficult to relate to people in Elsinore and relies on a video camera to have human connections with others.

Ostermeier has whittled down the dramatis personae to 11 characters, with many actors brilliantly doubling their parts. Jenny König plays both Gertrude and Ophelia with minimal adjustments, offering card-carrying Freudians a lot to chew on. Other actors' doublings are more subtle: Robert Beyer performs the loquacious Polonius and prissy Osric; Konrad Singer is the vengeful Laertes and superficial Rosencrantz; and Damir Avdic plays the loyal Horatio and disloyal Guildenstern.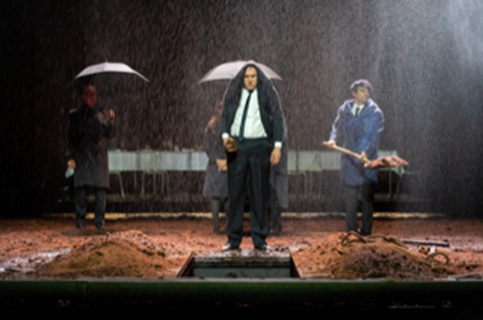 (left to right: Thomas Bading, Lars Eidinger, and Konrad Singer
In the Berlin Schaubühne theater company's production of Hamlet.
Photo: Stephanie Berger


What really matters about this production of Hamlet is that it gives Gothamites another opportunity to see Eidinger perform in New York. The last time Eidinger crossed the Harvey Stage was in October 2017, playing the nominal character in Richard III. In the New York Times review of the production, critic Ben Brantley referred to Eidinger as "a bogeyman guaranteed to haunt your nightmares for weeks to come." Well, five years have passed since Eidinger tackled the psychopathic Richard. But it's no stretch to say that his current Hamlet outhaunts his Richard.

Spoiler alert! The Act 5 fencing match between Hamlet and Laertes is arguably the capstone to this theater piece, a bizarre criss-crossing of athletic grace and high jinx. But before Singer's Laertes and Eidinger's Hamlet draw their swords, Eidinger strides over the footlights and bounds up the aisle, sitting down in an empty orchestra seat. Turning to the audience member on his left, he bluntly asks: "Do you fence?" "No," answers the patron. Realizing that he's not going to find any last-minute substitute to fence for him against Laertes, Eidinger stoically hoists himself up from his borrowed seat and heads back to the stage, ready to meet his destiny.

Ostermeier's Hamlet is a rip-roaring ride through Hamlet's psyche and more. The production truly belongs to Eidinger, even though the supporting actors are just right in their respective roles.

Unlike other productions of Hamlet, this outing isn't trying to be reverent or cover all the dramatic bases. But it can bring you to the edge of your seat, make you gasp, and offer chills that even Madame Tussauds' Ultimate Halloween Escape couldn't offer. Too bad that it is breezing in and out of New York so quickly.

Through November 5th.
By William Shakespeare
German translation by Marius von Mayenburg
At BAM's Harvey Theater, 651 Fulton Street, Brooklyn
For more information, visit www.bam.org
Running time: 2 hours: 45 minutes with one intermission.