Omar Metwally as Paul, Marisa Tomei as George, Lena Hall as Pip, Austin Smith as David and David McElwee as Freddie                                                                          photos by Kyle Froman
                        By Marc Miller
A succinct verdict on How to Transcend a Happy Marriage, was offered up by a much-loved theater critic: "Well, it's my favorite Sarah Ruhl play so far. And that's a pretty low bar." There you have it.
Ruhl, a still-youngish playwright whose plays, such as The Clean House and In the Next Room, often traffic in alternate realities, mythology, and Freud, goes more conventional than usual with How to Transcend a Happy Marriage, perhaps with an eye toward its venue, Lincoln Center—is there a more traditional subscription base? Certainly the venerable audience has nothing to fear from its opening scene, which could be the opening scene for something by Donald Margulies or even Neil Simon.
In a well-appointed suburban living room (David Zinn's set feels a little underdressed), longtime-friend couples George and Paul (Marisa Tomei and Omar Metwally) and Jane and Michael (Robin Weigert and Brian Hutchison) are sipping wine and giggling over George's recounting of the exploits of the charismatic temp she works with, Pip (Lena Hall). Pip, she tells them, is, first of all, gorgeous, and eccentric: She only eats meat that she personally hunts and slaughters, and she lives with Freddie (David McElwee) and David (Austin Smith), evidently in a happy ménage à trois. For the fortyish quartet contemplating this younger adventurous triangle, it's something to spike the imagination; and Ruhl, working in an unusually straightforward mode, writes entertaining small talk that points up generational differences. How does the older generation feel about the increasing sexual fluidity of the next, and is it something they want any part of?
We're about to find out, for the quartet invites the trio over for New Year's Eve (did the youngsters really have no other plans?), and they arrive bearing hash brownies and Gen Y attitudes. Here the conversation tries to be free-ranging and diverse, but keeps circling back to sex, with George and Paul and Jane and Michael so fascinated by Pip and Freddie and David—what do they do, and what roles do they play, and how do they feel about it? Soon the clothes are falling and the fingers are roaming, and the first act closes on a ménage à sept, interrupted by an unexpected arrival, who's horrified by what she sees. (Naian Gonzalez Norvind is wonderful in the role; to reveal any more would be a spoiler.)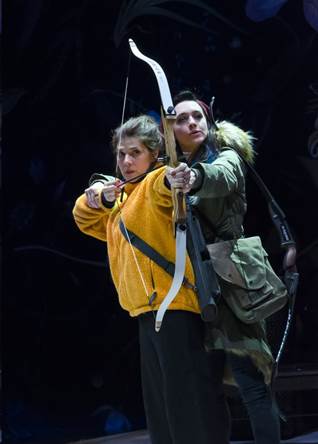 Marisa Tomei as George and Lena Hall as Pip
It's a clever curtain, and it sets us up for more speculation on changing sexual roles and generational divides. Alas, Act Two finds Ruhl returning to her standard magical realism, and Zinn's set goes all stylized and not-really-representing-anything, and some plot elements—jail, transfiguration, a dead dog, discussions of geometry, the revelation that we didn't quite see what we thought we saw—become cumbersome.
It's all perfectly well played under Rebecca Taichman's capable direction, with Tomei, especially, exercising crack comic timing and expressive inflections, even as George falls into a not very credible midlife crisis. Weigert's a super best friend, bringing out Jane's more grounded personality, and Metwally and Hutchison do what they can with their somewhat less interesting spouses. Hall pulls focus from the four, notably with a highly suggestive karaoke rendition of "She'll Be Coming Round the Mountain," but that's what Pip would do, and she possesses the allure needed to make this odd character convincing. McElwee's Freddie feels a little wimpy, while Smith's David ably handles some of Ruhl's trickiest dialogue.
That dialogue wanders all over the place, with actors, as so often happens in new plays these days, tearing down the fourth wall and narrating to the audience when the playwright can't or doesn't want to dramatize it. Whatever Ruhl is trying to say about fluid sexuality, second chances, or generational conflict, the second act is too disorganized to tie up into a neat package. There are touching marital issues, spiced up with some funny lines and provocative stage pictures, explored in How to Transcend a Happy Marriage—and what about that title, anyway, what gets transcended here?—but Ruhl, as she frequently does, pours too much into the mix.
Running time: 1 hour 50 minutes, with one intermission.
At the Mitzi E. Newhouse Theater, 150 W. 65th St., through May 7. Tickets: Telecharge.com, or 212-239-6200.