04/06/2014
If/Then
By: Eugene Paul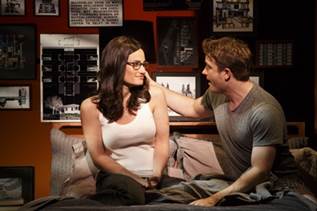 Idina Menzel and James Snyder
in a scene from If/Then
(Photo credit: Joan Marcus)

Composer Tom Kitt and lyricist/book author Brian Yorkey, prize winners for their Next to Normal, have written an original show – "original" in the sense that it is not based on a film or another written work – to serve as a vehicle for Idina Menzel, now as famous for her name being mangled at the Oscars by an addled, mature movie star introducer as she is for her striking voice. The show purports to be about a fortyish woman named Elizabeth whose two sets of friends pull her into being either "Beth," the decisive one, or "Liz," the impulsive other Elizabeth, both halves wondering if the other is better, smarter, truer to herself. Which would be a mildly interesting premise if it were more – original? – but is definitely not about Idina Menzel. And this show is, in spite of some stellar work done by other performers, definitely about Idina Menzel, even to hanging her own shingle on the theater marquee.

Which, in its own way is exciting: new stage star, substantial following, a construct of hype built on real substance, said substance being her own devotion to exploiting the outermost limits of her voice in its widest register as a Broadway Belter. Make no mistake, Menzel can sing, not just belt. Electronics push her voice beyond the daunting delivery of towering Ethel Merman of bygone days, who depended on her own lungs alone and wowed everyone for decades. Menzel plus the e-juice has the potential of wowing for just as many if not more decades and she has ten times the looks. But this show, If/Then, demands something of her that she, apparently, is not prepared to give: heart. In spite of obvious coaching. Other colleagues in the show do sing from the heart, Anthony Rapp, James Snyder, even shouter LaChanze, lending much needed bottom to a cerebrally calculated amalgam of story elements built around the striving of thirtysomethings for careers and/or lovers.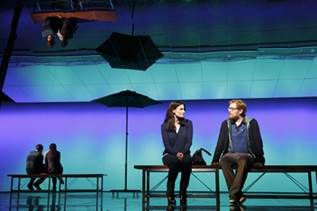 Idina Menzel and Anthony Rapp
in a scene from If/Then
(Photo credit: Joan Marcus)

Of course, it has to happen with the music and with dancing, with costumes, with sets – ye gods. Director Michael Greif has the great boon of set designer Mark Wendland's fresh way of presenting the entire premise instantly. He gives us the glittering ability of seeing what is going on two ways at once, with mirrors, very bright, very brainy. But we are not thus twice as much pulled into events so much as setting one view against another, a perfect visual metaphor fitting with the creators, but not with us, the audience. We are happily tasking outside, we don't come in until someone with heart pulls us in.

And it is not Menzel. We stay outside and admire, even with fingers in our ears.

Kitt's music, so attractive at first, tends to repeat itself, even with the wonderful, biting lyrics Yorkey infuses into the songs, lyrics pointed right at story. All of our cast are good performers who appreciate the wry depth of Yorkey's words and give the words to us at their fullest as in "You Don't Have to Love Me," a stunner as performed by Anthony Rapp, who plays Lucas, a former friend, willing, eager to be a lover of "Liz," even if he's gay, or bi, or whatever… Jerry Dixon, as Stephen, potential boss of "Beth," potential lover of "Beth"-"Liz" is clean, clear, even if she's not, James Snyder as Josh, the Army guy surgeon who walks into "Liz"'s life and meets "Beth" is warmer, also clean, also clear. LaChanze, as Kate, a free spirit, showboats happily. But Menzel? She overwhelms. It's voice beyond lyrics, they come in where they can, as in the smart-ass number, "What the Fuck." And her next to closing Big Belt? Arranged. Staged. For admiration. Not heart. So that is what we give her: admiration. But we really want more.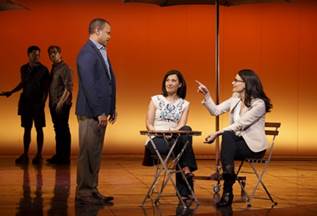 Jerry Dixon, Ann Sanders and Idina Menzel
in a scene from If/Then
(Photo credit: Joan Marcus)

It's a handsome, smooth production, the dazzling set devices, Emily Rebholz's keen, sharp takes on costume, Larry Keigwin's deliberately pedestrian choreography, skilled, interpretive lighting by Kenneth Posner, maybe a bit much at times, and too much sound unmodulated by Brian Ronan. All for the common cause. But the center does not hold.

If/Then (open run)
Richard Rodgers Theatre, 225 West 46th Street, in Manhattan
For tickets, 877-481-5435 or visit http://www.ifthenthemusical.com
Running time: two hours and 35 minutes including one intermission