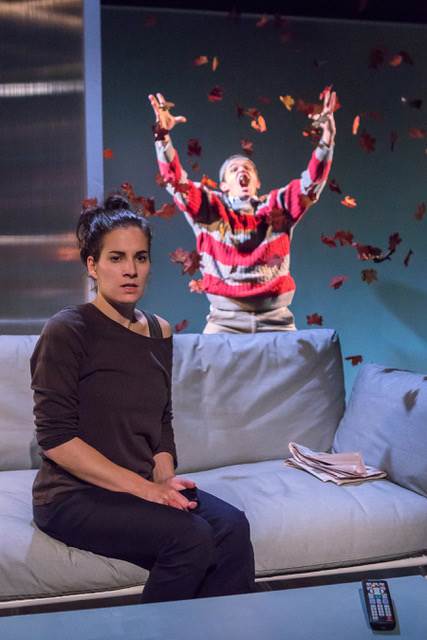 by Julia Polinsky
So often, words are open to interpretation. In the best possible way, interpreting almost every word spoken makes Lauren Yee's In A Word deeply engrossing, a surprise in a play so short.
Usually, "80 minutes no intermission" is code for "we know it needs work, but don't want you to skip out in the middle" or "author doesn't know how to write a whole play."  In this case, it means "so damn good, those 80 minutes will fly by and you'll be glad you spent them here." Here is the Cherry Lane Theater; the 80 minutes will be spent at In A Word, a moving, intelligent, heartbreaking theatre piece about love, language, loss, and significance.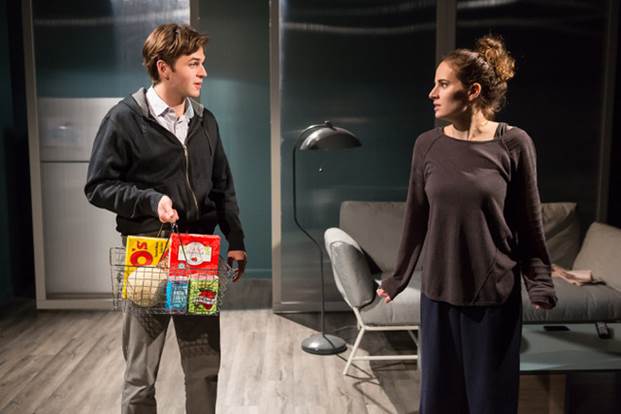 Photos by Ben Arons
Two years after Fiona's son disappeared, nothing makes sense to her. Her alienated husband, Guy, baffles her; the missing-persons detective seems to have given up on her case; the creep who chats her up in the checkout line talks like a kidnapper. Her muddy memories of the past two years swirl around her job, her home, her son, and how his life and disappearance affect her.
Time after time, a single word prompts memories. Strong words: "kidnapper" "difficult" "retard." Words of love, words of regret. Pocketfuls of words. Plays on words – leave/leaf/tree means so much more than those three words by themselves, for instance. So many words that Fiona uses to circle around her truth – In A Word finally delivers that truth, in yet more significant words. Or does it?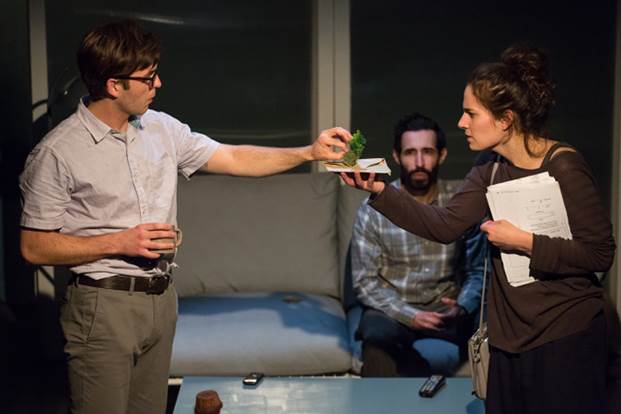 In the end, you ache for Guy and Fiona, for their sorrow and their love and because sometimes, saying something doesn't make it true. That kind of connection comes about because skilled, talented theater people are doing amazing work with a simply splendid script.
First and foremost, the actors. In A Word offers up two knockout performances, from Laura Ramadei and Jose Joaquin Perez, and one extraordinary one, from Justin Mark. (Remember that name. He's amazing.) Scenic and lighting design, by Oona Curley: exactly right. Space, staging, and light tell the story with spare simplicity. Sound design, by Stowe Nelson: spot on – pay particular attention to the jars; that bit is exquisite. Costumes by Andrea Hood make Guy and Fiona into people we know, and Man into everything. Direction by Tyne Rafaeli makes you grateful that such intelligent, seamless, sensitive direction exists in this world.
Kudos to everyone involved in In A Word, which runs until July 8. It would be a shame to miss this moving, deeply rewarding play. Go see it.
In A Word by Lauren Yee, presented by Lesser America
June 16 - July 8, Wednesday – Friday at 8pm
Saturday at 3pm & 8pm
Cherry Lane Theatre
38 Commerce Street
Tickets $25, available at
212-352-3101 or www.lesseramerica.com/box-office
Teaser: In A Word: the word is GEM. Don't miss it.