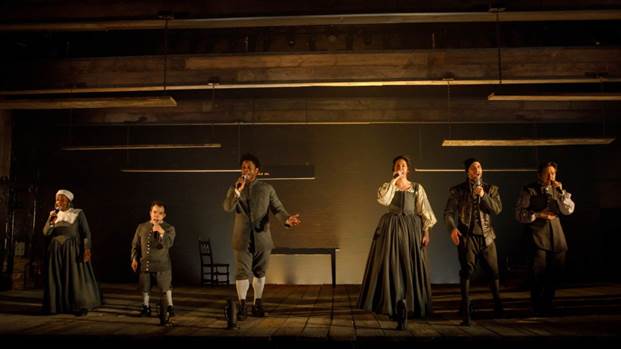 <![endif]>
Photos by Joan Marcus
Light Shining in Buckinghamshire
By Ron Cohen
In Caryl Churchill's Light Shining in Buckinghamshire, we're taken back to England in the middle of the 17th Century. It's a country torn with strife, civil war is afoot, another war is in the making (this one against Ireland); long-term institutions are threatened and overturned, land is up for grabs, the citizenry is mired in poverty, the right to vote is debated, and religion is dangerously interwoven with politics.
Yep, some of it sounds like us, doesn't it? And certainly a lot of the words in this early work by Churchill, one of England 's most prominent and most unpredictable playwrights, resonate sharply. At the same time, there are certainly a lot of words to deal with.
The play, first produced in England in 1976, can make for quite a heavyweight session for unsuspecting audiences. Characters come on stage without context and scenes jump in seemingly random fashion from one event to another, as Churchill delivers a patchwork panorama of the time and its issues.
Nevertheless, there are some exceptionally compelling moments in the two hours and 40 minutes of this revival by New York Theatre Workshop. Those moments are thanks in large part to the sympathetic and energized direction of Rachel Chavkin and her cast of six deeply committed, deeply talented actors.
In one harrowing sequence, a wretchedly impoverished woman, enacted with heart-rending anguish by Evelyn Spahr, is coaxed into giving up her infant because she has no milk within her for feeding. Then, in one of Chavkin's impressive coups de théâtre, Spahr transforms into a butcher railing at an unseen customer who is attempting to buy meat.
<![if !vml]>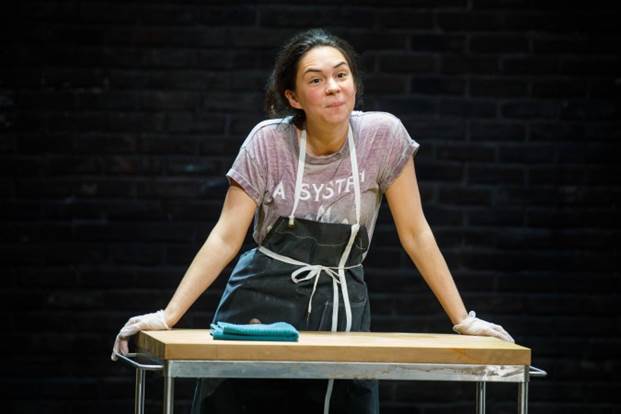 <![endif]>
Evelyn Spahr
"No meat for you this week," the butcher declares in mounting ferocity. "Not this year. You've had your lifetime's meat. All of you… You've had their meat that can't buy any meat… You cram yourselves with their children's meat. You cram yourselves with their dead child ren."
If that makes you uncomfortable, it's undoubtedly Churchill's intention. And Chavkin's, too. And more power to the theater-makers with the potency to do that.
In a quieter but still commanding vein, Rob Campbell portrays a landowner whose humanitarian instincts toward his tenants are subtly undermined by the all-too-transparent obsequiousness of his local vicar, played by Matthew Jeffers.
More fine work comes from Gregg Mozgala and Mikéah Ernest Jennings as various soldiers with horrific descriptions of the battlefield, and Vinie Burrows, whose roles include a deeply-etched portrayal of a vagrant woman preacher and a rather phlegmatic Oliver Cromwell, the leader of the rebellion.
There's also some richly harmonized choral singing (Orion Stephanie Johnstone contributed original music and music direction), while the moody lighting of
Isabella Byrd on the expansive open set designed by Riccardo Hernández provides welcome assistance in heightening the script's elliptical sense of drama. Mikaal Sulaiman's sound design also lifts the dramatic stakes, while Toni-Leslie's James' costumes effectively incorporate contemporary touches into the period garb.
With a cast listing of 25 characters, each of the actors takes on multiple characters in stalwart fashion. But the quick switches can sometimes lead to confusion as to who's who and what's going on.
<![if !vml]>
<![endif]>
Gregg Mozgala
In the extended sequence that closes the play's first half, Cromwell and various factions from his army and civilian life gather to debate provisions for a new constitution. It's drawn from historical records of the event, known as the Putney Debates. Along with its verbosity, pertinent ideas are thrown into the pot, such as property rights, conscription, the very meaning of freedom. But it's a hard slog to get through; a little more information as to who the characters were instead of all the disputation might have helped in pulling the audience into the proceedings.
A panel hanging upstage provides open captioning of the complete play as it is being spoken. It's of course a thoughtful service for the hearing-impaired, but if you try to use it just to keep up with Churchill's flood of words, you may soon find yourself warring between the actors and the surtitles.
This is the second time New York Theatre Workshop has mounted the play. It produced the American premiere in 1991. And in its effort to engage you as well, another service provided by NYTW for bewildered audiences is a flyer in the program giving an extremely concise description of the historical events figuring in the play. It carries a headline "Some Context." If only Churchill had seen fit to do this within her script, the Light Shining in Buckinghamshire might have been happily brighter.
Off-Broadway play
Playing at New York Theatre Workshop
79 East 4th Street
212-460-5475
www.nytw.org
Playing until June 3