<![endif]>
Christian Borle photos by Joan Marcus
Me and My Girl
by Julia Polinsky
New York City is thick with exceptionally talented actors, the kind who can buff up a topnotch performance with only 10 days of rehearsal – the norm for Encores!. What a luxury, for director/choreographer Warren Carlyle -- Encores! demands actors who can step up to the plate in a hurry. And gets them.
The cast, of Me and My Girl, led by the indescribably wonderful Christian Borle, bring this 1937 British class-warfare comedy to vivid life. Revised in the 1980s primarily by Stephen Fry, Me and My Girl's basic story is absurd, of course; the tale of Bill Snibson (Christian Borle) a cocky Cockney who suddenly inherits an Earldom, and his beloved Sally (Laura Michelle Kelly). The Earl's family's (led by Chuck Cooper & Harriet Harris) attempts to change him into a right and proper English gentleman, pry him loose from his low-class girlfriend, and marry him to an appropriately upper-class wife. When lowly Sally gets the full Eliza Doolittle treatment and learns to behave like a lady, the lovers are united in a pitch-perfect happy ending.
Me and My Girl takes its cues from music hall and farce timing and silliness, with people popping on and off stage, pratfalls, physical humor with props, groaner jokes. All kinds of fun. Remember fun? Before everyone got so damn serious?
<![if !vml]>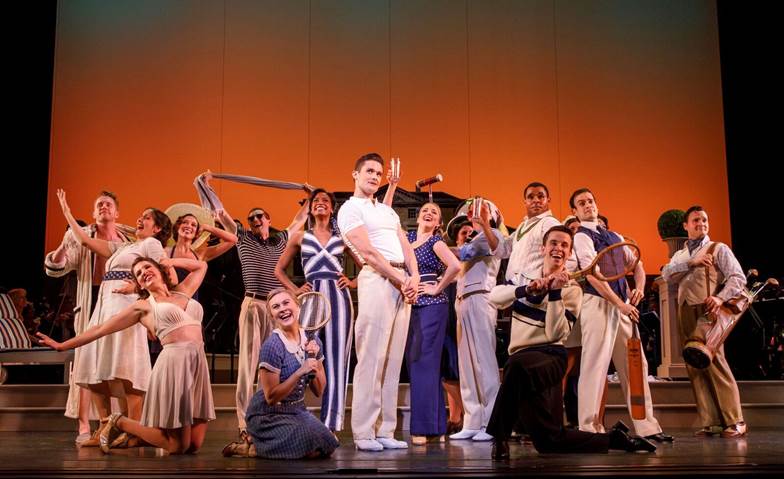 <![endif]>
What fun to watch Lisa O'Hare's deliciously predatory Lady Jacqueline Carstone, or Mark Evans' note-perfect Hon. Gerald Bolingbroke, who maintains his upper-crustiness even through the inventive choreography of "The Sun Has Got His Hat On."
<![if !vml]>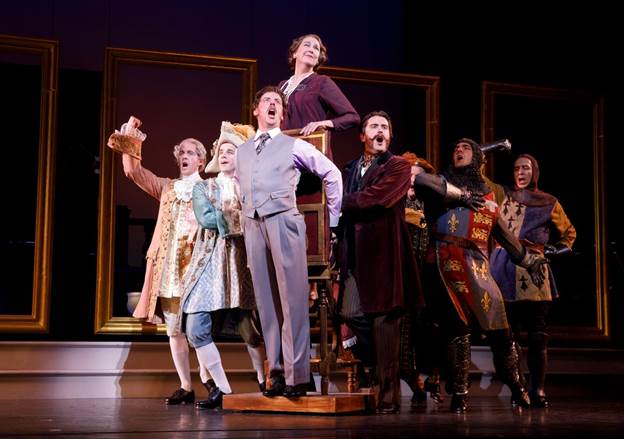 <![endif]>
Christian Borle and Harriet Harris plus cast
What fun to see the paintings of Earl's ancestors come to life, or a dance number in cricket uniform, or a hambone lawyer, or the below-stairs staff disapproving of the new Earl in song.
And the score! Oh, that score! Tuneful does not begin to describe. The title song alone is such an earworm that it lingers in the mind for days, and such ballads as "Once You Lose Your Heart" and "Leaning on a Lamp-Post" are sweetly wonderful. But the absolute winner here is "The Lambeth Walk," a tune as catchy as poison ivy and just as hard to shake.
<![if !vml]>
<![endif]>
Lisa O'Hare, Laura Michelle Kelly & Borle, Chuck Cooper & Harriet Harris and cast
Warren Carlyle's lively choreography adds yet more pizzazz to the show, and his direction feels as natural as such an absurd story can stand. Sound design by Scott Lehrer is excellent. Scenic design works to the extent that a staged reading/concert version can. And speaking of concert version, John Weidman's adaptation sounds magnificent, played by the Encores! orchestra, directed beautifully by Rob Berman.
Even without the huge sets of a modern Broadway production, Me and My Girl makes for a face-aching smile for a couple of hours. Just don't expect it to make a statement about anything. It's fluff. Sweet, charming, beautifully performed fluff.
Me and My Girl
Encores! At 25
At New York City Center, May 9-13, 2018
https://www.nycitycenter.org/pdps/me-and-my-girl/
Tickets $35-135