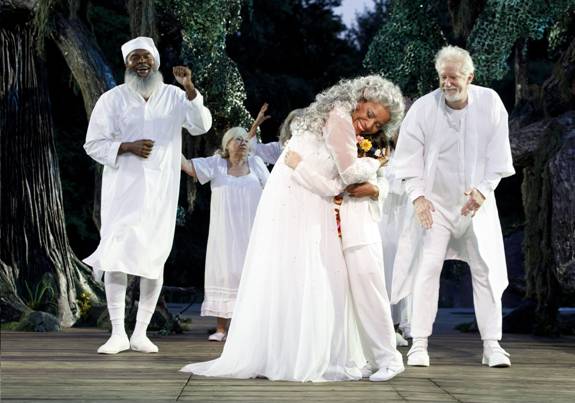 Phylicia Rashad and cast photos by Joan Marcus
By Arney Rosenblat
There is no more perfect place than the open-air Delacorte Theater in Central Park with its woodland backdrop and Belvedere Castle turret to set the mood for Shakespeare's Fairyland in Midsummer Night's Dream where director Lear deBessonet has chosen to explore with deft good humor the axiom - the course of true love never runs smooth.
De'Adre Aziza and Bhavesh Patel
Midsummer is a busy play integrating four love stories:
- Theseus (Bhavesh Patel), Duke of Athens, who is preparing to marry Hippolyta (De'Adre Aziza), an Amazonian queen he has met in battle;
- Hermia (Shalita Grant) who is defying her father's will to marry Demetrius (Alex Hernandez) and plans to elope with Lysander (Kyle Beltran). Her friend Helena (Annaleigh Ashford) is pining for Demetrius who has thrown her over for Hermia. When Hermia and Lysander head for the Athenian woods, they are followed by Demetrius and Helena.
- Oberon (Richard Poe) and Titania (Phylicia Rashad), the fairy king and queen who are elsewhere in the woods, are quarreling over the queen's refusal to give him her adopted son. Out of pique, Oberon dispatches his mischievous servant Puck (Kristine Nielsen) to cast a spell on Titania and, along the way, another pair of spells, one mistakenly on Lysander.
- A group of Athenian artisans who are amateur actors, dominated by Nick Bottom the weaver (Danny Burstein) are rehearsing a tragic love story to perform at King Theseus' wedding
Confusion ensues. The young mismatched lovers quarrel and under the spell, Titania falls in love with Bottom after Puck has transformed his head into that of an ass. In the end, however, all wells that ends well and the conflicts between the two pairs of lovers are resolved, Titania and Oberon reconcile, Bottom is restored to his rightful self and the troop perform their play of "very tragical mirth" about young Pyramus and his love Thisbe at the king's wedding.
Though there is a darker side underlying the story of Midsummer looking at the pain that comes with love and its loss, the director deBessonet chooses instead to focus on the madcap pageantry inherent in the story adding an unusual and touching element to the production by making the assistant fairies elegant elders Her diverse cast of chosen actors, for the most part, are incandescent in their roles making this a must see evening.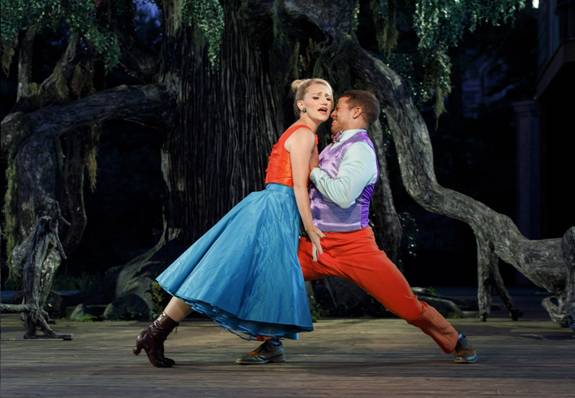 Anneleigh Ashford, Alex Hernandez
Among the luminaries are Annaleigh Ashford as Helena who, from the moment she appears on the stage with mascara streaks on her face from the tears she has shed over Demetrius, takes command with her sharply etched physical performance and unique, perfect comic timing. Alex Hernandez as Demetrius effectively manages to establish a believable rapport with the battling female lovers while Kyle Beltran brings just the right amount of physicality to his role
Phylicia Rashad imbues regal grace to her role as Titania.
Richard Poe and Kristine Beilsen
Kristine Nielsen as Puck in pajamas and pixie bob is more of Oberon's confederate than his servant but she manages to bring her offbeat unorthodox charm to her role as story commentator and fixer.
Joe Tapper, Austen Durant, Jeff Hiller, Danny Burstein and Robert Joy
The Athenian artisans' story line, Shakespeare's satirical nod to the long list of masterful tragedies he wrote, which in many Midsummer productions drag the action down like an anchor, here is delivered with absolute comic grace by all. Danny Burstein's charismatic performance as Nick Bottom is a show stopper and leans strongly on his musical comedy chops. Jeff Hiller, the bellow-mender Flute, who portrays Thisbe, does so with great artful nuance.
The luminous performances and direction were supported and enhanced by Clint Ramos' striking costumes, David Rockwell's ingenious scenic design, Justin Levine's outstanding New Orleans-style musical score, Chase Brock's choreography and fairy singer Marcelle Davies-Lashley, which helped to engage the audience and send everyone home on a high note.
Off Broadway, Comedy, Shakespeare Play
Public Theater, Delacorte Theater, 81 Central Park West
Approximately 2 hours and 45 minutes
Closing Date August 13,2017