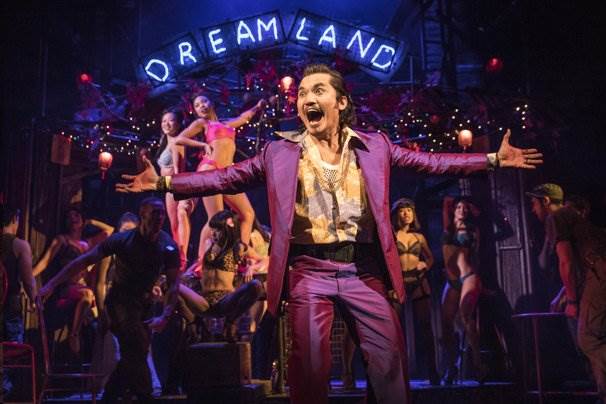 Alistair Brammer as Chris and Eva Noblezada as Kim in Miss Saigon.
Miss Saigon
by Deirdre Donovan
The chopper is back on Broadway! Cameron Mackintosh's anticipated new production of Boublil and Schönberg's legendary musical Miss Saigon opened on Broadway at The Broadway Theatre on March 23rd as fresh as an orange blossom. Although this new reincarnation of the pop opera might not arrive with the same impact of the original, it still packs an emotional punch and tells one of the most poignant love stories ever told on a modern stage.
The plot is plucked from Puccini's Madam Butterfly but has more heart than Puccini's flinty masterpiece. Set during the final days of the Vietnam war, Miss Saigon is the tragic love story between an orphaned Vietnamese girl Kim (Eva Noblezada) and her American marine Chris (Alistair Brammer) who become separated when Saigon falls. Although other characters will step in at pivotal moments in the drama, the story really belongs to the two lovers born in opposite corners of the world but who share a dream of Impossible Love.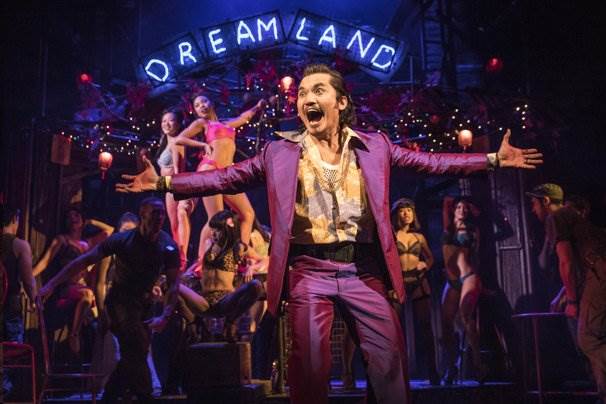 Jon Jon Briones as The Engi Photographer: Matthew Murphy
The opening scene is in Dreamland, an apt name for the sleazy bar in Saigon , where the Engineer (Jon Jon Briones) sells his "girls" to GI's for sex. Although the bargirls may have been forced into prostitution for economic survival, they still dream of finding a better life in America as a GI's bride. In fact, Gigi (Rachelle Ann Go), Kim (Eva Noblezada), and the girls a few minutes in sing the number "The Movie in my Mind," which pinpoints the paradox of those working at Dreamland as whores who dream of leading more respectable lives.
So how does this new production measure up? Quite well. True, the original Broadway outing that debuted on April 11, 1991 was more lavish and had the advantage of being a novelty to New York audiences. But this latest version comes with its own Asian flavour, contemporary accent, and an energetic cast who are performing their roles with utter conviction and white-hot passion. Its as if Laurence Connor, the director of the current production, simply decided to let the musical speak for itself. And it does.
None of the theatrical power would happen in Miss Saigon, however, without the presence of some talented principals to carry the musical from its fantasy-filled opener to its bleak tragic finale. While many in the cast deserve praise, a few are truly riveting in their portrayals of their characters.
There's Jon Jon Briones in the key role of the Engineer who sneers and snaps like a latter-day Satan. When we first see Briones at Dreamland, we instantly recognize that his demonic character is a force to reckon with. Whether he's ordering the girls to dance in hot pants or crudely selling their bodies to sex-starved GI's who have just wandered into the club, his Engineer's a dangerous man in a hot war zone. And if his Engineer is dangerous in Act 1, he grows even more so in Act 2 when he discovers that Kim can be his ticket to America with her son Tam, fathered by Chris before he was evacuated from Saigon .
Eva Noblezada, as Kim, projects both the delicacy and steely strength that is requisite for her role. Noblezada has the voice of an angel that she uses to sublime effect. All of her vocal efforts hit the mark, but her Act 1 solo "I'd Give My Life for You" addressed to her young son Tam (Suri Chen) is truly spell-binding.
While Alistair Brammer has been much praised for his performance as the American marine Chris, Colby Dezelick stepped into the role with real aplomb at the Friday evening performance I attended. Dezelick immediately connected with the audience in Act 1 when he sang his solo "Why God Why?" But in his duet "Sun and Moon" with Noblezada (as Kim), he showed that he could not only shine alongside his cast-mate but contrast her waif-like fragility with his rugged American masculinity.
The creatives on board put their individual stamp on the show as well. Totie Driver's and Matt Kinley's production design conjure up, in turns, the exotic but raggedy atmosphere of Saigon, the Asian feel of Ho Chi Minh City (with the imposing statue of Uncle Ho) and Bangkok, plus the prosaic look of modern-day Atlanta, Georgia. Bob Avian's choreography is top-notch. Avian balances his dances with pelvic swivelling, come-hithering, and other sexually suggestive movements. Andreane Neofitou's costumes are an eclectic mix of smutty bar outfits, soldiers' fatigues, and civilian clothes.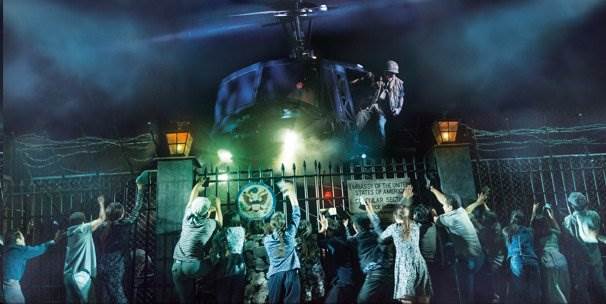 Beyond its stunning spectacle (yes, the scene with the famous helicopter is still impressive as it airlifts the GI's from the roof of the American Embassy), let's not forget that Miss Saigon is notable for other reasons too. In fact, this musical altered how people viewed musical theatre at the close of the 20th century. When the show first surfaced in London in 1989 and then on the Great White Way in 1991, it proved that theatregoers would go to a musical that focused on a serious political subject—and that the work could be quite entertaining as well.
No question it remains a tear-jerker of a love story. But no matter if it's the first or umpteenth time you have seen it, this new rendering of the old musical can't help but touch your heart.
Broadway Musical
Through January 13, 2018.
At the Broadway Theatre, 1681 Broadway between 52nd and 53rd Streets, Manhattan .
For tickets and more information, phone telecharge at 212-239-6200 or visit online www.saigonbroadway.com.
Running time: 2 hours; 40 minutes with one intermission.