<![endif]>
Sahr Ngaujah Photo: Joan Marcus
Mlima's Tale
By Fern Siegel
Lynn Nottage explores the cruel backdrop to the secret ivory trade.
Though the elephant ivory trade was banned in Africa in 1990, hoping to protect the species, the regulations were and are routinely violated. Even game-park rangers trying to preserve elephants are often at the mercy of poachers and corrupt officials who lust after ivory's artistic value.
Enter Mlima's Tale, at the Public Theater, the latest effort from Lynn Nottage, who won the Pulitzer Prize for Sweat. Set in Kenya , the play posits the fate of Mlima (portrayed by a moving Sahr Ngaujah), an elephant renowned throughout Kenya for his age and majestic bearing.
Because of decades of ivory hunting, big tusks are rare, which only heightens Mlima's worth.
Mlima means "mountain" in Swahili and the idea for the work is believed to have come from the poaching of the beloved Kenyan elephant Satao, at Tsavo National Park in 2014.
Punctuated by supertitles that read like a book of African proverbs, such as "Thunder is not yet rain" and "Even the night has ears," Nottage takes audiences on a sad journey — all from the elephant's point of view. From the slaughter of the famed Mlima to the outcome of its prized tusks, the well-constructed play is a travelogue of greed and hypocrisy.
En route, we meet hunters, custom officers, buyers and art dealers, all played by a talented ensemble: Kevin Mambo, Jojo Gonzalez and Ito Aghayere.
Nottage's Sweat was a tough look at a factory closing in Reading , Pennsylvania , and its searing impact on workers. She brings an equally critical eye to the issue of poaching.
<![if !vml]>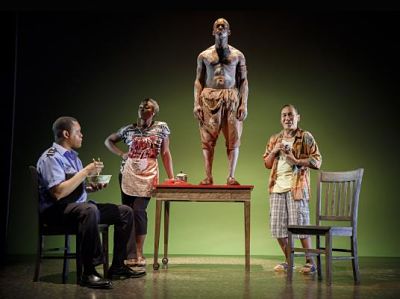 <![endif]>
Kevin Mambo, Ito Aghayere, Sahr Ngaujah and Jojo Gonzalez. Photo: Joan Marcus
The difference is that Sweat was a nuanced, layered, multi-themed effort. Mlima, despite Director Jo Bonney's crisp direction and pacing, is a one-note thesis: The ivory trade is lethal.
The World Wildlife campaigners estimate poachers kill 30,000 African elephants every year, encouraged by buyers in Japan and China . This year, all trade in ivory and ivory products was banned in China . However, the new anti-ivory laws do not cover Hong Kong , a major ivory trading hub. Most customers, reports the BBC, are believed to be mainland Chinese.
Thus, despite conservation efforts and well-intentioned legislation, the lucrative trade persists. (Mlima's tusks will command $1.1 million in China .) The play is a sympathetic plea to protect these glorious creatures, and one sympathizes with Mlima's plight from inception to decorative carving.
<![if !vml]>
<![endif]>
Ito Aghayere and Jojo Gonzalez Photo: Joan Marcus
To capture the emotional stakes, Justin Hicks composed and performs live music, aided by Darron L. West's evocative sound design.
But unlike her previous works, Sweat and Ruined, there isn't a dramatic arc; Mlima's Tale is more documentary than drama. Still, there is a strong force behind the play that decries the avarice and cruelty of humans willing to slaughter defenseless animals for the sake of living-room decor.
And that may be Nottage's final point. There is no morality in a world that pointlessly kills for dubious gain. She also slams the criminality behind the exploitative industry in a final ironic note. Mlima's killer gets paid $250 for his crime; the final owner of his transformed tusks, happy to shell out millions, gets away scot-free.
Mlima's Tale
The Public Theater 425 Lafayette St. , Manhattan
Running time: 80 minutes without an intermission. (Through June 3)
For tickets: publictheater.org/reserve/index.aspx?performanceNumber=36562