Mrs. Doubtfire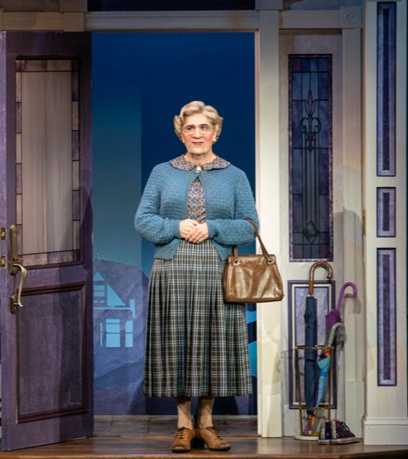 Mrs. Doubtfire
by Julia Polinsky
The basic storyline of Mrs. Doubtfire follows the film: Daniel, the ultimate lovable-and-funny-but-irresponsible dad (Rob McClure) gets tossed out of his marriage, his home, and his family. He loves his kids and wants to be in their lives. He has to get, and hold, a real job and a real apartment – working as a janitor in a TV station and living in a filthy dump just won't do it.
He re-invents himself as Mrs. Doubtfire, an older Scottish nanny, and, in this disguise, gets hired by his ex-wife, Miranda (Jenn Gambatese). Being Mrs. Doubtfire teaches Daniel a lot about human relationships, families, and parenting. He becomes a better dad and a better man and maybe a better ex-husband. And everything's fine, as long as there is love.
Mrs. Doubtfire is the 25th Broadway production for director Jerry Zaks, who has four Tonys and eight Tony nominations, among scads of other nominations and awards. In short, he knows damn well how to direct a really good Broadway musical, so how come this one seems like he tossed the components up in the air, let them fall, and played them where they landed? Fortunately, they mostly land well, but there are some cringe-worthy moments.
Surely there are ways for McClure to be a crazy-funny-actor dad other than trying to channel Robin Williams but only managing to be Robin Williams Lite. It isn't until he's Mrs. Doubtfire that McClure gives his own performance, rather than trying to give Williams's; once he's in the fat suit and the frumpy clothes, the rubber mask and the wig, he's wonderful, engaging, clever.
Rob McClure. Photo: Joan Marcus
The theater-makeup-artist gay couple (Brad Oscar as Daniel's brother, Frank, and J. Harrison Ghee as Frank's husband, Andre), who Daniel enlists to transform him into an old, frumpy woman, are terribly over-the-top, as if that were the only way to be gay. Overdone drag/gay is supposed to get laughs in 2021? Yeah, no – or else, judging by the audience reaction, they actually still do, regardless of the advances we think we've made.
The show's vision of Miranda, the long-suffering ex-wife, is an imitation-vanilla wife/mother/stick. Whether she's being all business, launching her "fitness is for everybody" athletic clothing line, or flirting with a handsome potential love interest, Miranda comes off as just not present enough.
On the plus side, much superb Broadway razzle dazzle catches the eye and delights the viewer. Lorin Latarro's choreography and Catherine Zuber's costume design enliven the inspired zaniness of "Easy Peasy", burned rubber boobs and all. McClure's wonderful timing and terrific delivery sell the hell out of the lying-to-everyone-at-the-restaurant scene ("He Lied To Me"), which might otherwise be squirmy and cringe-worthy. McClure really shines in the utterly wonderful "About Time" number, in which Daniel beat-boxes with hand puppets while teaching how to tell time, using all of McClure's considerable skill and talent. Most of the rest of the songs are, alas, forgettable, even the closing anthem, "As Long As There Is Love."
Ensemble. Photo: Joan Marcus
In the end, Mrs. Doubtfire comes together in a warm and fuzzy way, which is not such a terrible thing for a Broadway audience in this bizarre time. Razzle dazzle, some fun numbers, and a big finish in the end. Sometimes, that's enough, and this is one of those times.
https://mrsdoubtfirebroadway.com/
At Stephen Sondheim Theatre,
124 W. 43rd St., New York.
212-239-6200.
Tickets, $112-$264.