Paradise Square

By Marc Miller


A great big musical about a singular time and place in American history, and for much of the way, a damn entertaining one.

Garth's back. You can tell Paradise Square is a Garth Drabinsky production from its subject matter (race relations), its politics (left-center), and its size (huge). Drabinsky, who shepherded Ragtime into its long run some 25 years ago, then got caught cooking the books and did some prison time, has lavished on Paradise Square a similar spend-whatever-it-takes parting of the dollars, and gotten its writers to cobble together another multi-plotline look at a crucial moment in American history, in this case the Civil War. Paradise Square isn't Ragtime—how could it be?—but on its own terms, it's else. a big, bracing musical epic with more talent on one stage than you'll find practically anywhere
We're in Five Points, the Lower Manhattan district where, for a time, the races freely mixed—black, Irish, and Germans, all despised by the powers that were, banded together and fused their cultures, Irish clog merrily mixing it up with early black tap.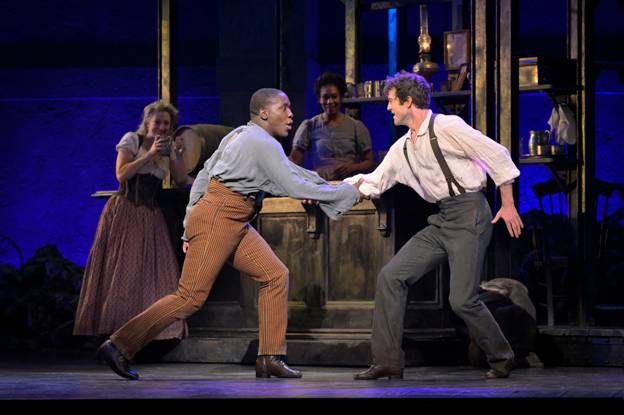 Sidney du Pont, A. J Shively photos by Kevin Bernie
They also intermarried, with white Willie O'Brien (Matt Bogart, singing beautifully and also rather a hunk) wed to smart, sassy, confrontational Nelly (Joaquina Kalukongo), who will run the bar they own while he's off at war. Willie's sister Annie (Chilina Kennedy) is also in a mixed marriage, to the Reverend Samuel (Nathaniel Stampley). Annie's nephew Owen (A.J. Shively), newly arrived from Ireland, is seeking a way to avoid the draft. He's bunking with Washington Henry (Sidney DuPont), who, we eventually learn, is an escaped slave who murdered his owner and is fleeing north in search of his beloved Angelina (Gabrielle McClinton).
Enough principals? Not for a Drabinsky show. There's also Milton Moore (Jacob Fishel), the house pianist whose secret, not entirely credible identity won't be revealed till the second act, and Mike Quinlin (Kevin Dennis), a patriot till he lost an arm in the war, and now a rabble-rouser fomenting violent dissent. There's also a meanie uptown politician (John Dossett, all but twirling a mustache) hitting the bar up for fines and violations. Oh, and just for the heck of it, a lesbian couple, hiding Angelina while she's on the run.
So many characters, and so much plot, assembled by book writers Christina Anderson, Craig Lucas, and Larry Kirwan. Kirwan, the founder of the radical Irish band Black 47, also wrote some additional music, most of which is by Jason Howland, who also conducts, marvelously, and the lyrics are by Nathan Tyson and Masi Asare. (The latter are neat and competent, but also somewhat lacking in character; pretty much any line could be sung by pretty much anyone onstage. And there's one howler couplet, with Washington singing of his lost love: "How could I escape the worst/ Or leave the best behind?" Has she the best behind, truly?)
Anyway, the plot, boiled down to the essentials: To raise the money it needs to pay those fines, the bar organizes a dance contest, the winner receiving $300, which would be enough for Owen to buy his way out of the draft. Which throws him into competition with Washington, on whom the authorities are closing in. And which allows for plenty of sensational hoofing, with Bill T. Jones's gobsmackingly intricate choreography burning up the Ethel Barrymore stage; two Irish hoofers, Colin Barkell and Garrett Coleman, are a show unto themselves, while bar patron Chloe Davis negotiates some graceful, if not always relevant, balletic moves. Moises Kaufman's direction emphasizes movement, movement, movement, and that includes Allen Moyer's busy set design, with three large, staircased turntables in constant revolve. (At this performance, one of them jammed, causing a 10-minute delay; evidently this happens a lot.)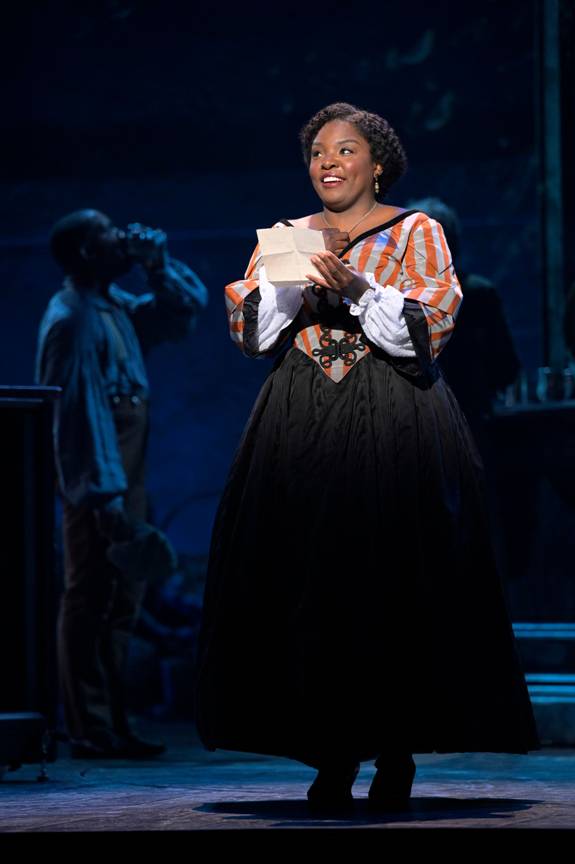 Joaquina Kalukongo.
It's surely a lively evening, and one of the most appealing things about Paradise Square is just the matter-of-factness of seeing a neighborhood that's truly integrated and the happier for it, and thinking, my God, it's 1863. The other lovely thing about it: All the principals are truly outstanding. Kalukongo tops a splendid performance with "Let It Burn," an 11 o'clock show-stopper such as one seldom hears, but she's a blazing, charismatic presence throughout. Shively makes a somewhat whiny character appealing and dances the hell out of him, and has a sweet tenor as well. Stampley is a tower of dignity as the reverend, and Kennedy shares a duet with him, "Gentle Annie," that sounds Stephen Foster-authentic. I could go on, but let's just say Drabinsky knows how to hire and showcase talent. And how to populate a stage: There's a cast of 33, plus a battery of swings, and how those swings will ever master the variety of Jones's steps, heaven only knows.

Toni Leslie-James's costumes are appealingly unshowy, stressing the down-market existence of most of the characters, and Donald Holder's lighting ably goes all fiery and dramatic as the rioting crowds lay waste to the Five Points. Jon Weston's sound design, while too loud (what isn't these days), at least leaves most of the lyrics audible, and Wendall K. Harrington does his usual fine projection work. All right, Paradise Square takes itself too seriously, seldom allowing for moments of levity or repose, and almost every song is a Statement, when we could use an occasional divertissement (but much of Howland's music is genuinely tuneful, and apt to the moment). Virtually every solo or duet is buttressed by the ensemble sneaking up behind to trill "woo woo woo," a staging cliché that had largely disappeared by the '50s. The characters don't run deep, and the dialogue sometimes steps out of period—"scared shitless" in the Civil War, really? But let's accept the sundry shortcomings and celebrate Paradise Square's considerable achievements: It has something to say; it says it forcefully, if with a lack of nuance; and it's a great big new original American musical, something we've been hungering for, and an entertaining one, with an absolutely dynamite cast. It probably doesn't get said much these days, so here you have it: Thank you, Garth Drabinsky.

Paradise Square
Broadway musical
Playing at the Ethel Barrymore Theatre, 234 W. 47th St.
Open-ended run
Tickets: Telecharge.com