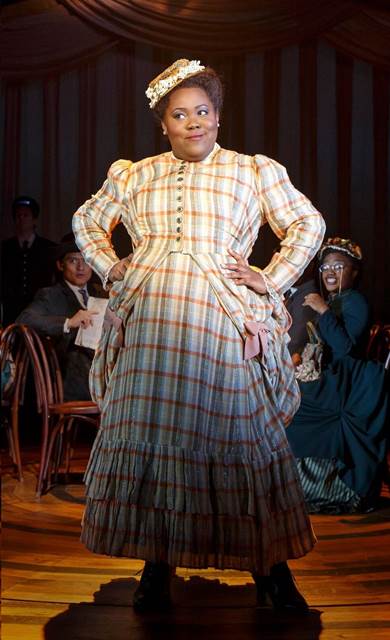 Ashley D. Kelley (as Bella)               photos by Joan Marcus
                       by Julia Polinsky
It's so tempting to like Bella: an American Tall Tale a lot. There's so much to like! The cast for one thing; the talented and charming Ashley D. Kelley, as Bella, leads a group of ridiculously good actors. Special kudos go to NaTasha Yvette Williams and Brandon Gill, with super duper applause for Yurel Echezarreta, and Paolo Montalban.
Also likeable: some of the songs are simply wonderful, especially "The Language of My Nose and Lips and Hair," "Star Song," "Mama, Where Did You Go," and "Don't Start No Shit." Clint Ramos's scenic design and Jeff Sugg's projections are terrific, as is lighting design by Japhy Weideman.
It's also tempting to say not so good things about the show. In Bella, story and character and craft and skill and meaning add up to crap, and in a show in which the main character's booty plays a significant role, that's not necessarily hyperbole.
Director Robert O'Hara has to work a damn hard to make this "tall tale" make some kind of sense. He only partway succeeds. There's only so much you can do, as director, when you have a show with so many places to focus, and such a flexible boundary between fantasy and reality. A show that can't make up its mind whether it's serious or comic. A show that disinters the rage underneath the bubbly tunes, the cute stories, the questionably credible incidents. A show that wears two faces.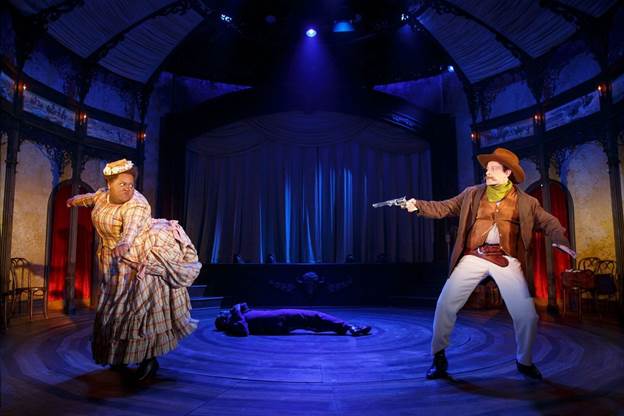 Ashley D. Kelley (as Bella) & Kevin Massey                                photos by Joan Marcus
It all seems lighthearted and cheery, except that we're watching a woman on the run from a would-be rapist who has offered a huge reward for her. Her ass saves her from him, in a surprising moment of flashback in Act 2 (don't leave at intermission), but, as a fugitive, she has to adopt a new name, become someone else. She wears two faces, as does pretty much everyone in the show.
Bella also forges her own reality, such as it is. Naive, imaginative, impulsive, optimistic, and charming, young Bella (basically, Beyonce meets Candide) tells tall tale after tall tale, and her ass is the moving force behind them all.
In Bella, everything circles around Bella's bounteous behind. Bella's booty gets her in and out of trouble. Bella's butt has unquenchable charisma; it makes her infamous and famous, wanted and desired. It gets her true love, saves her life, is – incredibly – detachable and re-attachable. It's the Strong Black Woman made visible – and, alas, risible. (It's not often you have a character called "Spirit of the Booty," a chuckle-worthy listing in the program).
Does Bella really tell these stories? Does the audience, watch a love story, a quest, family history, racial history, attempted rape, and the crass exploitation of a Black woman and her awesome ass? Or is it the characters in the show who encounter Bella's imagination? Hard to tell, hard to stage, and that's part of the problem.
In the end, of course, good triumphs, evil is vanquished, the heroine gets the guy, exploitation ends and, as Bella's grandma says, "…at least one Black woman in this world get a happy endin' to her story."
Yeah, right. If it weren't for the double-faced nature of everything in Bella, yes, you could believe in the "happy endin'." Childs has written nearly everybody in this show as two people, excepting Bella, her fiancé (Britton Smith), and the Pullman porter (Brandon Gill). Everyone else plays a couple of parts, in "reality," and in Bella's abundant imagination. Don't be surprised if you're a bit confused. The dual nature of this American Tall Tale defies coherent staging.
But it's fun, and it's tuneful and silly, and if you don't mind not being able to figure it all out, it's worth seeing just for the splendid performances.
Bella, An American Tall Tale
At Playwrights Horizons
Tickets at Ticket Central
416 W 42nd Street (Between 9th and 10th)
New York, NY 10036 (212) 279-4200
https://www.ticketcentral.com
Performance Schedule:
| | |
| --- | --- |
| Tue - Wed | 7:00 PM |
| Thu - Fri | 8:00 PM |
| Sat | 2:30 PM, 8:00 PM |
| Sun | 2:30 PM, 7:30 PM |