Vanessa Aspillaga (Daphne) and Matthew Saldivar (Pablo) in Quiara Alegría Hudes' new play Daphne's Dive, directed by Thomas Kail, at the Pershing Square Signature Center.
(© Joan Marcus)
                                By Ron Cohen
Daphne's Dive, the North Philadelphia bar that serves as the main locale for the new comedy-drama by Quiara Alegría Hudes and also lends its name as the play's title, is the kind of saloon where patrons don't come to drink so much as to talk. It's also seems to be the kind of place that can somehow exist with only a handful of patrons.
During the course of the play, which covers some 18 years or so, we see only five of them (and two of them are relatives of the owner), and don't hear much at all about any others. So, despite the well-stocked but dingy bar and well-worn linoleum floor of Donyale Werle's set design, this particular dive seems to be more of a conceit in Hudes' dramaturgical strategy rather than a real business establishment. It's a generic place where her characters can converse, joke and connect with each other, safe -- for the moment at least -- from the "chaos" outside, as one of those characters puts it. The strength of the play is in the affection Hudes feel for these people, her belief in their importance and their depth, simply as human beings, and a poetic tension that often infuses her writing. 
The production is auspicious in that it reunites a pair of notable creative talents: the playwright and director Thomas Kail. In 2012, Hudes won the Pulitzer Prize for her play Water by the Spoonful, part of her trilogy concerning the return home of an Iraqi War veteran. Earlier she garnered a Tony Award nomination for her book for In the Heights, which won the 2008 Tony for best musical and was directed by Kail.
Kail now, of course, is being celebrated for his work on Hamilton. He has, however, proven his affinity for more intimate works, most recently as in Dry Powder at the Public Theater. He demonstrates that talent well again in Daphne's Dive, guiding his actors into fully realized portrayals, so real you can almost hear the beat of their pulse.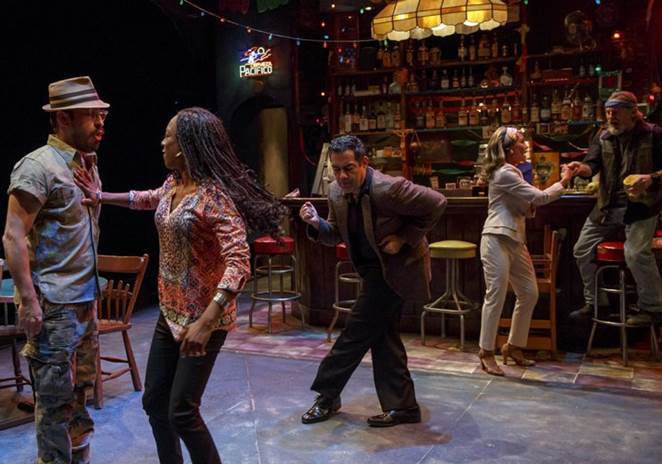 Matt Saldivar and Samira Wiley in 'Daphne's Dive'
Joan Marcus
Those characters include Daphne herself, the bar owner, whose persona overflows with a genuine though business-like hospitality while masking a long-held private pain. There are moments when the Latino temperament of this Puerto Rican immigrant erupts, but for the most part, Vanessa Aspillaga lets a wide range of emotion compellingly simmer under her plain and convivial innkeeper demeanor. In contrast to Daphne, her sister Inez, married to an up-and-coming businessman and politician she met at the bar, is both chic and smart-mouthed, and Daphne Rubin-Vega imbues her with grand vivacity. Inez's husband, Acosta, comes across as a politico genuinely concerned about the welfare of others, particularly his pals at Daphne's, and Carlos Gomez makes him an affable fellow.
Often prancing through the place is Jenn, a performance artist and activist, who eventually ignites an affair with Daphne. Jenn is enacted with a happy gusto by KK Moggie. However, nothing in the writing or performance foreshadows her grim demise, an act of anti-war protest that happens offstage around mid-point in the play and continues to reverberate – somewhat unconvincingly -- until the end.
The other regulars include Pablo, a painter whose art has him scour the city for garbage that he will then put on canvas, played with macho humor by Matt Saldivar, and Rey, a day laborer and dedicated motorcyclist, an easy-going but observant guy appealingly embodied by Gordon Joseph Weiss.
Finally and central to the proceedings is Ruby, an 11-year-old girl left abandoned after her druggie parents are arrested, who is taken in and eventually adopted by Daphne. It's Ruby's growth into womanhood that marks the play's passage of time, and also becomes a chief concern of the Daphne's crowd. At the start of each of the five scenes, Ruby appears and announces her age. Samira Wiley, in a bravura turn, takes Ruby from a frightened and despairing prepubescent girl to a 29-year-old woman, level-headed enough to take over the business of her adoptive mother, but still beset with lingering trauma.
.
While Hudes' plotting may not have all the verisimilitude one could want, her characters do and they take over the stage vibrantly under Kail's sympathetic direction. They may not be monumental enough to make you completely overlook the formulaic feel of their rendezvous point, but it makes the time spent with them a fairly congenial visit.
Playing at the Signature Theatre
480 West 42nd Street
212 244 7529
signaturetheatre.org
Playing until June 12